Roger Federer: The Only Sustainable Solution to Injury-Ridden Men's Tennis?
April 25, 2012

Michael Regan/Getty Images
Some players like Djokovic and Nadal make news about pullouts as much as they do about their wins and losses.
Djokovic has been off-colours lately. We have seen him struggling hard to catch a breath especially after long rallies in recent tournaments. And then came his loss to Nadal at Monte Carlo, putting to rest arguments about the likelihood of his continuing dominance.
When the Spaniard withdrew from Sony Ericsson Open recently, some analysts felt it could have been a precautionary measure to save some bursts of energy for the clay season. Some others said he did so to avoid another face-to-face with Djokovic. The rest predicted the worst.
When such incidents happen, the media often goes hammer and tongs at star players reporting 'what is' and 'what could be': the eternal interplay between teasing truths (or lies?).
Yet, some facts remain irrefutable. That being fit is very much a part of a player's skill-set. It takes not just your serves and ground-strokes, but also a body that is ready to go the whole hog and more importantly, a mind that listens to the body's honest moans and groans.
This is where Federer never fails to surprise. In this age of highly competitive sports and grueling rivalries, it's fascinating to see how Federer keeps high-speed dissolution and disintegration at bay.
'The moment of truth'
In the folklore of tennis, every player near or above 30 comes face-to-face with this oft-repeated story about the moment of truth: your muscle pulls multiply, your knees cave in, your movement loses fluidity, you are dominated by younger players, and your matches are lost even before the battle begins…
In other words, it's time to hang up your boots.
Such ordinary facts have their way of sneaking into the collective consciousness. Then how should Federer—whose life matches up to the charm of a fairytale—take comments on his getting older?
Roger's longevity has never been in question. However, since he turned 30, it must have been a real cross to bear for Federer to stay calm against a flurry of ordinary predictions and legion of naysayers, and still keep doing what he loves to do most.
Or perhaps, these are precisely the reasons that propel him to play with a veiled intensity. It often reveals itself with rare glimpses of interiority and tension when he lets out a "come-on."
Sustainability, in everything
Speaking about some of these qualities, Paul Annacone recently said (via ATP World Tour): "It's like he's at a cocktail party. He's just enjoying every part of the tournament."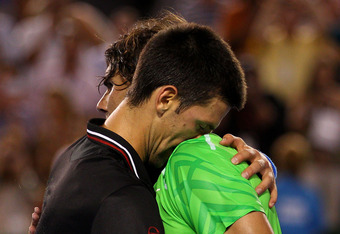 Scott Barbour/Getty Images
But what is it that brews to keep this cocktail party seemingly never-ending?
I have already said that Roger's is the only style of play that delights by what it excludes as much as by what it selects. He knows when to lunge at the ball when it spins away from the tramline. He also knows when to let it go. He knows he doesn't have to bagel out his younger and less experienced opponents and burn himself out doing so.
Unlike other top players, Federer plays at different levels of intensity. He matches his gear to the talent of his opponents and most often, doesn't even break a sweat. This is his greatest strength, and this is what ensures longevity of his career.
We all know how masterfully he does his scheduling. It's all chalked out in such a manner that it prevents burn-out; while at the same time, doesn't keep him out of important tournaments affecting his ranking. His team is not an ad-hoc coalition, but a carefully curated panel that takes into account his familial needs as well as professional exigencies.
This reminds me of what Andy Roddick said after losing to Federer in 2009 Wimbledon finals: "He gets a lot of credit for a lot of things, but not a lot of the time for how many matches he kind of digs deep and toughs out. He doesn't get a lot of credit for that because it looks easy to him a lot of the times."
A lot said. Isn't it?