Dave Serrano Provides Repair for Tennessee Baseball in More Ways Than Wins
April 23, 2012

Regardless of the situation, the University of Tennessee's baseball program was in need of repair.
Under former head coach Todd Raleigh, the diamond Vols proved it could stack up competitively in one of the nation's toughest conferences. But it was clear work needed to be done coming off a season that saw the Vols claim only seven divisional wins alongside an onslaught of recruiting violations.
A onetime power program had fallen by the wayside.
Tennessee believed they had a solid foundation, though it was searching for the right person to helm the structure—someone who was capable of getting the Vols back to Omaha and the College World Series.
On June 15, the searching ceased. The person found qualified enough to take the Vols from ashes to glory was former Cal State Fullerton head coach Dave Serrano.
The foremen of the remodeling effort, Serrano and the Vols have proven early on in the 2012 season that a College World Series is beyond them. However, rushing to wins may not be the biggest worry for the Vols this year—they have found something more eminent than winning in Serrano.
Heading into the bottom of the ninth, the Vols and Serrano held a comfortable 9-5 lead against a lesser Ball State opponent. There was no reluctance from the first-year head coach to hand the ball to his sophomore closer, Nick Williams.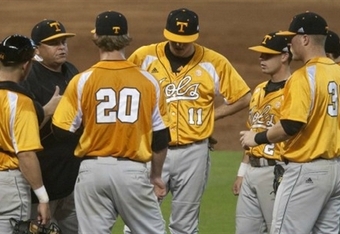 The closer would make things interesting for the Vols.
Cardinal batters jumped on Williams early, rallying for four uninterrupted base knocks before a single out could be recorder. It was no secret—everyone in the crowd could see it—Williams was frustrated with himself.
Kicking the dirt on the mound and punching his glove, the expression Williams gave off was unmistakable. He was giving up.
Without hesitation, Serrano arose from the dugout, raising his hand in the direction of the home plate umpire. Purposely stepping over the first base foul line, Serrano approached his disgruntled pitcher.
The mound visit was brief. What was said is not entirely known. The results—now that's a different story.
Williams bounced back from his chat with Serrano looking sharp, retiring the next three batters he faced, two by strikeout. Following the diamond Vols' March 7 win over Ball State, Serrano explained his visit with Williams.
"That's why I went out to the mound, his body language after giving up a couple of hits bothered me," Serrano said. "I just wanted him to get back on his own side, no need to panic, no need to get down on himself. It's not like he was making bad pitches, in fact I took the blame for it, I went out there and told him it was my fault. It's true, I made some bad calls on pitches."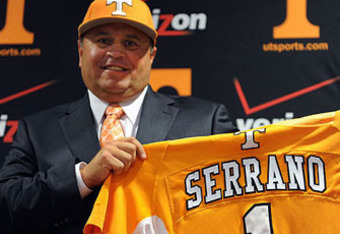 Regardless if Serrano's calls were truly good or bad, he provided his player hope and pushed him to believe in himself.
"What he said to me stuck with me," Williams said. "I knew I had to get this team out of this jam and He [Serrano] reminded me I had the ability to do it."
Ultimately, every game has been the same. Yes, the Vols have fallen to their fair share of lesser opponents such as Middle Tennessee State and Louisiana-Monroe, but Serrano's ability to renovate his players' self confidence is found in most every game and does not start or end with Williams.
"I had a chat with coach, he reassured me that I was a good pitcher," said Vols pitcher Nick Blount following a Feb. 16 win over Seton Hall that saw Blount give up two early runs before settling to record five consecutive scoreless frames. "After giving up those early runs he really reassured me that I could hang in there, I just need to calm down and pitch for contact, coach reminded me of that. Then I went out there and did it."
What Serrano brings to the new-look 2012 Vols team that cannot be measured in wins or losses.
"I love his energy, I love the guy," Blount said following a win over Northern Illinois. "I'd run through a wall for that guy and this team, and I know I'm not the only one that thinks that. He has put that mentality in each of us. Now that we have him, I can't imagine what pitching or playing would be like without him."
While the Vols program seems to be presentable once more, there is more work to be done. The team is 22-18 thus far, very strayed from the desired expectation of national prominence. But the Vols are closer to their goals than they could ever have imagined following their fall into despair last year.
Serrano has instilled promise into his players, drilling them with the idea that they are "capable." Unarguably, there are too many cracks in the 2012 team to view them as elite. Youth and lack of depth hinder game-to-game performances, but the promise instilling Serrano has already earned the orange a signature victory.
Defeating No. 16 Texas in front of a pro-Longhorns crowd at Minute Maid Park, Serrano attributed the upset win to his players' ability to believe. Much work remains to be done, but the Dave Serrano era in Tennessee looks as if it will not disappoint.