Links to the Best in NFC North Coverage, April 11th, 2012 Edition
April 11, 2012

Hard to believe it's Wednesday already, and another week is flying by. It's still a bit slow news-wise, but there's plenty to talk about anyway.
Minnesota Vikings
Kevin Seifert has a great post over at ESPN's NFC North blog discussing how even though it's just his second year as head coach, Leslie Frazier is on the hot seat.
Star Tribune reporter Eric Roper attended a forum where Minneapolis Mayor R.T. Rybak laid out his plan to use some cash from city sales taxes to fund part of a new Vikings stadium. Roper reports that there is definitely some resistance to the plan (includes video).
Green Bay Packers
Tom Silverstein of the Journal-Sentinel talks about what Nick Collins has to consider in making a return to football, as well as what he has already been through.
Over at CheeseheadTV.com, Brian Carriveau had a little fun and put odds on who the Packers' first-round choice will be. Also on the site, he talks about the $4 million roster bonus Charles Woodson is due sometime this month and the impact it will have on the rest of the team. 
Chicago Bears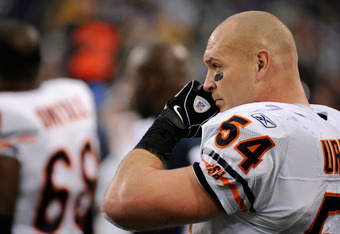 Hannah Foslien/Getty Images
Melissa Isaacson at ESPNChicago.com reports that linebacker Brian Urlacher's damaged knee ligaments are healing nicely and should be fine by training camp. Urlacher also had some thoughts on issues surrounding the team.
Also on ESPNChicago.com, Jay Cutler shares his thoughts on bounties and intentionally injuring players.
Detroit Lions
The Lions continue to somewhat improbably hold their defense together, as Dave Birkett reports in the Detroit Free Press that DeAndre Levy plans to sign his restricted free-agent tender this weekend when he returns for offseason workouts.
Being able to hold a lot of their free agents in the front seven around for another year is critical, as this allows the Lions to focus on other positions of need in the draft. It's a big leg up in a division that is going to be very close this season.
Speaking of the NFL Draft, Anwar Richardson reports on MLive.com that while GM Martin Mayhew has said in the past the Lions will go with the Best Pick Available strategy at Radio City Music Hall; they won't reach and will strive to fill needs, not just add bodies.
Of course in the NFL Draft, one man's value is another man's reach.