Toronto Maple Leafs and Steven Stamkos: What Could Have Been
April 6, 2012

Dave Sandford/Getty Images
The Maple Leafs had one goal on their mind in last night's victory, and that was to spoil the party for Steven Stamkos. Mission accomplished, buds.
Now we can relax this summer and look forward to next year, right? The fact that Toronto could have been the spot where Stamkos scored his 60th goal was only more depressing than the fact that we were watching what could have been.
Stamkos was drafted first overall in 2008, in what has turned out to be a pretty deep draft, going ahead of such picks as Drew Doughty, Tyler Myers, Jordan Eberle and the Maple Leafs' Luke Schenn. The Leafs were not going to be able to get Stamkos unless they pulled off a deal to get the first overall pick.
Of course, the Maple Leafs did not have the right amount of assets to pursue the Tampa Bay Lightning, and thus the Markham, Ontario native was sent to the Sunshine State.
After watching him grow and become the player all the scouts predicted he would be, Maple Leafs fans were starting to wonder why the organization keeps passing up great hometown talent. This argument was made even more evidently by Don Cherry earlier this season.
Fast forward a few years to this past summer when the Stamkos to Toronto rumors started to really heat up; mirroring the Yu Darvish to Toronto Blue Jays talks this past winter.
Stamkos was in the news almost daily this past summer as talks between him and the Lightning seemed to be at a standstill in regards to a contract extension.
There were stories on every sports site about the Maple Leafs and Brian Burke making a move to give Stamkos an offer sheet. The offer sheet would have cost the Maple Leafs four draft picks and a big chunk of money, but when you look at how this season has gone, wouldn't those picks be worth it?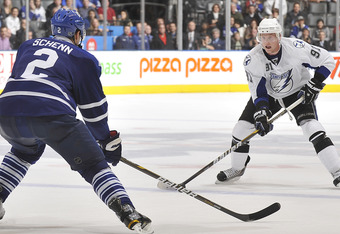 Abelimages/Getty Images
The fact that Stamkos could have been the answer to all the Leafs' problems is worth every penny and every draft pick in my book.
There's no way to know for sure that he would have had the same success in Toronto as he has had in Tampa Bay, but a player of Stamkos's caliber is bound to be good anywhere. When his deal was finalized with Tampa Bay, there was an angry outburst from Toronto fans.
"How could you!" They cried. "Betraying your own city, why wouldn't you play here?"
But the outbursts were more out of frustration than in anger towards the young star. Leaf fans know why he didn't make an attempt to play in the Big Smoke.
The pressure to win in Tampa is incomparable to the pressure to win here. Playing in Tampa allows him to play the game without scrutiny. He can play it his own way, without the questions being shoved down his throat every day and every night.
But it was more than just the hound dogs known as the media that turned off Stamkos—it was the actual possibility to win. He, like most people, didn't think the Leafs had what it takes to make it the postseason, let alone win the Stanley Cup. He is playing where he is comfortable, playing where he can be competitive and a difference maker.
And now almost a year later, the Leafs are still looking for help, still asking questions and Stamkos is answering them, but for another team.
I remember being more frustrated at the fact that the Leafs in the last few years have been burned by some of the NHL's bigger stars. The Sedins did not want to sign even though Burke went to visit them in Sweden. Brad Richards and Steven Stamkos joined that list this past summer.
The frustration will continue as long as the losing continues. It's not Stamkos's fault that the Leafs aren't good enough for anyone to want to play here.
The Leafs will need to look at themselves and find a way to right the ship. Then maybe they can be more attractive to a guy who has already won a scoring title.
It might be easier for them to bring in high level talent that will give them 40-50 goals and close to 100 points every season. This year Phil Kessel has hit the 80 point mark. Long gone are the days when Mats Sundin, Doug Gilmour or Darryl Sittler would be raking in no less than 90.     
It hurts Leaf fans even more because he made it known that wearing the Blue and White would have been a "dream come true" before he was drafted.
It hurts because Stamkos has the skill and the desire to win. It hurts because the Leafs still have nothing to show for their years of mediocrity post-lockout. And it will continue to hurt as long as Stamkos is lighting the Lamp down south.