Maryeve Dufault: Dufault Yearns to Drive with the Boys Again
April 6, 2012

Jason Smith/Getty Images
There is a new up-and-coming female driver in town, but she's not driving competitively that often these days. This woman is believed to be as talented as any young driver out there. Fox Sports recently added her to the list of "top female drivers in racing today."
When one thinks of female drivers today, most are conditioned to think of Danica Patrick. Without question, Patrick is rather easy on the eyes. But there is someone else who—in my objective and humble opinion—looks better than Patrick and can drive at least as well and perhaps better. 
Unfortunately, this driving beauty is lurking on the sidelines yearning for a chance to stake her claim on the track.
Who is this rising star?
Her name is Maryeve Dufault.
Dufault is a Canadian-born beauty who now resides in Mooresville, N.C.  Dufault made the leap of fate to the NASCAR Nationwide Series circuit late last year.
Even though Dufault is not a household name like Patrick, that can easily change given the right circumstances. She's a very skilled driver and is sure to give the guys a run for their money on the driving circuit.
As a two-year-old, Dufault grew up watching her father and brother race motorcycles. She began racing go-karts at the tender age of four. She was essentially groomed to do what she's doing now.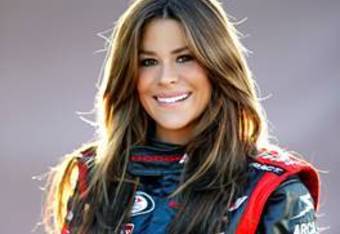 Dufault remembers watching races as a kid and simply being hooked by the distinct energy and adrenaline rush racing provides. 
As a youngster, Dufault began competing in motocross, go-karts and open-wheel racing. 
She was hooked and continued to excel and push herself to the limits.
Dufault states: "I loved the most extreme sports such as snow skiing and snowmobiling. My dad let me do whatever I wanted, but he always put some restrictions."
Dufault is a very passionate young lady who loves to drive. The 30-year old driver is very dedicated and skilled. Dufault tunes up her own cars and can do all the other necessary mechanical work on her cars as well.
Dufault's mentor, Alex Tagliani, issued the following about Dufault: "Maryeve is undoubtedly a talented woman driven by determination, commitment and passion."
The talented Dufault began racing on the ARCA Racing Series in 2011. In her first year driving stock cars competively, she made 14 starts and posted one top-ten finish and six top-13 finishes last season.
Last August, Dufault made her Nationwide debut where she finished in 30th out of 43 drivers at Circuit Gilles Villeneuve.
After her debut, she stated: "There was certainly extra pressure, being in Canada and becoming the first Canadian women to make it to Nationwide, and despite the mechanical challenges, I persevered, it was not an easy task for sure, but I learned something every lap."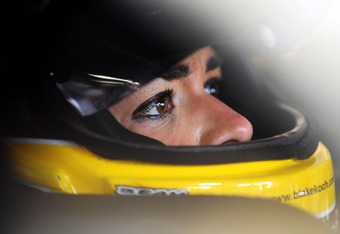 Jason Smith/Getty Images
Dufault followed up the latter showing with an 18th place finish at Kansas Speedway.
Dufault was pleased with her efforts late last year.  She was very much looking forward to getting ready to acquire more sponsors and perform even better this year.
Dufault stated: "We'll spend the off-season getting the cars together and working on hopefully bringing some more marketing partners on-board to kick off the new season. One thing is for sure, we'll be back and better than ever."
As we all know, the 2012 season has kicked off. Sadly, Dufault is currently on the outside looking in as a result of a lack of sponsorships.
Once a driver like Dufault moves up in class, the stakes are obviously raised and the funds needed to drive grows in direct proportion to the level of competition.
It is rather disturbing to know such a talented young driver is relegated to the role spectator as a result of funds when she should be driving. 
It is very likely Dufault could produce consistent results if she had the type of financial backing like a Danica Patrick and some others have. 
Dufault is a very talented driver. All she needs is the opportunity to showcase her talents on a consistent basis. 
In comparison to Danica Patrick, is there anything Patrick has that Dufault does not?
Is it talent?
No. Dufault is a great driver and so is Patrick. Both drivers have shown they can hold their own against top competition.
It is that Dufault is not marketable?
Again, the answer is an emphatic "no." Dufault is a beautiful woman who is intelligent. She simply needs the right backing to become more visible racing.  She can become a marketer's dream under the right circumstances. 
Bottom line: What Patrick has that Dufault does not is the opportunity to drive consistently and sponsors.
America is supposed to be the land of opportunity and, from what I gather, all Dufault needs is just that-an opportunity to fully thrive.
Period.
Based on the information presented to me and the research I've gathered, I'm confident in asserting if Dufault has the proper backing, those sponsors will have a great driver who won't let them down.
Dufault has the looks of a Miss Universe, the heart of a lion as a driver and the persistence of a champion.  In my opinion, the latter are the necessary ingredients that can produce undeniable results with the right backing.
Should Dufault get an opportunity—and hopefully it arrives very soon—she has the ability to be a sensation. All she needs is the chance to share her talents and passion with the world. Hopefully something can transpire so Dufault can do what she's born to do and that's drive.
Visit Maryeve Dufault's Website at www.maryeveracing.com.  
Email Dexter directly: drttcd@gmail.com
Follow Dexter on Twitter: @DextersVPoint
Watch Dexter's Movie Trailer on Joe Gilliam