Baltimore Ravens Lose Free Agent Defenders Cory Redding and Jarret Johnson
March 14, 2012

Larry French/Getty Images
The combination of limited cap space and a glut of unrestricted free agents means a team is bound to lose players they'd otherwise want to keep, and that's certainly the case for the Baltimore Ravens this year.
So far, just shy of 24 hours into free agency, the Ravens have lost two defenders—defensive end Cory Redding and outside linebacker Jarret Johnson.
Redding agreed to a three-year, $10.5 million contract with the Indianapolis Colts, where his former defensive coordinator, Chuck Pagano, is currently head coach, while Johnson received a four-year deal from the San Diego Chargers, a loss that could affect the Ravens' entire 2012 season if they don't find a suitable replacement.
The 31-year-old Redding isn't the biggest loss of the day for the Ravens. That would be Johnson, the team's premier run-stopping linebacker who was a perfect complement to his pass-rushing counterparts.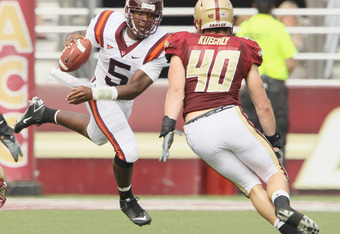 Elsa/Getty Images
The Ravens' biggest priority in free agency is to sign their own players before dipping their toes into the open market. Johnson was clearly one of the players they had hoped to retain, but the Chargers beat them to the punch.
Not all is lost for the Ravens at the position, however.
Bleacher Report's Matt Miller has projected the Ravens to draft linebacker Luke Kuechly with their No. 29 first-round pick. Though that seemed like a stretch just a few days ago, the run defense specialist could easily take over Johnson's role if he can move from inside to outside.