SEC Tournament 2012: How Friday's Quarterfinal Action Will Play out
March 9, 2012

Andy Lyons/Getty Images
With the NCAA tournament fast approaching, the conference tournaments do a fantastic job separating the pretenders from the contenders. The SEC is no different, and Friday is when those pretenders will be exposed. The top four seeds are now in action, but not all are going to fare that well.
Let's take a look at what to expect from today's action in New Orleans, figuring out what Cinderella teams will stay strong, and whose glass slippers are about to be shattered.  
LSU vs. Kentucky, 1 p.m. EST
Officially it's a neutral site game, but the New Orleans crowd will certainly be in favor of LSU in this one. Unfortunately for the Bayou Bengals, it's not going to do anything other than possibly lead to a closer loss. 
The Wildcats are a completely dominant team this year and LSU is way too inconsistent to hang with the Wildcats for the full 40 minutes. Kentucky's depth is going to overwhelm just about any team in the country, and the Tigers are certainly not an exception. 
The Wildcats handled LSU in Baton Rouge earlier in the season. They are more desperate here as a loss ends the season, so expect them to come out hard, trying some new things. That will keep it comparatively close, but nowhere near good enough. 
Prediction: Kentucky 73, LSU 61 
Alabama vs. Florida, 3:30 p.m. EST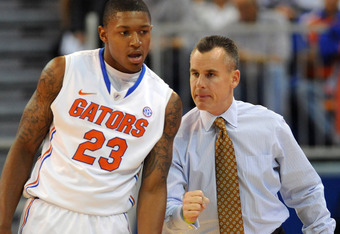 Al Messerschmidt/Getty Images
We're going to get a lot of points in this one, especially on the Florida side. Kenny Boynton, Bradley Beal, Erving Walker, Patric Young and Erik Murphy are all double-digit scorers. Alabama's scoring offense is outside of the top 200 in the country, which isn't going to get them anywhere near the Gators.
JaMychal Green and Tony Mitchell will be strong on the inside for the Crimson Tide, which will allow them to put up more points than normal. But ultimately, Florida's depth is going to be overwhelming in this one. 
While we're on the subject, the Gators are a dangerous NCAA team. The above group features a senior, two juniors, a sophomore and a freshman, so they've got the experience to depend on. They can score with anyone, making Florida a force to be reckoned with. 
Prediction: Florida 83, Alabama 71
Ole Miss vs. Tennessee, 7:30 p.m. EST
None of Friday's games interest me quite like this one. Both teams are on four-game winning streaks and play similar styles. We're going to see a low-scoring clash and as a result, look for the upset. 
Low-scoring games come down to the team who can make the clutch shots. The advantage there rests with Ole Miss. With Terrance Henry, Dundrecous Nelson, Murphy Holloway, Nick Williams and Jarvis Summers, the Rebels have the players that can pull those off. 
It will be a little easier to shut down Trae Golden and Jeronne Maymon down the stretch, which is where this one will be decided.  
Prediction: Ole Miss 59, Tennessee 52
Georgia vs. Vanderbilt, 10 p.m. EST
If they don't have to get through Kentucky or North Carolina, I like Vanderbilt as a Final Four team this season. With John Jenkins and Jeffery Taylor, they have one of the best 1-2 scoring punches in the country, and Georgia won't compete with that.
The first five to 10 minutes will tell the story in this one. The Bulldogs to find a way to keep the scoring low and, of course, close. If the Commodores get out to a lead, Georgia simply doesn't have the firepower to come back. 
Gerald Robinson and Kentavious Caldwell-Pope are nice players, but they aren't prolific enough scorers to hang in this one. More importantly, the supporting cast isn't anywhere near potent enough to stay with Vandy. 
Look for Vandy to get a nice lead and get in cruise control, winning relatively easily. 
Prediction: Vanderbilt 68, Georgia 54