Big Ten Tournament 2012: Ohio State Has Clear Path to Finals
March 8, 2012

Leon Halip/Getty Images
There isn't a team in the Big Ten that can stack up to a completely healthy Ohio State. That is going to be painfully obvious this week at the Conference Tournament in Indianapolis. 
Now that they're healthy (per USA Today), OSU is in fantastic position to make a run to the finals. Actually, they'll do more than that. 
If you take a look at the Tournament Bracket, you will see a very clear road for the No. 3 seed. Let's take a look at how things will go down for the Buckeyes. 
Quarterfinals: Ohio State vs. Purdue
This match isn't set in stone yet, as Purdue has to take on Nebraska tonight, but it won't matter beyond a nice first-round win. Neither Purdue or Nebraska will have the lineup to stack up to the Buckeyes.
The Buckeyes' balance is far too great for the inconsistent Boilermakers to stand up to. This is a team that has struggled all year to gain consistent offensive traction, and that is not a recipe for success against Ohio State, who will score a lot of points. 
In his most recent projections, Joe Lunardi of ESPN still has Purdue as a tournament team and a loss to Ohio State won't change that that, but the Buckeyes will roll in the clash between the two teams.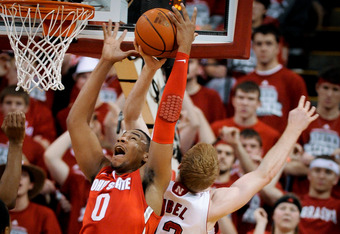 Eric Francis/Getty Images
Prediction: Ohio St 79, Purdue 62
Semifinals: Ohio State vs. Michigan
If this was a home game for the Wolverines, we could talk about a possible win. But even though they are the lower seed in the tournament, the Buckeyes are much better than Michigan on a neutral floor.
Quite frankly, there is just not enough offensive firepower for Michigan to compete here, and there's certainly not enough balance. As a matter of fact, combining skill and balance, very few teams in the country can compete with Jared Sullinger, William Buford and Deshaun Thomas.
Michigan has a strong backcourt, but Ohio State does as well, and they will keep the Wolverines in check. On the other side, Michigan doesn't have a player to stop Sullinger on the inside. That is going to be the difference here in a game that won't end up being that close.
Prediction: Ohio State 76, Michigan 66
Finals: Ohio State vs. Michigan State
The reason the path to the finals is so clear is that two scary teams, Michigan State and Indiana, are both on the other side of the bracket. I wouldn't like the Buckeyes' chances if they had to beat both, but that's not going to happen. As a result, OSU will claim the conference title.
The Spartans did beat the Buckeyes earlier in the season, but we're not going to see this team held to under 50 points again. As a matter of fact, when they played in the regular season finale the year, Ohio State put up 72. That is the range we're looking at, and again, with that three-headed monster, MSU won't quite stack up.
This will be the closest game of the tournament for the Buckeyes, but they will prevail and will ultimately do so with a little bit of breathing room.
Prediction: Ohio State 74, Michigan State 67