Daytona 500: Could Juan Pablo Montoya Have Averted a Near Tragedy?
February 29, 2012
John Harrelson/Getty Images
Juan Pablo Montoya is coming off a year he would like to forget, but his fiery crash at Daytona, with of all things a safety truck and jet dryer, could have easily been tragic and perhaps averted.
Montoya had been in the pits for a vibration in his car. He returned to the track and was coming at a pretty good pace in an attempt to catch up with the field.
The driver of the No. 42 knew something was still wrong with his car. It was thought to be a rear end problem and those kinds of problems can turn bad real quick, especially if it could possibly be an axle.
It was obvious that safety equipment was against the rail of the track. There are flashing lights and the track was under caution conditions.
Given the problem Montoya was having, it may have been a wiser choice to slow down near the safety equipment. He could have easily lost a wheel and lost control of the car.
Instead he was coming up to speed quickly and whatever problem he had caused his car to veer suddenly to the right and into the jet dryer.
In all fairness, it was a bizarre happening that would never be anticipated. It was a spectacular accident, but one that could have turned tragic in a heartbeat for the driver of the safety truck.
The massive personnel change at Earnhardt-Ganassi Racing was supposed to set the two drivers, Montoya and Jamie McMurray, on the track to contend for wins.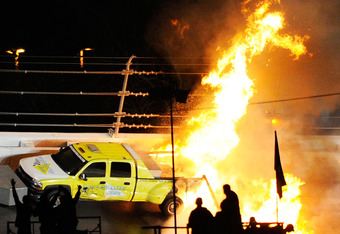 John Harrelson/Getty Images
Oddly, McMurray also lost control of his car and was part of another group of spinning and wrecking cars. A possible rear end problem could have been the issue.
It may be there was a common thread between the two mishaps that most certainly will be addressed by EGR.
Fortunately Montoya and the driver of the safety truck were not injured, but it was a very serious accident. Even Montoya's helmet was burned and his car destroyed.
After being checked out in the infield care center, Montoya was smiling during an interview with a Fox Sports television reporter.
He stated, "I've hit a lot of things, but a jet dryer. No."
It's true, Montoya has hit a lot of cars since coming from the open-wheel series to the NASCAR Sprint Cup Series. He is an aggressive driver.
Montoya was lucky this spectacular crash didn't end up worse. Perhaps his incident will trigger NASCAR to slow vehicles down on superspeedways when there is safety equipment on the track.
The average driver on the highway must move over to another lane away from any flashing lights and official vehicles on the side of the road or slow down considerably.
There is no doubt that Montoya's totally unpredictable crash was just plain weird and scary. Could it have been averted? Perhaps so.