NHL Trade Deadline: Would a Jeff Carter-Rick Nash Combo Be Feasible for Kings?
February 25, 2012

Harry How/Getty Images
After days of heated speculation connecting the Los Angeles Kings to Rick Nash, the Kings and GM Dean Lombardi made a surprising move Thursday evening by acquiring the Columbus Blue Jackets' other star forward, Jeff Carter.
Carter, who was unsatisfied with the last-place Jackets after spending his career's first six years with the Philadelphia Flyers, comes to southern California in exchange for defenseman Jack Johnson and an upcoming first-round draft pick.
One of the league's best wingers—the aforementioned Rick Nash—remains on the trade market, however, in Columbus. Nash's 20 goals and 42 points on the year, albeit still impressive statistics, actually fail to demonstrate the reliable 30-goal, 80-point producer that the 27-year-old can be.
And meanwhile, Kings backup goaltender Jonathan Bernier, a much-hyped trade item this season, also remains undealt.
So, in all regards, the following question is undeniably far-fetched, half-baked, over-the-top and simply insane.
But could Nash still be traded to the Los Angeles Kings?
Indeed, L.A. has managed to retain a plethora of juicy assets that could help them win the Nash sweepstakes.
To the miserable Blue Jackets, continuing to suffer through the brutal situation of having Steve Mason as their starting goalie, Bernier is a savior in himself.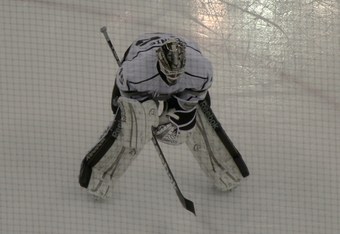 Although the 23-year-old is just 3-5-1 with a .901 save percentage this season, he's shown tremendous potential since being drafted 11th overall in 2006. Plus, with Kings starter Jonathan Quick a mere three years older, Bernier's youth is wasted on the Kings.
Moreover, a boatload of other savory items remain in Dean Lombardi's back pocket.
Winger Kyle Clifford, 21, is expendable after failing to meet expectations in his first two seasons at the NHL level. The former second-round pick and junior league star has just 11 goals, 24 points and a woeful minus-16 rating in 137 appearances (beginning in fall 2010).
Center Andrei Loktionov, the same age as Clifford, could be even more alluring. The undersized yet talented Russian showed great promise with the OHL's Windsor Spitfires in '08-'09 before signing a contract with the Kings. Loktionov scored four goals and three assists in 17 games last year and has followed it up with three scores and four helpers in 39 games in his ongoing campaign.
Columbus GM Scott Howson has also been reportedly interested in prospect forward Tyler Toffoli. The 19-year-old center was picked 47th overall in the 2010 draft and has recorded impressive numbers with OHL Ottawa this year—45 goals and 88 points in 54 games played.
Could a mix-and-match portfolio of those tantalizing youngsters be enough to help Nash join Carter in the royal purple? Los Angeles sure hopes that it would.
The Kings, seeking their third straight postseason berth after decade of bottom-feeding, are in the midst of a remarkable four-way tie for the Western Conference's final playoff spot. Their horrific offense is holding them back, though, and it could just cost them a chance at Lord Stanley's Cup.
The team has a wretched grand total of four players with more than eight goals on the year, and usual stars Drew Doughty, Simon Gagne and Dustin Penner (among others) are all below that line.
As should be deduced from those numbers, L.A.'s offense is dead last with just an average of 2.05 goals per game—below even teams like the plummeting Minnesota Wild and, you guessed it, the Columbus Blue Jackets.
That's why they wanted Carter, a former 46-goal scorer and three-time 30-plus goal scorer, so badly. And that's why they'd love to make a shocking, out-of-the-blue grab of Nash, too.
But the salary cap is a major roadblock in any offensive addition they wish to make. Los Angeles can only add $2.9 million more in cap hit this year, and Nash carries a whopping hit of $7.8 million. With not one of those aforementioned youngsters earning more than $1.25 million annually, the Kings would be forced to add another big-salary item to the trade.
Penner, whose cap hit of $4.25 million (his contract expires in July, though) way overprices his offensive production, would be the obvious choice. But would Howson really take an ultra-overpaid 29-year-old rental with only five goals and 13 points this season?
Clearly, adding both Carter and Nash to the fold is utterly utopic for the Kings, but it's uncertain if the concept is entirely unreasonable. Of course, with Columbus desperate to unload their stars and the Kings equally frantic to add more talent, anything could happen.
So, is it a likely trade?
By all means, no.
But is it feasible?
That requires a little more thinking. 
Mark Jones is currently an NHL featured columnist for Bleacher Report and the community leader for the Carolina Hurricanes. In his 40 months so far with the site, he has written more than 345 articles and received more than 415,000 total reads.