NFL Combine 2012: 10 Players Houston Texans Should Watch Closely at Workout
February 21, 2012

Joe Robbins/Getty Images
With it looking like more and more every day that Mario Williams will be wearing a different uniform in 2012, I think it's safe to add outside linebacker to a position that will be on the Houston Texans' list of options in the upcoming NFL draft in two months.
With that said, this is the week where a lot of things can change. We all do our mock drafts before the NFL Combine and even comment that it is pretty much all for nothing since prospect values can rise or fall so much during the gathering. 
Some consider it pointless, while others consider it boring. But to deny that the Combine is meaningful is just ignorant.
Ask a guy like Mario Williams, who wasn't considered a top overall pick in 2006 until his draft showing. Or ask a guy like T.J. Yates, who wasn't even considered draftable until he raised some eyebrows at the Combine just last year. It's quite meaningful, and here are a group of guys who all Texans fans should keep an eye on at this year's Combine.
Dontari Poe-NT, Memphis
I've made it no big secret about my desire for this team to add a fat, space-eating nose tackle at the front of the line. In fact, at this point it is probably beating a dead horse for the constant readers. But adding a 350-pound load between Antonio Smith and J.J. Watt is quite enticing. 
At the Combine, I want to see if Poe is a beast in more drills than just in the weight room where he has become a YouTube sensation. Obviously, strength is very important at this position, but I want to see more than he's just another fat guy like Shaun Rogers.
Mohamed Sanu-WR, Rutgers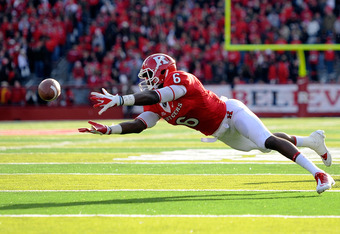 Patrick McDermott/Getty Images
While I have been adamant that this draft should be about depth for the Texans, if they have an actual position of need, it would be at wide receiver. Sanu is an interesting prospect and seems to have all the tangibles that the Texans look for in a player.
Sanu is a high-character guy who is tall and doesn't mind blocking. He seems like a fit in the Texans scheme, but I still want to see his speed and leaping ability at the Combine. He's certainly on their radar, and a good Combine showing could put him at a first-round value.
Whitney Mercilus-DE/OLB, Illinois
At 6'4" and 245 pounds and leading the nation in rushing the passer last season, it's hard to imagine that Mercilus could be a viable option for the Texans at No. 26. But the fact that he was a one-year wonder at Illinois have many skeptical on him.
I'm keeping an eye out for his athleticism and burst at the Combine. He's an amazing athlete, but that doesn't always translate to a good football player in the pros. But I'm not too sure about the talent level of the opposition he faced at Illinois.
Peter Konz-C, Wisconsin
I realize a lot of people will shout that the Texans don't draft offensive linemen early in the draft, but a guy like Konz hasn't usually been available to them that late. Plus, this team has never been in a position to take the best available player in the first.
If they lose Chris Myers in free agency, Konz is a hell of a fall-back option. He's powerful and gets off the line quick. He's a great run-blocker and could plug into this offensive line from day one and probably be successful. The Texans love them some Wisconsin players, too.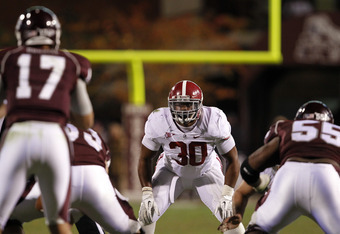 Butch Dill/Getty Images
Dont'a Hightower-LB, Alabama
This is another position that I get met with the argument that the Texans "have enough" at the position, but I will debate that until I die. You can never have too many linebackers in this scheme. Wade Phillips will be the first to tell you so. And if a talent like Hightower drops to you, it makes the threat of DeMeco Ryans being a cap casualty all the more possible.
Hightower was a part of one of the best defenses I've ever seen at the college level last season. He is a sure-fire tackler and a playmaker. He needs to work on his pass rushing abilities, but if Houston solves the nose tackle situation, a guy like Hightower just playing off the ball is scary.
Mark Barron-SS, Alabama
This is the case of the Texans sticking to the best player available mantra that many think they will follow with this draft. If a talent like Barron slips in the first round, you can't pass up on him for a guy like Glover Quin.
I love Quin as much as the next fan, but you are trying to get better at a cheaper rate, correct? Quin is a free agent next year, and he is pretty low on their priority list versus other guys due for new deals.
Barron has what Houston has never possessed in the safety position; ball skills. He is a legitimate ball hawk that has drawn early comparisons to Ed Reed. The biggest thing to look for with him at the Combine is his top-end speed. If there was a knock on him in college, it was that he lacked elite speed.
Vinny Curry-DE/OLB, Marshall
Here is the example of a guy who could raise his stock from a mid-second rounder to a late first with a good showing at the Combine this week. We all know that Houston will be looking for more pass-rushers, as that is Wade Phillips' bread and butter. Regardless of if Mario Williams leaves or not, it's going to happen. But if he does leave, it'll just happen much earlier than anticipated.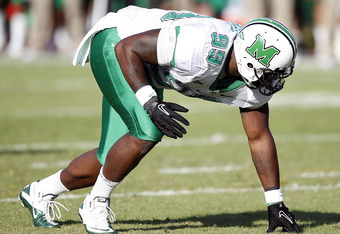 Bob Levey/Getty Images
With Curry, a dominant defense could only improve. He has great speed for his size and an uncanny ability to strip the ball and cause fumbles. He's versatile enough to play either end of linebacker on either side and even holds his own falling back into coverage. Like Mercilus, many question the level of competition he had in college.
Alshon Jeffery-WR, South Carolina
I can't remember the last time a guy of Jeffery's talent was this polarizing prior to the draft. I've seen him go in mock drafts as high as sixth and as low as the mid-second. That's a long way from being neck-and-neck with Justin Blackmon at the beginning of last NCAA season.
Jeffery was victimized by poor quarterback play last year, but questions about his conditioning and ability to get separation have him under microscope this week maybe more than any other prospect. If he has a good Combine showing, this could all change. But at the moment, he is in the Texans' draft range at a position they'd like to fill. Super-high potential here, but risky.
Cordy Glenn-OG, Georgia
Again, the argument of taking an offensive lineman high comes into play, but I really think people should expect the unexpected this draft. Glenn is considered a Top 20 talent, but this is the point in the draft where a good player starts to fall based off of teams reaching for need over value.
The acquisition of Glenn could allow the team to part ways with Mike Brisiel and let Glenn and Antoine Caldwell battle it out in camp for the position. Regardless, the team needs offensive line depth whether Brisiel's back or not. Glenn looked outstanding at the Senior Bowl and can even fill in at tackle if needed.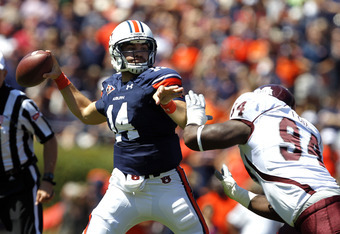 Butch Dill/Getty Images
Fletcher Cox-DT, Mississippi State
This is a pick off of upside alone. Cox is an immensely talented prospect who can play in any scheme and a multitude of positions in the front seven. For a team that was low on depth by the end of last season and was playing Brooks Reed and Connor Barwin almost 100 percent of the snaps, Cox could end up being very important, much like Reed was last season.
Cox is a terror against opposing offensive lines as he is severely disruptive and must be accounted for. He gets into the backfield a lot and causes a lot of plays that equate to a loss of yardage. I'm curious about his pass-rush moves though, as he is pretty much a bull-rusher. He's very gifted, but extremely raw.
Of course I'll be keeping an eye on multiple players through more than just the first-and second-round potential, but these are the biggest players. Every nose tackle and wide receiver should perk up Texans fans' ears when they're on your television screen, regardless of their current draft stock. We'll know a lot more by this time next week than we do now.
I don't know about you, but I can't wait.
Mike Kerns is a Featured Columnist for the Houston Texans at Bleacher Report. Feel free to follow him on Twitter and catch his latest Texans podcast on iTunes.