Boston Celtics vs. Chicago Bulls: TV Schedule, Live Stream, Spread Info and More
February 16, 2012
Elsa/Getty Images
The Chicago Bulls look to get revenge on the Boston Celtics Thursday night, and they'll have to do it without their top player, Derrick Rose. 
Boston beat Chicago this past weekend by four points, which, in a way, was a good sign for the Bulls since they were playing without Rose. 
Now the other stars of Chicago get a chance to show they can beat Boston. Of course, this won't be an easy task, but playing at home will help. 
The Celtics have lost three of their last four games, with the only victory coming against Chicago. The Bulls, on the other hand, have been without Rose for a few games now, and the only loss came against Boston. 
Chicago's proving it isn't all about Rose, which is why this game is very important. 
With that said, let's take a look at some specifics of this Eastern Conference showdown. 
When: Thursday, Feb. 16 at 8:00 p.m. ET 
Where: United Center, Chicago, IL
Watch: TNT
Live Stream: NBA League Pass
Betting Line: Chicago (-8) per VegasInsider.com
What's at Stake? 
The Celtics are in dire need of a win. Currently, Boston is in seventh place in the conference and four games out of first in its division. A victory over one of the best teams in the league would definitely lift their spirits. Since Chicago is likely to be without Rose, the Celtics cannot afford to lose this game. 
For the Bulls, this is a chance to show that they can beat quality opponents without Rose on the floor. Those teams they have beat the past few games while Rose was nursing his back pains weren't stellar teams, so beating Boston is a must for Chicago. 
Boston Injury Report 
*According to CBS Sports
PF Kevin Garnett (hip): Questionable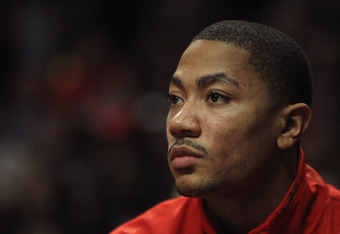 Jonathan Daniel/Getty Images
PF Brandon Bass (knee): Out 
SG Sasha Pavlovic (wrist): Doubtful 
Chicago Injury Report 
*According to CBS Sports
SG Richard Hamilton (groin, thigh): Out 
PG Derrick Rose (back): Expected to miss, according to the Chicago Tribune
What They're Saying 
The official Twitter page for the Celtics tweeted a quote from Boston's head coach Doc Rivers explaining his annoyance with the team.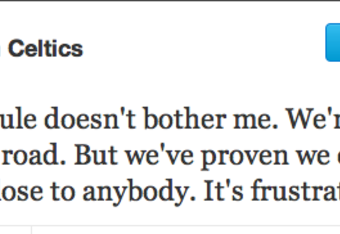 Boston has lost to the Toronto Raptors and Detroit Pistons within the last week, which is very discouraging for the Celtics. 
Sure, they've had some good wins, but those are teams the Celtics shouldn't be losing to, which is why Rivers has every right to be infuriated.
KC Johnson covers the Bulls for the Chicago Tribune, and he tweeted how the Bulls are the best, despite not having all of their guys together.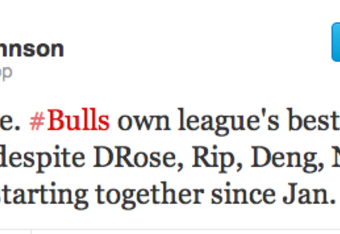 That really is quite remarkable, and it should strike fear in other teams around the league. Barring any setbacks, everyone on the Bulls should be healthy by March and on into the postseason, which won't bode well for the rest of the NBA. 
Chicago is rolling along very well without their best of the best all in the lineup, and that is certainly a cause for celebration. 
Boston Player to Watch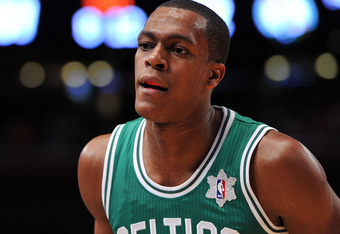 Christopher Pasatieri/Getty Images
Rajon Rondo recorded a triple-double the last time these two teams met, and he'll need to be on the top of his game once again Thursday night. 
If Kevin Garnett is unable to go, it will put more pressure on the rest of the team to step up. This means Rondo has to be more than just a facilitator in order to win. 
Rondo has the skills to finish with the best stat line Thursday night, and that's something the Celtics would prefer because it means they're like to win easy. 
Chicago Player to Watch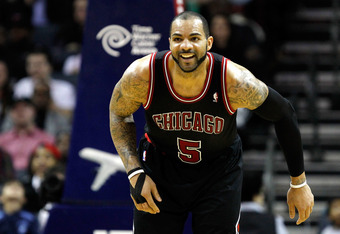 Streeter Lecka/Getty Images
Carlos Boozer has been on fire as of late, and that has to continue against the Celtics. The power forward has played very well against Boston this year, so look for his dominance to occur once again. 
In his last five games, Boozer is averaging 19 points per game, which is huge since Chicago has been without Rose for most of those games.
If Garnett doesn't play, Boozer has to wreak havoc down low and control the game. By doing that, the Bulls will avoid being upset. 
Key Matchup 
Without Rose in the lineup, the key for this game is Chicago's point guard rotation against Rondo. 
The Celtics' operator tore them apart last weekend, and if C.J. Watson and John Lucas don't rise up and prevent Rondo from going off again, it will be a long night. 
Watson did a great job scoring last time around, dropping 22 points. However, defensively, he and the rest of the Bulls have to shut Rondo down or else they'll be in big trouble once again. 
Prediction 
Expect this to be another close battle throughout, with both teams trading leads every so often. 
In the end, I like the Bulls to get the job done at home, even though Rose is likely to be on the bench. The other stars on the team will step up and edge out the Celtics in a tight one. 
Chicago 97, Boston 94