Brandon Weeden 2012 NFL Draft Scouting Report
February 15, 2012

Doug Pensinger/Getty Images
Air Raid quarterback. 29 years old at the start of the season. Medical history includes a torn labrum. Doesn't sound like a potential first round pick, does it? 
Well it is and his name is Brandon Weeden.
Weeden plays quarterback for Oklahoma State University and is one of the most intriguing prospects in the 2012 NFL draft. He's got a different past than many others, initially choosing to play baseball for the New York Yankees before getting injured. The injury put his athletic career in all sorts of doubt, but he's back slinging the ball and its in the sport of football.
Lighting up stat sheets and scoreboards every Saturday, Weeden has grown into one of the best prospects at his position for the upcoming draft, which is why I turn my focus to him in this scouting report. 
Size
The Cowboys quarterback checks in over 6'3" and 219 pounds, which puts him near the ideal size of a player at his position. He is able to see over pass rushers and find his passing lanes by sliding around in the pocket and seeing all depths of the field, which means he's less likely to leave plays on the field.
Scheme
The scheme and philosophy of which Brandon Weeden plays in is going to be a significant question mark to NFL scouts because of the history of quarterbacks that have previously come out of it—few of which have had success and even that dates back decades. 
Weeden's astronomical statistics are nothing new to the Air Raid system, one that was initially created by BYU's Doug Scovil in the late '70s and early '80s and has since taken the next step by expanding under the teachings of former Kentucky head coach Hal Mumme, Washington State head coach Mike Leach and now West Virginia's Dana Holgorsen.
Last year, Holgorsen worked with Weeden in the state of Oklahoma and installed the potent offense that's currently ran there. The offense features a significant amount of aggressive vertical throws which play to the strength of Weeden (more on that later) and screen passes that keep the defense off-balance.
In this offense, Weeden often is making half-field reads that ask him to read a couple of his targets that put a defender in conflict (2-on-1) and make a decision based off of where the defender goes. If the defender goes one way, Weeden throws the other and vice versa. 
While this is the case for a significant amount of his reads, it is important to note that it is not the only reads he makes. He's made more than one or two reads while dropping back, such can be seen when he's making a five-step drop with (a) hitch step(s) and reads 1-2-3.   
Mechanics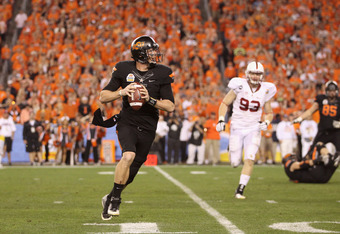 Christian Petersen/Getty Images
Mechanics are always a big question with quarterbacks, but there's not one way to throw the football. There are times where a quarterback will have a big loop in his throwing motion that can be problematic and one could say that its potentially (and likely) detrimental to his success, but more often than not, a quarterback's motion should be left alone because it is what works best for him.
With that said, Weeden's mechanics are quality. He has a small loop (which is good) that is not detrimental to his throwing ability as can be seen when he's getting ready to throw the football to releasing it. In this time frame, he gets the ball up and out quickly, releasing the ball into the air and toward his intended target.
Footwork
Footwork is one of the most important—if not the most important of all—characteristics in quarterbacking. If a quarterback has issues with his footwork, he will have issues at any and every level regardless of his arm talent. 
Further, it is important, in my opinion, to ask what makes up footwork? 
There are many parts to this and I will list a couple. The first is footwork in the drop back. When a quarterback is taking a three-step drop, which is mainly made up of one big step and two small steps that are done for balance, is he taking too long of a stride? This is crucial because three-step drop backs are rhythm throws (akin to five-step drop backs) and the ball needs to be out in a timely manner. 
In quarterback Brandon Weeden's case, his footwork needs to be cleaned up a bit when administering three- and five-step drops but this is the case with all young quarterback prospects. Even the great Andrew Luck, who is by far the best prospect in this class in my opinion, can have issues with his footwork at times. 
But what may be more important to look at is the quarterbacks movement from the hips down. When delivering the football, the passer needs to point his foot at his target, open his hips and point his belt buckle (or often his towel) in the direction of his target. This shows me he understands what he's being taught and he's taking it in on the football field. Moreover, he's delivering the football accurately and giving his targets a chance to make plays. 
Weeden does this well because he takes the aforementioned necessary steps to deliver the football to his target and also brings over throwing shoulder—another key aspect of throwing because the throw has to have velocity on it when delivered.
Accuracy
To give your target a chance to make plays after the catch, you must be able to throw an accurate pass. 
On the game tape, which is the best bet in draft evaluation, Weeden shows that he can accurately throw a football. His passes are in the vicinity of the pass catcher, which gives them the opportunity to make a play after the catch as well as giving only them an opportunity to catch the ball.
The latter type of accuracy can be usually seen down the sideline, where the quarterback throws it to the outside shoulder and doesn't risk a turnover. Instead, its a complete or incomplete pass, which is all you can ask for from a quarterback.
Further, his ball placement is one that's interesting to evaluate because of how much Air Raid coaches preach leverage. Air Raid quarterbacks are taught to make leverage throws that are based off of the defender's leverage. Seems simple, right?
Not so.
This can sometimes be a difficult task, especially in a live game situation when the quarterback has seconds to make a decision, and it's something that I believe Weeden can improve on. At times, he appears to be too concerned about this and will deliver a poorly placed pass, such as throwing a pass to the back shoulder when he could have led his pass catcher for more yardage. 
Pocket Presence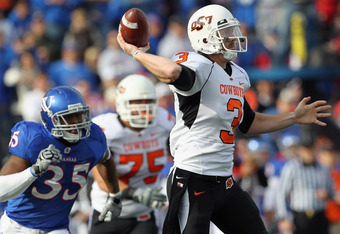 Jamie Squire/Getty Images
Coming into the evaluation, this was one of the things that I was most interested in seeing. How would a quarterback, who I know gets the ball out of his hands quickly, deal with pressure when faced with it? 
Simply put, he handled backside pressure pretty well. Weeden showed pocket presence in the pocket with slight and subtle forward movements in the pocket as well as side stepping to avoid pressure. He was able to sit in the pocket and deliver the football despite creeping pressure on numerous occasions. On front-side pressure, at his feet, he had issues with game management. 
He also utilized hitch steps to step up into the pocket to buy himself more time on five-step drops, which I liked to see because they are very quarterback friendly and need to be done more often by other quarterbacks. 
Game Management
Whether its one turnover or four, they can be difficult to overcome in a football game, especially a game which so many games are decided by seven points or less. 
Because of his gunslinger mentality and the offense he operates in, Weeden can have trouble with his decision making at times. He's very confident in his arm and is willing to test any window, which gets him in some trouble because he will throw it in double coverage and risk a turnover. 
Moreover, he can have issues with decision making when pressured. This is something that a lot of pure pocket passers have to deal with as can be evidenced throughout the NFL and Weeden is no exception.
While his decision making is not horrific, it can be troublesome because he will occasionally throw the ball up for grabs. He needs to not do this, instead throw the ball away out of bounds or find his check down, which he occasionally does.
Last, Weeden does a good job of securing the ball through his pre-pass triangle set up. He will take his hand off the ball when pump-faking it, consequently risking the possibility of a fumble forced by a pass rusher.
This can be taught, but it is still noteworthy because at the next level, he'll be taught to pump fake with his shoulders instead of the football. By faking with his shoulders, he'll keep two hands on the football and secure it.
Touch
There is more than one type of touch pass, ranging from a short throw such as a slant pass which requires the quarterback to throw it a yard in front of the numbers on the receiver's jersey or an intermediate shallow cross that Oklahoma State is often seen running, it is important to be able to deliver the football in this fashion.
On these types of passes, Weeden has shown that he can deliver the football in this manner. He can drop the ball over a linebacker and in between or front of defensive back(s), as well as pass the ball short on a slant pattern, which is commonly ran by wide receiver Justin Blackmon. 
Arm Strength
Despite it being overvalued, arm strength is still an important part of throwing the ball. With arm strength comes velocity, which is the most important part of arm strength and its something that Weeden possesses. He can make all the throws and from various platforms, whether on the run or from the pocket and it is a significant strength of his. 
Mobility and Throwing on the Run
Weeden's mobility is one of his weak points. Every quarterback has one (or many) and this is one of Brandon Weeden's. He doesn't necessarily lack the foot quickness to elude rushers in the pocket, as discussed earlier, but he lacks the foot speed to avoid defenders outside of the pocket. He's not going to make anyone miss because he lacks the agility to do so.
However, he can improve his play outside of the pocket by continuing to work on the techniques of play action.
When executing a play action, a quarterback should look to sell the hand-off by keeping his eyes on the ball carrier's belly as if he's truly handing it off while keeping his off hand tucked in to his body. This gives the impression that it is a run play and once he's sold the play action, he must snap his head around quickly and identify his potential targets. 
Once this is done, the quarterback can buy himself an extra second or seconds to pass the ball. When Weeden does this effectively, he shows the ability to throw off the correct foot (right) and pass it accurately to his intended target. He can make throws down field while doing this as well because of his great arm strength.
Final Evaluation
Despite what appears to be a questionable prospect because of the system he's coming out of and his medical history, Oklahoma State quarterback Brandon Weeden has a lot to offer to NFL teams. He possesses the mechanics and arm strength to make all throws required of him at the next level and understands the game well from a mental standpoint.
However, there are questions about him, such as how he will handle pressure in the pocket over time, if his lack of foot speed will be an issue and if his decision making will ever become better.
These are all valid questions in my opinion and its a few of the reasons why it makes it very difficult to grade him, with the other reasons being how scouts feel about his system and medicals.