2012 Laureus Awards: Waugh, Fitzpatrick and More Discuss Sport's Role in Society
February 6, 2012
Ian Walton/Getty Images
Tomorrow night, Laureus brings its prestigious World Sports Awards ceremony to English shores for the very first time in its 12-year history. And what a package that is.
The event is dedicated to demonstrating the power of sport and its global impact and will attract a star-studded entourage, uniting some true sporting deities.
An elite set of current athletes complete the nominees for this year's premier event, with Lionel Messi, Novak Djokovic, Cadel Evans, Usain Bolt, Dirk Nowitzki and Sebastian Vettel all competing for the accolade of Sportsman of the Year.
Their fate will be determined by 47 eminent Laureus Academy members, a unique panel of distinguished, inspirational individuals, including the likes of Marcus Allen, Jack Nicklaus and Franz Beckenbauer.
Whilst the Academy members are the contender's jury, there are also 106 Laureus Ambassadors connected to the foundation, all men and women who have achieved top sporting success and are seen as ideal role models for today's generation.
Honouring sports' elite performers over the previous calendar year, the ceremony is seen as the closest event in sport to the Oscars, and this lavish attraction lures media from most corners of the globe.
With the awards scheduled for tomorrow, the show is already rolling, with several Laureus Academy members and Laureus Ambassadors only too happy to offer their insights on sport, sport and more sport.
Covering the event for Bleacher Report, I have spent the day mingling with some of the greatest champions and most influential characters to ever grace the world of sport. Despite discussing various subjects with these icons, one overriding theme emanates from most interviews—the need to use the power of sport as a force for good in society.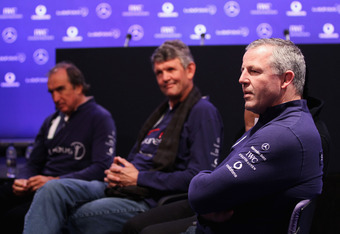 Ian Walton/Getty Images
As Morne du Plessis—former captain of the South African rugby union team—was keen to preach: "You can have different religions, classes, politics or cultures, but it is amazing how quickly sport can cut through that."
Sean Fitzpatrick—a rugby World Cup winner with New Zealand—echoed du Plessis' sentiments, adding how sport brings people together, shoulder to shoulder. He mentioned how victory in last year's World Cup united a grief-stricken New Zealand, ravaged by a devastating earthquake this time last year.
Another rugby legend, Hugo Porta of Argentina, added: "It is an excuse to bring people together and it's important to teach how to use sport as a tool for change."
This is clearly a message Laureus is keen to spread.
The aim of the Laureus Sport for Good Foundation is to harness the impact sport has on people and translate it to aid social challenges across the world.
Currently 91 projects are supported worldwide. Those projects have so far raised over €40 million and improved the lives of more than one-and-a-half million young people. Young people are not the sole target of the scheme, but are generally focused on, particularly those facing social exclusion, gun and gang violence, discrimination and many more traumatic scenarios.
Steve Waugh—the former Australian cricket captain—firmly backed the foundation: "It's about goals and vision, and trying to be the best at what you do. Laureus are aiming to be the best at implementing their programs at grass roots, doing it the right way."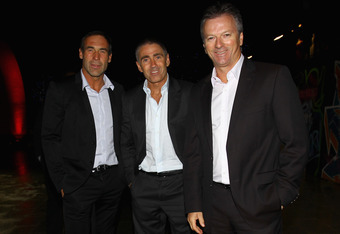 Matthew Lewis/Getty Images
Waugh continued, when asked about the progress made over the past decade: "It's really grown as an organisation from 12 years ago. 34 countries, we have programs… They're changing the lives of millions of kids."
As Waugh, the former rugby players, and many others continued to refer to today, the effects of Laureus' message are clearly increasing all the time. The power of sport, and its obvious ability to bind people—regardless of multiple surrounding factors—simply has to be capitalised on and Laureus are leading the charge.
Tomorrow will see plenty more interview opportunities to further gauge opinion, before a cold and wintry London will warmly welcome the red-carpet parade. 
The evening's festivities will be predominantly focused on the sporting elite and their recent accomplishments, but it is clear that, for those involved, and those sporting legends tied in, Laureus' message is one that has been passionately bought into.