Greg Oden's Injury Woes Have NBA Career On Its Last Legs
February 3, 2012
Greg Oden just can't catch a break in his NBA career.
The Portland Trail Blazers announced on Friday that the 2007 top overall pick would need more surgery on his right knee and will undergo the procedure in Vail, Colorado.
Oden, now 24 years old, has played in just 82 regular season games over the span of his career to date.
The center's latest procedure will be to remove debris from his knee, and it is his fourth knee surgery since he was initially drafted.
It's a sad story for a young man who deserves a better outcome.
Oden has worked very tirelessly to get back out onto the court and show to his critics that he's got a lot to prove on the basketball court, but unfortunately, the big man won't get the chance to do so in the foreseeable future.
Interim General Manager Chad Buchanan said that it would be "speculation" to call Oden's season over at this point, but it's almost impossible to imagine a scenario where he returns this year.
Let's be frank: his campaign has once again concluded before it ever got started.
Buchanan said that Oden had recently "increased activities" on the court, and after a recent MRI, debris was discovered and doctors chose to operate in order to garner a closer look as to exactly what is going on.
Here's the key: Buchanan also revealed that there is a possibility for Oden to undergo further surgery on his left knee, which was the initial area in question when Oden visited the doctor back in December.
But that's not all Oden is dealing with currently.
A league source has disclosed that Oden has also been experiencing discomfort in his ankles, and further testing revealed blood clots.
Ouch.
How can you not feel bad for this guy?
He is the popular target of jokes and misguided slander with the constant woes he's gone through, and the latest development in his path to resuming his career has him climbing yet another uphill battle.
It's not about the money for Oden. It's about his hopes and dreams to carve out a lengthy and successful career in the league.
Portland had been hopeful that he could return this season, but after suffering a setback in December, the team and Oden re-negotiated his salary for the year.
Now, it's looking like he won't get an opportunity to show what he is capable of before becoming an unrestricted free agent in the 2012 offseason.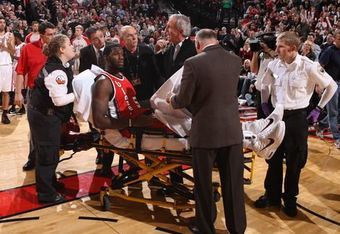 He's had work done to both of his knees, and for a man that stands a legitimate seven feet tall, that is always cause for major concern from a basketball standpoint.
Oden has not seen action since the 2009-10 season, meaning that it will have been two full seasons on the sidelines for him if unable to return this year.
The mental aspect of constant injuries like those that Oden have suffered through can have a lasting impact on his long-term psyche.
Nobody should have to be forced to go through what Oden has in the early stages of his playing days, and the fact that he could have his dreams crushed with constant surgeries at such a young age is truly a sad thing.
Many are quick to dismiss what Oden has gone through (and is still going through) because he's made north of $20 million, but money doesn't buy happiness.
In Oden's case, it certainly hasn't bought him health.
Hopefully Oden will be able to return after his most recent procedure to full strength and contribute to a team in the future, but there will always be long-term concerns about his durability and chances of contributing in sustainable stretches.
For Oden, the only focus he should currently have is on getting healthy.
Everything else is secondary.
Including basketball.