NFL Playoffs 2012: 3 Things We Learned from Each Conference Championship Game
January 23, 2012

Al Bello/Getty Images
Well, that happened.
Two championship games, both decided by three points. One went to overtime, one should have gone to overtime (or been decided the other way).
There were a few things that stood out in each game. We're gearing up for the destined rematch between the Giants and Patriots. Can the Giants do the unthinkable and win it all again? Will this be the last Super Bowl for the Bill Belichick/Tom Brady duo?
We'll have to wait two weeks to answer those questions. In the meantime, there are a few things that can be addressed right now.
Ravens-Patriots
Billy Cundiff shouldn't be blamed
The NFL—like everything else—is a "most recent" game. That is, people tend to look at the most recent event as the reason for blame. In the case of the AFC Championship Game, Baltimore kicker Billy Cundiff got the lion's share of the blame for losing the game.
Yes, that kick was within his range. It was in everyone's range. The problem was that he pushed it, despite being an 83 percent kicker from the 30- to 39-yard range on the season (the kick was 32 yards). The reason he pushed probably had something to do with the scramble right before the kick.
Baltimore still had one timeout left that it didn't need otherwise. Why didn't coach Harbaugh take the timeout to get everything perfect? This is the New England Patriots we're talking about here, not some lesser team that you don't need help to beat.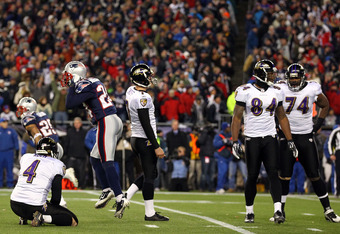 Al Bello/Getty Images
Had Harbaugh called the timeout, Cundiff still could have missed the kick. The thing is, though, that had the timeout been called, it wouldn't have been such a frenetic play. It would have been calmer and probably easier, and the game most likely would've gone to overtime.
Lee Evans' near-catch should have been reviewed
It was a throw that would've silenced all the Joe Flacco doubters. Placed perfectly in the end zone where only Lee Evans could catch it. Evans caught the ball between two defenders, landed both feet in bounds (with possession) and then had it stripped away. No TD.
In hindsight, this was probably one of those "bang-bang" plays the NFL is so fond of describing as such to cop out and making a ruling. And it's wholly likely that the play would've been upheld under review. Why wasn't it reviewed though?
The play was under two minutes in the fourth quarter of a championship game and the NFL powers that be didn't see the play as worthy of a review. Harbaugh couldn't challenge it since it was under two minutes.
The problem with the play is one the NFL needs to address in the offseason. It's a little ridiculous that Torrey Smith can score while falling out of bounds and stretching past the pylon (a beautiful play, by the way), but Evans catches the ball, brings both feet down and then has it stripped. And it doesn't count.
Somewhere, Calvin Johnson is silently nodding.
Tom Brady looked a little off
Maybe it was the sprained non-throwing shoulder that kept him off the practice field. Or maybe it was the Ravens secondary, which made spectacular plays all day (including those gorgeous interceptions). Something just seemed off with Tom Brady.
Brady missed a few open receivers, which usually doesn't happen with him. The second interception was just a blatant bad decision by Brady, whose hubris sometimes gets in the way of his decision making. Jumping over the pile for the TD was heroic, but he got destroyed by Ray Lewis as a result.
There are two weeks between now and the Super Bowl, and chances are everything should be fine. Rob Gronkowski was back on the field, meaning the ankle injury may not be as bad as it looked. The Giants secondary is a little suspect at times, so Brady shouldn't have too much problem throwing on them.
The greater concern may be that this might be the start of Brady's decline. Hard to say after he eviscerated the Broncos last weekend, but the truth is he didn't look as crisp as usual. The missed throws and bad decisions just don't happen with Brady and, against a team with a good pass rush like the Giants, he may make a few more.
Of course, the previous few paragraphs just mean that Brady will break a few Super Bowl records just because he's spiteful like that.
49ers-Giants
Vernon Davis needs some WR help
San Francisco TE Vernon Davis caught three balls for 112 yards and two TDs in a monster game (despite the more worrying statistic of only three catches). If he had that much, Alex Smith must have had a big game, too, right? Yes and no.
Alex Smith threw for 196 yards, with 112 going to Davis and another 45 going to Frank Gore. That leaves 39 yards for the other WRs.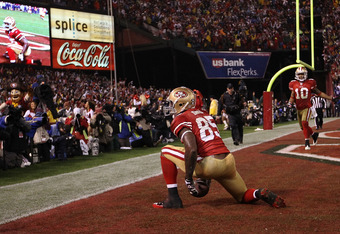 Ezra Shaw/Getty Images
Let that sink in for a minute.
Thirty-nine yards. Spread over three receivers. Ted Ginn Jr., didn't play due to injury, but he was never really a game-breaking threat anyway. Michael Crabtree (of the highly touted and drafted fame) caught one ball for three yards.
The 49ers may have overachieved all season based on their defense (which is a collective beast) and improved play from Smith. If they don't get some receiver help this offseason though, then they'll continue to be a team that relies too heavily on their defense to get the win.
The QB class of 2004 is pretty special
Ben Roethlisberger is 2-1 in Super Bowls. Philip Rivers hasn't been there yet but is consistently rated as a pretty good QB. And there's Eli Manning.
Manning has dubbed himself the King of the Fourth Quarter, shepherding the Giants to their sixth comeback win, while becoming the first QB to win five playoff games on the road. He managed 316 yards and two TDs against a 49ers secondary literally running into one another to make interceptions.
Now, he's heading to his second Super Bowl in four years, looking to double the win total of older brother Peyton. You could make the argument that Eli is the better Manning at this point and that he should start being included in arguments when it comes to the top five QBs.
His stats are never gaudy and he doesn't strike fear into opponents like Brady, Drew Brees or Aaron Rogers, but he gets the job done. And his back must be sore from carrying the Giants for most of the season.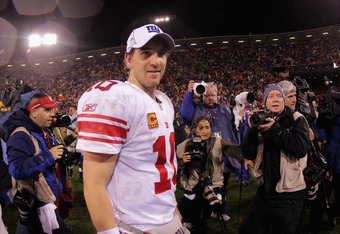 Doug Pensinger/Getty Images
One more game and he can take a load off.
It was a bad day to be a Harbaugh
The NFL and fans were two games away from a Sibling Rivalry Bowl, with 49ers coach Jim poised to face his older brother John in a rematch of the Thanksgiving night game this year. Sadly, it wasn't meant to be.
Both brothers were done in by special teams, with Cundiff missing the kick and second-year WR Kyle Williams losing two crucial fumbles during returns. The two coaches were clearly prepared for their games and even made them interesting, but both lacked points.
The fact that Ray Rice couldn't get anything going was troubling. This is the same Rice that busted open the 89-yard run for a TD when the Ravens last visited Foxborough in the postseason, smashing the Patriots in the mouth and setting the tone for the entire game. This time though, Ricky Williams seemed to be the more effective runner for the Ravens.
Smith made great strides this season, but again, he needs more targets. Better targets. He can't throw to Davis on every play (as much as this owner of him in fantasy this year would've liked). He needs a playmaking WR that will spread the field, giving Davis some better looks and Gore/Kendall Hunter more room to run.
It was great to see the two brothers so close to the ultimate bragging rights, but now we'll have to wait till next year.