Miami Dolphins: Joe Philbin, Not Jeff Fisher, the Answer for Head Coach
January 9, 2012
Handout/Getty Images
The Miami Dolphins head coaching position has been open for a few weeks now and the big time name that owner Stephen Ross really wants is Jeff Fisher.
Will Fisher put fans in the seats? Yes.
Is he that big name coach that the media will talk about? Yes.
Does he have a great track record? Depends on how you look at it.
To me, Fisher is too much like Tony Sparano in the sense of how they like to run their offenses. The old, archaic run-first mentality.
Yes, Fisher is definitely better than Sparano and has excellent experience, but he only has six winning seasons in sixteen years as head coach (not including when he was interim head coach). In those 16 years, the offense was top ten in yards only three times. 
The Dolphins are in desperate need of an offensive minded coach and Fisher just isn't that.
Fisher seems to be using the Dolphins to get more money and power from the St. Louis Rams anyway. Ross wants to throw money at him to make Miami more attractive, but if Fisher doesn't really want to be in Miami and have his heart in it, I say move on. This is reminding me of the Jimmy Johnson hiring and that was a disaster.
It is rumored that wherever Fisher goes, Saints defensive coordinator Gregg Williams will follow. At first glance, this looks like an enticing offer. However when you look at what the Dolphins have built on the defense thus far with Mike Nolan at the helm, you wonder if that is  a good idea. Nolan has done a great job with this defense since he has been hired.
While Nolan has helped develop a great linebacking core and a very deep defensive line,  the secondary does need some work.
If Williams comes with Fisher, all indications are that the defense will change from a 3-4 to a 4-3 and that will greatly change the makeup of this defense. Why blow everything up now when the Dolphins are a free safety away from being a top-tier defense?
At this juncture, I would rather have the Miami Dolphins take a gamble and get some new blood at the head coach position. That gamble would entail hiring Joe Philbin, Offensive Coordinator for the Green Bay Packers and signing Matt Flynn in free agency.
The Dolphins are drafting at eight or nine (depending on a coin flip with the Panthers), so getting either Andrew Luck or Robert Griffin III is completely out of the question unless the Dolphins trade up.
I think Flynn's six touchdown performance against the Lions showed a lot about him. Yes, the Packers are loaded on offense, but to throw for six touchdowns in an NFL game (a franchise record no less) is something you just don't look over. I know for sure Chad Henne or Matt Moore wouldn't have done that.
Joe Philbin has been the offensive coordinator for the Green Bay Packers since 2007 and, since his arrival, the Packers offense have been ranked in the top ten every season.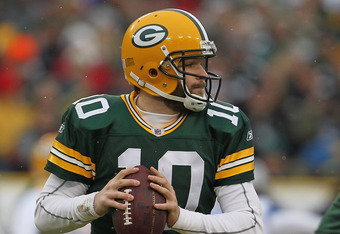 Jonathan Daniel/Getty Images
If he brings Matt Flynn with him, the Dolphins can focus on other players in the draft. Perhaps Morris Claiborne from LSU or Dre Kirkpatrick from Alabama to sure up the Dolphins secondary. Or the Dolphins can also take another route and draft Jonathan Martin OT from Stanford.
Like Fisher, Philbin also has Super Bowl experience, except he has done it recently and knows what it takes to win in today's NFL. That is my main gripe with Fisher, he represents that old style of football that Bill Parcells tried to force and we all know how that turned out.
Fisher is the safe pick, but not the pick that will lead the Dolphins to a Super Bowl. He will keep the Dolphins in the hunt for the playoffs year in and year out, but haven't we been here before? Good enough to just make it, but not good enough to make a run. The Dolphins need the coach that will make them great and take them out of 1999. That takes a gamble and that gamble is Joe Philbin and Matt Flynn.