Jeff Bagwell: Astros Great Doesn't Deserve to Be a Casualty of Steroid Era
January 3, 2012
Stephen Dunn/Getty Images
On Monday, Jan. 9, we're going to find out who has been elected to the Baseball Hall of Fame this year.
In other words, we're soon going to be debating which players deserved and didn't deserve to get snubbed. The one thing most (if not all) of them will have in common is suspected steroid use.
Last year, this crowd included Houston Astros great Jeff Bagwell, who got just 47.1 percent of the vote in 2011. To get in, you need to get at least 75 percent of the vote.
Why did Bagwell get snubbed?
It's quite simple, really. He played through the Steroid Era. For many voters, that makes Bagwell guilty by association.
"People are going to have suspicions when you play in the era I played in," Bagwell said, per AOLNews.com.
We already know that not much has changed in the last year. In fact, we know of three Hall of Fame voters in particular are still wary of Bagwell.
Two of these voters come from the Chicago Tribune.
"Happy to omit Mark McGwire for the sixth straight year and Rafael Palmeiro for the second; I never will pick either doper. And I'm still too suspicious about Jeff Bagwell to include him," writes Philip Hersh.
Paul Sullivan was even more to the point, writing that he is skeptical of any and all "shrinkage" candidates, Bagwell included. A very classy thing to say.
Scot Gregor of the Daily Herald also left Bagwell off his list, citing "suspicions."
In all likelihood, these three aren't alone in being suspicious of Bagwell's career production. Clearly, any man who could hit 449 home runs while playing in the 1990s and early 2000s must have been juicing. Besides, Bagwell was pretty jacked when he was playing.
The message sent by these voters is pretty clear: If a player was in good shape and hit home runs during the Steroid Era, he wasn't clean. Bagwell is therefore in the same category as fallen greats like Rafael Palmeiro, Mark McGwire and Sammy Sosa.
And no, it doesn't matter that Bagwell never tested positive or lied to the government about taking steroids. For that matter, it doesn't matter that Bagwell's name didn't even turn up in the Mitchell Report (ESPN's Jerry Crasnick pointed that out in 2010).
Here's a scary thought: The people who actually think this way get to decide who goes into the Hall of Fame. The decision is in their hands.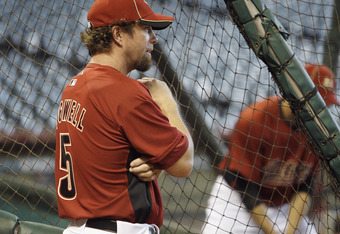 Bob Levey/Getty Images
In a word, denying Bagwell the right to go to the Hall of Fame is ridiculous. While it's true that he may have juiced, there is absolutely no evidence whatsoever that he did juice. The only thing his skeptics have to go on is the time period of his career and his muscled-turned-skinny physique.
If these are the standards voters are going to use when it comes time to decide who gets to go to the Hall of Fame, then a fair number of deserving players are going to be left out. If Bagwell can't get in, then greats like Ken Griffey, Jr. and Derek Jeter will also have to be left out.
There's no evidence against either of them, mind you, but they managed to be productive during the Steroid Era and beyond. Surely they couldn't have managed to do that without the help of PEDs.
Does that sound unfair?
Of course it does. But hey, I'm not the one setting the precedent. The voters are, and it bears repeating that this is a scary thought.
In fact, I probably find it more scary than most. I grew up with the Steroid Era, and I have spent my adult life coming to grips with the fact that most of what I saw was utterly phony. Strip away the accomplishments of players like Barry Bonds, Roger Clemens, Mark McGwire, Sammy Sosa, Rafael Palmeiro and many, many others and there's just not a lot from the '90s and early aughts to hang your hat on.
Something must be salvaged from the Steroid Era. I and everyone else who grew up with it need to rest comfortably knowing that not everyone was dirty. There has to be at least a few Steroid Era greats that deserve to be in the Hall of Fame. 
When it comes to granting this right, denying it because of essentially baseless suspicions just doesn't cut it.