Chicago Cubs: Analyzing the Sean Marshall-Travis Wood Trade
December 21, 2011
Jonathan Daniel/Getty Images
According to sources, the Cubs have agreed to trade left-handed reliever Sean Marshall to the Cincinnati Reds for left-handed starter Travis Wood and two prospects.
On the surface, without knowing the names of the prospects, the trade seems like a fair swap. Anytime a club can get a starting pitcher for a relief pitcher, it's usually a good move.
But Marshall is a better reliever than Wood is a starter, at least thus far in their respective careers. So the key will be the prospects included in the deal.
The Cubs need starting pitching, like most teams, and they didn't have a legitimate southpaw starting candidate for 2012.  
Plus, they needed to get younger. They know they are not likely to set the world on fire this season, so obtaining Wood, whose ceiling is that of a 4/5 pitcher, helps since Wood is only 24 years old.
Granted, Marshall has been a very effective relief pitcher and is one of best bullpen arms in baseball.
But he is five years older than Wood, and though he isn't ancient by any stretch of the imagination, he is eligible to be a free agent after this season.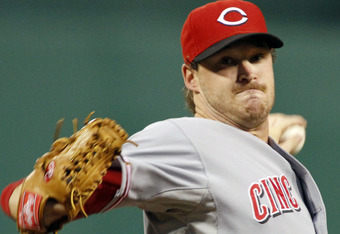 Justin K. Aller/Getty Images
Meanwhile, Wood will be under team control until 2017.
The newest addition to the Cubs rotation had a better rookie season than he did last year. In 2010, Wood had an xFIP of 3.97 and a WAR of 2.2. He was 5-4 with a 3.51 ERA and 7.54 K/9 and 2.28 BB/9.
But last year, Wood slipped to a 1.0 WAR player and an xFIP of 4.64. He was 5-6 with a 5.08 ERA and a 6.15 K/9 and a 3.39 BB/9.
Wood excited scouts with a 95 MPH fastball in high school. He also had a one-hit loss against Roy Halladay in just his third career start.
But he no longer throws that hard, reaching 90 with his gas. He also throws a cutter, change and curve.
He is an extreme fly-ball pitcher, however, so that could be an issue pitching in Wrigley Field when the wind blows out.
So the trade may eventually come down to the prospects included.  
This is a good trade for the Reds, who figure to contend next year. Marshall will give the Reds a high-leverage lefty in the bullpen and allow them to move hard-throwing Aroldis Chapman into the starting rotation.
Marshall may also step into the closer's role if necessary.  
Personally, I don't mind that the Cubs traded Marshall within the division, if that was where the best return was. I think that teams who refuse to do that are limiting themselves.
But I would like to see the two prospects be of some quality for me to get excited about this trade. If it includes at least Daniel Corcino, Robert Stephenson or Todd Frazier, it will be a good haul for the Cubs.