PGA 2012: Tiger Woods, Luke Donald and Lessons Learned from Rocky 2011
December 21, 2011
Scott Halleran/Getty Images
"It's a walk-off," utters Billy Zane in the movie Zoolander, just after model-morons Ben Stiller and Owen Wilson commit to competing in the most epic of model battles—on the runway.
The scene was about a young-gun versus a veteran, new methods against proven strategies, and most of all, the uncertainty and intrigue of the challenge.
Who knew that this one scene from Zoolander would be a (near) reflection of what's to come in the 2012 golf season? Perhaps that's a bit of a stretch.
But, that same sense of intrigue—whether or not Tiger Woods can reassert his dominance—and curiosity—if Luke Donald can maintain the momentum of one of the most miraculous seasons in golf history—has golf fans and sports enthusiasts worldwide craving the season's arrival.
Just like the buzz of any other sport, there's been a cacophony in the few weeks prior to the beginning of the golf season. This time last year, I was not only a part of it, but looking back, I tanked a good deal of my predictions for 2011.
I foresaw Tiger basically stomping on the competition, winning both the Masters and then the US Open at Congressional. Little did I know that between prolonged injuries and physical—and probably a good deal of mental—rehabilitation that Woods would only compete in nine PGA Tour events in 2011, earning just a pair of top 10 finishes.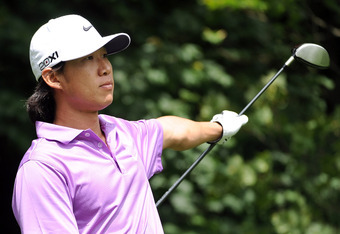 Harry How/Getty Images
Among my other foolish predictions was that Sean O'Hair would emerge as one of the Tour's dark-horse winners—fail. I also thought Anthony Kim might bounce back from injury and reemerge as one of the PGA's bright young stars with a major victory. Kim played in 26 events and made a dreadful 14 cuts—I think Charles Barkley could compete with that.
However, I had a couple lucky guesses. 
Luke Donald rose to prominence as the year's most dominant player on both sides of the pond, fortified by capturing, and holding onto, the World No.1 Ranking (as predicted).
With a pair of victories in Europe and then another couple in the US, alongside another 14 top-10 finishes in 17 PGA Tour events (he missed just two cuts all year), Donald tore through his competition. His short game was the key, exuding the kind of unwavering confidence on the putting greens that tight rope walkers have hundreds of feet in the air.
Donald's season was literally unparalleled, becoming the first player in the history of the game to top the Money Lists on both the PGA and European Tours.
Should Donald find a way to get rid of his nerves and translate his outstanding play to a major championship setting, he may finally capture the elusive victory that has now branded him Phil Mickelson's old, brutal label, "The best player in golf without a major championship."
I also anticipated an "Australian Uprising," led by young gun Jason Day and fellow Aussies Adam Scott and Geoff Ogilvy. The boys down under didn't let me down.
In Day's first appearances in the Masters and US Open—remember, he's just 24—he finished second in the back-to-back major championships. The kid clearly doesn't need his training wheels anymore. Day's power off the tee is just as impressive as his light touch on and around the greens.
He came into his own in 2011, finished 10 separate times in the top 10 and was propelled to No. 8 in the World Golf Rankings.
Unfortunately for Adam Scott, his terrific performance on the course was often overshadowed by his new caddie Steve Williams, the former caddie of Tiger Woods. From tweets and Facebook updates to New York Times columns, the news of the break between one of golf's most successful and intimidating tandems blazed through the sports world like a video going viral.
Williams signing on with Scott wasn't so much a shock as it was a blaring message through the loudspeaker of the media. Williams was ready to invest in the future, and that meant Scott causing shockwaves throughout the golf world as to whether Woods' days of fist-pumps and hoisting trophies were left alongside the smashed-in fire hydrant.
Brimming with confidence after a runner-up finish at the Masters, Scott soared alongside Williams. The two won their first event together at the WGC Bridgestone Invitational, which just so happened to be on the same course Williams had won on with Woods a record six times.
Scott's putter—one of the many belly/broom putters that infiltrated the world of golf in 2011—was the difference-maker this season, no doubt about it. If he can maintain his rhythm on the greens, he'll continue to contend week in and week out.
The year was capped off at the Chevron World Challenge, where Tiger Woods earned his first victory in two years. Woods had shown substantial strides throughout the week from tee to green, but with just two holes to go found himself trailing the cunning and crafty Zach Johnson, who is no slouch under pressure.
Woods, though, was restored.
He sank birdie putts on the 17th and 18th holes, each one more difficult and more clutch than the next. Woods beat Johnson and let out a thunderous roar, which was mirrored by a raucous crowd.
Whether or not he's "back" is an opinion—like whether or not Tim Tebow is a top-tier quarterback—and you can see it from multiple perspectives.
But there's no denying that the golf world, and sports world for that matter, experienced a surge of excitement with Tiger Woods' long-awaited win. In the immediate wake of the cheers and clamor, there was just a single question left: "But why male models?" 
Zoolander aside, it was a memorable season full of drama and thrills, but what or who will be the defining story of 2012?