College Football: What Don't the LSU Tigers Do Well?
December 20, 2011
Kevin C. Cox/Getty Images
Talk of "greatest team ever" has started in regards to the LSU Tigers, and rightfully so. The Tigers sport a top defense, have an incredibly efficient offense, have one of the best kickers in the nation, allow the fewest yards per return per punt and have turned the ball over less than any other team in the nation.
Do they have a weakness? Somewhat. While this may seem like grasping at straws, these are the potential weaknesses of LSU, the only undefeated team in the land.
Their kickoff game is somewhat susceptible. They average only 63.77 yards per kick and give up an average of 19.84 yards per return. This gives opponents an average starting field position of the 22-yard line. They've given up two returns of more than 60 yards and one of more than 70 yards.
This isn't terrible, but it isn't great either. LSU only kicked off twice against Alabama. Once they started at their own 18, once their 23.
Ironically, LSU do not have a great red zone defense. They have the third smallest sample size (only Alabama and Boise State have allowed teams into the red zone fewer times), but LSU have allowed teams to score 20 of 23 times. That's 86.96 percent, 95th in the nation. Alabama missed four field goals, but was 1-for-1 in red zone conversions against LSU.
Finally, and probably most importantly, LSU do not protect the quarterback as well as they could. They've allowed 14 sacks on the season, which doesn't seem like much. However, when one considers that LSU have only attempted 262 passes, it is clear that they are sacked every 18.71 attempts.
As a point of comparison, Texas A&M allowed a sack every 62 attempts, Oklahoma State every 50.3, Stanford every 43 and Notre Dame every 33.7. All of those teams had fewer sacks allowed than LSU, and all have attempted over 100 more passing attempts than LSU (in the case of Oklahoma State, more than twice as many attempts).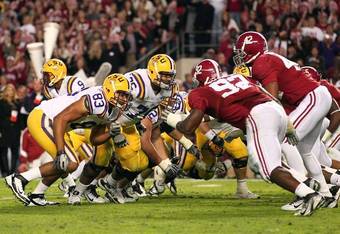 Oddly, Alabama ranks only 37th in the nation in sacks and was able to get to LSU only once in the first meeting (in, fittingly, 17 attempts). Georgia was able to sack LSU twice in just 13 attempts.
If there are weaknesses to LSU, it's these three things. Alabama should be able to exploit the kick return game (which they only had two attempts in the first game), kick better and convert in the red zone and most importantly, get more pressure on Jefferson. The final piece may be the most important.
LSU averaged 5.46 yards and committed only two penalties on first down against Alabama the first time (and turned it over once). They faced only 11 third downs in their first game and had an average of 5.78 yards to go (which is skewed by two third-and-longs). Simply put, they constantly put themselves in third-and-shorts and made it so that they weren't in predictable passing situations.
That needs to be the focus for Alabama's defense: limiting first down yardage for LSU. If they get into predictable passing situations they can be pressured and brought down. It is LSU's weakness.