Terry Murray Fired: 3 Things the Los Angeles Kings Can Expect from Darryl Sutter
Donald Miralle/Getty Images
It's been a rough couple of days in King land—a coaching swap, a terrible losing streak and an 8-2 thumping to Detroit.
But with the departure of Terry Murray and the coming of Darryl Sutter, things can only get better in my own personal opinion.
Sometimes coaching changes can really spur teams on and change the direction they are going, (Hitchcock), but they can also have either a negative effect, or an unchanged effect exposing deeper issues on the team. (Boudreau, Hunter)
For the Los Angeles Kings sake, I hope it is the former. But either way—here are three things the Kings, and Kings fans can expect to see with Sutter coming on board.
Accountability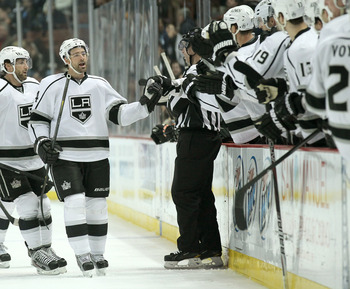 Stephen Dunn/Getty Images
It seems that the Kings team under Terry Murray has never really had to deal with the backlash of failing to meet expectations, because let's face it: The team wasn't expected to do ALL that much.
However, with this new team and a new look, the pressure has risen to another level, but a lot of the players play clearly hasn't.
Sutter is known most for one thing: intensity.
He is not a soft squishy guy who coddles players. He's hard, he's tough and he expects his players to be the same. He also expects players to be accountable for their on-ice play and work ethic.
With so many streaky players on the Kings right now, hopefully the attitude Sutter brings can jump start a lot of the inconsistent vets.
Defense Before Offense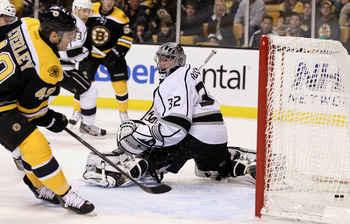 Elsa/Getty Images
Sutter teams have consistently been some of the best teams in the league in terms of goal differential.
However, they are not strong offensive performers, but rather defense-first teams.
This may seem similar to Terry Murray, and it is, but the attitude is what is really going to separate the two coaches. But in terms of a drastically different approach to the game—don't expect much.
A Boost to the Bottom 6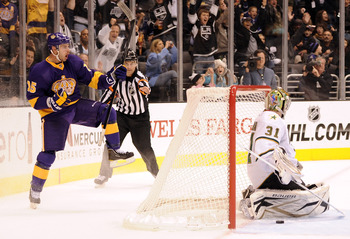 Harry How/Getty Images
One thing that sticks out about the Sutter teams in Calgary that were so successful was just how nasty, physical, gritty and hard-working they were.
With rosters very depleted of notable stars (see the 2003-2004 playoff roster), they managed some very admirable performances—including a Game 7 Stanley Cup loss to Tampa Bay in 2003-2004.
Sutter has some very skilled players to work with that fit that mold already here in L.A.—with Richards, Brown and Kopitar—but where he really need to look at his impact will be the mid-level grinders and workers.
Players like Brad Richardson, Trevor Lewis, Kevin Westgarth, Colin Fraser and Kyle Clifford will hopefully find Sutters methods and approach inspiring and helpful. This is a coach, after all, who got some great statistical seasons from career-tough guys and grinders like Shean Donovan, Chris Simon, Dean McAmmond and Martin Gelinas.
Keep Reading

Los Angeles Kings: Like this team?