Ian Stewart Will Be Fine Replacing Aramis Ramirez at 3B
December 16, 2011
Denis Poroy/Getty Images
Relax, Cubs fans.
Yes, Cubs baseball president Theo Epstein's choice to replace Aramis Ramirez appears underwhelming on the surface.
For one, Epstein's solution is not a big-name player.
Former Rockie Ian Stewart, acquired along with Casey Weathers for Tyler Colvin and D.J. LeMahieu, also struggled with injuries last year. The Cubs hope those are behind him.
Most glaringly, Stewart did not hit a single home run in 48 games last year while hitting well below the Mendoza line at a paltry .156, with a slugging percentage (.221) lower than many major league batting averages.
Baseball Prospectus rated Epstein's first Cubs trade as a wash for both parties, with neither team figuring to get significant impact from the involved players.
What's more, Ramirez takes his 26 homers and team-leading 93 RBI up north to division rival Milwaukee.
But if you look a little closer, the addition of Stewart and the loss of Ramirez isn't as lopsided as it might appear.
Put Me In, Coach
First, Stewart was refreshingly honest about whether the oft-cited "change of scenery" would be good for him.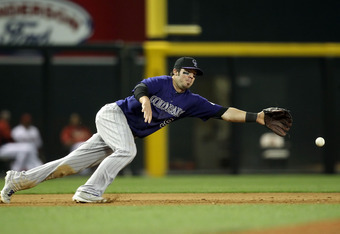 Christian Petersen/Getty Images
"I don't know," he said. "But in the long run, being in a spot where I'm going to be able to play every day is going to be the best thing for me."
As if for emphasis, Stewart also said, "I think this gives me a great opportunity to be that everyday third baseman and get the at-bats I need to be successful."
Indeed, he lost his starting job to Ty Wigginton last year and only got occasional starts.
On top of that, manager Jim Tracy sent Stewart to the minors four times last season. That trampoline act and lack of consistent playing time took its toll on Stewart's production.
Looking back to 2009-10 when Stewart was the primary third baseman, he averaged 21 home runs and an OPS of .783—not too far from Aramis Ramirez's numbers.
Stewart's claim that he needs to play every day is backed up by the numbers. And with the Cubs, the third-base job is his to lose, so his offense should bounce back.
The April and May Houdini
While Ramirez has solid offensive totals, his bat historically runs cold in those critical first two months of the season.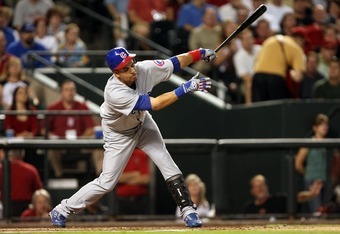 Stephen Dunn/Getty Images
In 2010, he hit only .168 through early June.
Last year, he hit only two of his 26 home runs by June 1st. Nearly all of his production came when the team was already far out of contention.
Too little, too late.
In his Brewer introductory press conference, Ramirez explained his inability to hit in April and May as, "I just don't like the cold weather."
If Ramirez remained a Cub, he likely would have continued to hurt the team with poor offensive production in those key first two months.
The Epstein Theme: Defense
After the season, Cubs TV analyst Bob Brenly told ESPN Chicago Radio that Ramirez's defense had "fallen off the face of the earth."
Cubs fans saw the lifeless attempt at defense and the numbers back it up. Ramirez had a minus-12 DRS and a minus-9.4 UZR. Those numbers have gotten progressively worse every year since 2009.
On the other hand, Stewart was a plus-2 in both DRS and UZR in 2011. And over his career, he has been an above-average fielder.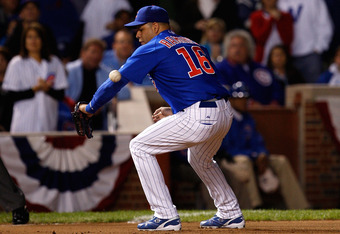 Jamie Squire/Getty Images
Epstein values defense and his first two moves have been to upgrade the defense (and acquire left-handed bats in the process) at two positions. The David DeJesus acquisition improved RF plus-10 in DRS and plus-5.5 in UZR, while the Ian Stewart move improved 3B plus-14 in DRS and plus-14.9 in UZR.
Ramirez, meanwhile, takes his regressing defense to division rival Milwaukee.
Bottom Line
Stewart should bounce back offensively and provide respectable output at 20 percent of Aramis Ramirez's salary while being a significant upgrade defensively over Ramirez.
(Bonus: the Cubs also get a supplemental pick in the draft due to the Brewers' signing Ramirez.)
The Stewart acquisition may not move the needle much nor jazz the fan base, but it's stronger than it appears at first glance.