Giants vs. Cowboys: Bold Predictions for NFC East Showdown
December 11, 2011
Jim McIsaac/Getty Images
There are trends forming in both the Cowboys and Giants that dictate how this NFC East showdown is going to go.
So if surprises aren't your thing, or you won't be able to catch the game, keep reading because here is what is going to happen.
Tony Romo Will Throw for Over 300 Yards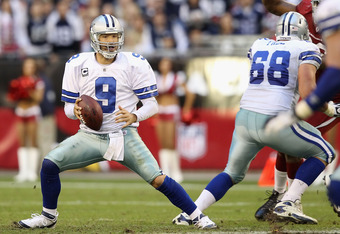 Christian Petersen/Getty Images
Romo is going to come out on fire. He will be determined to put the Cowboys defensive woes behind him, and the Giants defense will make this an easy task.
The Giants are 29th in passing yards allowed this season. Their pass defense looks a little better being ranked 22nd in yards per attempt at 7.1. However, over the last three games, they have been allowing 8.1 yards per attempt.
This will lead to Romo putting up his best yardage numbers in weeks. After starting the season throwing for over 300 yards in four of his first five games, he has not hit that mark since.
Romo was close last week, going for 299, and this week will eclipse that mark. Look for Romo to spread it out and have success on all levels of the field. But will that be enough to lead the Cowboys to victory?
Hakeem Nicks Will Have Over 100 Yards Receiving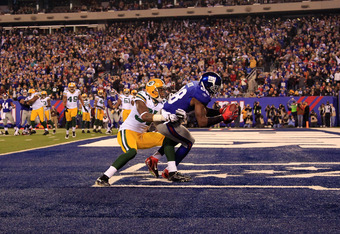 Chris Trotman/Getty Images
Nicks is having an outstanding season, but he is being overshadowed by his upstart teammate, Victor Cruz. Nicks will take back center stage in this game.
The Giants will be taking to the air in this game to beat the Cowboys, and Nicks will be the primary benefactor.
Taking to the air is the way to beat the Cowboys. They are ninth in rushing yards allowed and 14th in passing yards allowed. They are even lower in yards allowed per attempt. Dallas has allowed 6.8 yards per pass attempt. This has them ranked 18th in the NFL.
They have also been getting worse in this number. In their last three games, the Cowboys are allowing 8.1 yards per pass.
This will give Nicks plenty of running room. And while Cruz has been putting up bigger numbers, he has still been producing. Over his last two games, he has 14 catches for 173 yards.
This game, he will go for 126 yards and a touchdown.
Eli Manning Will Succeed Where Tony Romo Fails
Nick Laham/Getty Images
This is going to be a back and forth game that comes down to the fourth quarter. And this is where Manning will outshine Romo.
Both of these QBs have seen their share of ups and downs in the fourth quarter this year. However, Manning is trending up in this regard will Romo is trending down.
Romo was off-target last week in the fourth quarter, and coach Jason Garrett went to great lengths to protect him from the pressure of the fourth quarter. This resulted in a disastrous loss and rattled his confidence in the process.
Romo is going to throw a costly pick late, and Manning will march his team down the field for a game winning score.