2011 "Stewie Awards": Laughs, Memories & More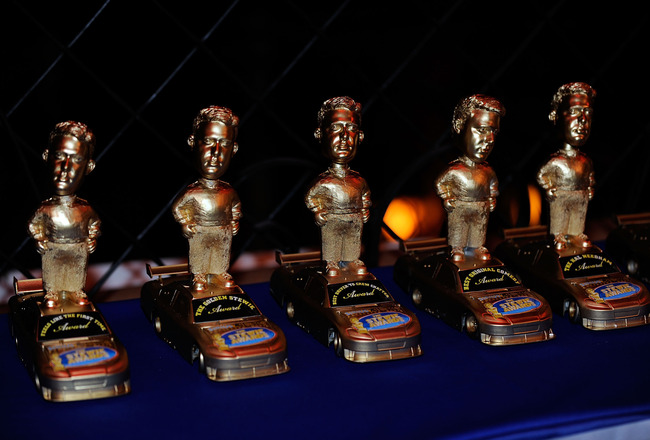 Rusty Jarrett/Getty Images
The end of every NASCAR season brings about good laughs, fond memories (if you consider wrecks and caution laps fun) and much, much more.
Since 2007, Tony Stewart and SiriusXM Satellite Radio have teamed up to bring NASCAR fans around the world one of the funnier and laid-back nights of the racing offseason—the Stewie Awards.
This year was a special year at the awards for Stewart, who attended the show as the 2011 NASCAR Sprint Cup Champion.
Watch as other NASCAR stars like as Jimmie Johnson and Dale Earnhardt, Jr. join in on the festivities.
What Really Happens in the NASCAR Trailer?
Tony Stewart and Dale Earnhardt, Jr. are two of the better known drivers in the NASCAR circuit.
They're opponents on the track, but what's their relationship really like?
Find out what it's like inside a NASCAR trailer and behind the scenes with these two living legends.
Jimmie Johnson Praises Epic Battle Between Tony Stewart & Carl Edwards
Jimmie Johnson presents Carl Edwards with the "most gracious award." The two racers along with Tony Stewart discuss the battle down to the final race.
Dale Earnhardt Jr. Remembers Winning the Daytona 500
Tony Stewart and Dale Earnhardt, Jr. reminisce on the 2004 Daytona 500, which Stewart did not win. Watch the two exchange fond memories of that classic race.
Keep Reading