Kurt Busch's NASCAR 'Divorce' May Straighten Up His Driving
December 9, 2011
Jeff Zelevansky/Getty Images
The departure of Kurt Busch from Penske Racing has been characterized as a "firing" when, according to both sides of the story, it was more like a divorce with irreconcilable differences.
Even though Shell/Pennzoil expressed disapproval with the recent behavior of Busch at Homestead, they did not force the firing.
The former driver of the No. 22 Shell/Pennzoil Dodge knew earlier in the season that something was amiss between he and his team. His frustration was reflected in rants over the in-car radio, even when he was running near the front.
Clearly Busch was just not a happy camper and he obviously misdirected his inner anger. There may have been more than his relationship with Penske Racing that caused him to drive his career into the ditch.
Certainly it can be said, arrogance and a sense of entitlement may be a common thread the Busch brothers share.
Both of the brothers also share immense talent behind the wheel of a race car.
Busch stated, "I recognize the passion and emotion that have helped me succeed on the track need to be better channeled off the track."
It was tough for the driver to leave a class operation like Penske Racing and the lucrative contract, but sometimes things just stop working, much like some marriages.
Does the elder Busch brother have impulse control problems, anger management issues and personality flaws? Of course he does and he has acknowledged that fact.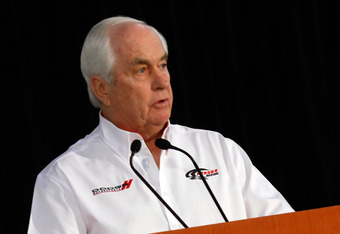 Jason Smith/Getty Images
Busch announced he has taken the first step of working with a sports psychologist after talking to some of his fellow drivers.
Step two was to separate from Penske Racing, accept the black eye he had self-inflicted on his career and go about making things better in his life and in his professional dealings.
For Penske Racing, the split with Busch was clearly a loss of talent.
The former driver of the No. 22 Shell/Pennzoil Dodge won the 2004 Cup title for Roush Racing. Busch was released after an incident, off the track, involving alcohol and careless driving in Phoenix.
He then began his six-year stint with Penske where he garnered 12 wins in NASCAR's top series. He has a total of 24 Cup wins.
During the NASCAR Sprint Media Tour in January of this year, Busch stood beside the red and yellow Dodge Avenger Pro Stock drag racing car at Penske Racing.
The car was basically unlettered, but the iconic Shell symbol, the Dodge branding and the driver's name adorned the car.
When Busch was questioned about his upcoming drag racing adventures, his enthusiasm was obviously amped up with the tone of his voice and the look in his eyes.
Busch was scheduled to debut the Pro Stock Avenger at the Gatornationals NHRA National event in Gainesville, Fla.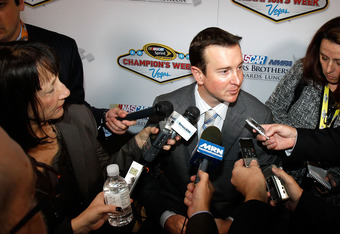 Todd Warshaw/Getty Images
 The NASCAR champion qualified 12th in a 16-car field at the Gatornationals in March. Unfortunately, he was eliminated in the first round against a tough driver, Erica Enders, who gained the advantage off the line.
Busch ran 6.541 (211.59 mph) to Enders 6.538 (211.69) with her reaction time of 0.021 to Busch's 0.04.
During 2010, Busch built a 1970 Challenger to run in the Super Gas class at the Gatornationals and other events.
It is evident the former Penske driver has a true love for straight-line racing and finds the fun factor he seeks in that genre of motorsports.
Now, one has to wonder who got custody of the Pro Stock Dodge Avenger that likely no longer has Shell/Pennzoil sponsorship. It would seem Penske has little use for it in his operation.
Might we find Busch behind the wheel of that Pro Stock car with new colors and sponsorship when the 2012 NHRA professional drag racing series begins?
The fun factor was apparently gone for this driver at Penske Racing.
Opportunities to drive for a first class operation in Cup racing for 2012 are slim. It would seem unlikely he would drive for a smaller, less funded team or become a start-and-park driver.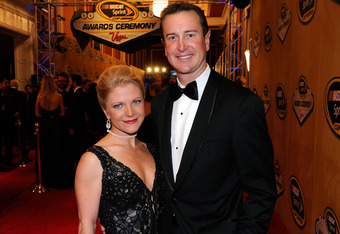 Ethan Miller/Getty Images
Perhaps a year of fun with drag racing and getting more time for personal renewal might be just what the 2004 Cup title winner needs.
Busch stated, "As I begin this new chapter in my career, I'm excited about the future and committed to making changes necessary for me to enjoy racing again, to compete for championships and to better represent NASCAR, my sponsors, my team and my fans."
If this driver is to rebound from the negativity he created for himself in the sport, he must jump into the NASCAR dating pool and begin to woo team owners, sponsors and crew chiefs.
As per his statement about better representing himself in NASCAR, it appears he fully intends to climb his way back to grace in the sport.
Busch is a very talented driver and a team would be lucky to have him, as long as he reins in personal demons that cause him to go awry.
It just may be that the dissolution of his contractual agreements with Penske Racing will prove to be the best thing that could have happened to this driver and when he gets his act together, he will once again be a formidable competitor in NASCAR.
Quotes in this article courtesy of Kurt Busch.com