Jerry Jones Is Running the Dallas Cowboys...into the Ground
December 6, 2011
Kevork Djansezian/Getty Images
I've been a fan of the Cowboys since 1966.  I've covered the team, in one way or another, since 1973.  I know every one of their Hall of Famers.  I was in the radio booth in Tempe in January, 1996, when the Cowboys won their last Super Bowl, against the Pittsburgh Steelers. 
Perhaps it's worth a moment to take that last sentence to heart.  1996.  The last Super Bowl for Dallas.  Bill Clinton was president and gas was just over a buck a gallon.  In other words, a kid who was born the day of that last Cowboy Super Bowl appearance will begin driving next month.
I admit that I am much more a part of the Tex Schramm-Tom Landry era.  I never really liked the way owner and GM Jerry Jones took over the team, despite the three Super Bowl wins.  I think what we've seen of the Cowboys since 1995 pretty much validates the fact that it was Jimmy Johnson who built a championship team in Dallas.  Barry Switzer won that last one with Jimmy's team. 
When Jerry took over the Cowboys, they had had only one coach in 29 years.  Since Jerry's arrival in 1989, they have had seven.   Since that Super Bowl XXX win nearly 16 years ago, they have had exactly two playoff victories in nine playoff games. 
This is not what Cowboy fans think of as Cowboys football.  The dreadful coaching at the end of last week's loss to Arizona only makes fans shudder more.
Since that overtime loss—with the famous self-icing incident and lack of clock management—Jason Garrett has come under fire on local radio as a less than Landry-like coach.  When he was asked if he told Tony Romo to run to the line and spike the ball (instead of calling a time out), Jason said he didn't really have an answer for that question.  Jason is a better, smarter and more honest man than that.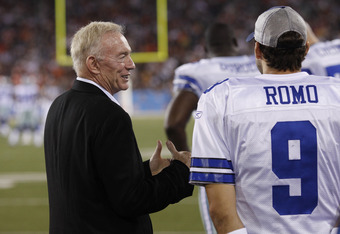 Joe Robbins/Getty Images
This incident makes me wonder: What else goes on behind the scenes in the NFL that even insiders never find out about?  It is a very Machiavellian league, full of court intrigue and double-crosses. 
There is no doubt that Jerry Jones is always looking over everybody's shoulder—and probably more than just looking.  At his first press conference as owner, he said he'd be involved down to the socks and jocks, and he's made good on that boast. 
Since his firing of Jimmy Johnson, the Cowboys have been largely an irrelevant member of the NFL, at least where it comes to what matters—winning. 
And here is where it gets really tough to define.  I admit, flat out, that I have no inside dope on this situation, and that everything I'm writing here is speculation.  But it is a fact that in today's NFL, you can have a fantastically successful franchise, and make hundreds of millions, without fielding a winning team. 
This is where my big question comes in: Does Jerry Jones care about winning, or does he only want to make more dough?
I doff my official NFL logo cap to Jerry when it comes to marketing.  He has made everybody in the league much, much richer with his ability to sell the game.  The Dallas Cowboys may be the only team in the NFL with an "official" chicken wing.  And the super-sized stadium, known locally as "JerryWorld", will surely make more money than you or I can even imagine. 
Yet the team is not winning.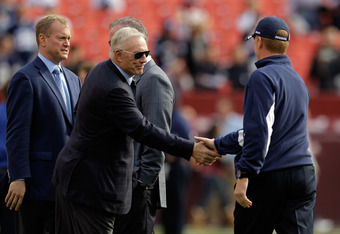 Rob Carr/Getty Images
The fans continue to buy the jerseys, and the chicken wings, and go to the games.  But the Cowboys being No. 1 in the league in merchandise sales does not filter back to the fans at all.  The $9 hot dogs at JerryWorld only put money in Jerry's pocket. 
The single, vicarious thing the fans get out of the game is the thrill of winning.  The only thing they can hang that expensive team cap on is a victory.  For the fans, the purpose of the season is to reach the Super Bowl—no more.  I don't know that that's the purpose for Jerry.
I think I understand where he's coming from, though.  He made his first money in the oil and gas biz, and those guys have to be eternal optimists.  That next hole you sink in the ground is the one that's going to make you millions.  You have to think that way, or you'd never have the guts to drill the hole in the first place. 
So, Jerry may believe that Terrell Owens, or Pacman Jones, or Wade Phillips, or whoever, is the missing piece of the puzzle that will take his team back to the top.  And he's almost always wrong.  Many in Dallas have been saying for years that the team will never climb back to the top until the owner fires the general manager.  But that ain't gonna happen.
A grand tradition is being taken apart before our eyes.   Tony is no Staubach, Jason is no Landry and Jerry is no Schramm.  It shouldn't have taken 16 years for these kind of lessons to sink in.