Urban Meyer to Ohio State: A Letter from the Florida Gators
November 28, 2011
Al Messerschmidt/Getty Images
Dear Urban,
We've come a long way, haven't we? Over half a decade ago, you were the up-and-coming coach that was going to take Florida to new heights. Almost two years ago to the day, you were the toast of college football as the Gators prepared to face Alabama for a shot at a second straight national championship game.
And then something happened.
After losing that fateful SEC title game, you decided it was time to move on. Your health and your family were the top priorities. Oh wait, never mind. That changed one day later. And you know what? We were happy. Frankly, we wanted what was best for you, Urban. If you had decided then and there that you would no longer be a coach, we would have accepted it. You won us over.
Last year was the same story. A 7-5 regular season took a toll on you. So did not having Tim Tebow. So did losing the support of the fans. And when you decided to hang up the headset again last year, we still accepted it. We wanted what was best for you.
And then something happened.
You see, Urban, we totally understood that your priorities had shifted from being a coach to being a father, a husband, and a healthy human being. If any of us had been in your shoes, we probably would have made the same decision.
Heck, we didn't even find it fishy when you started appearing on ESPN once in a while. Not even when those appearances started getting more regular. You love the sport of football. That's no secret. "He's spending time with his family whenever he isn't on ESPN," we thought. And you know what? I bet you did.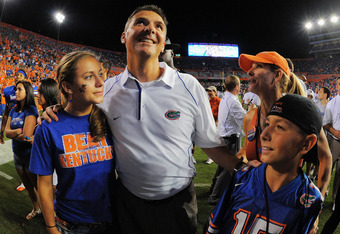 Doug Benc/Getty Images
I bet you got to spend a lot of quality time with your family, and I bet you really did turn around your health. I bet your heart is a lot healthier than it was last year, and I bet that the doctor smiles a little wider when he sees you now.
You're a family man. You have a terrific wife and three talented children that you want to enjoy. You don't want to be the man that missed his children growing up. Coaching at the University of Florida was making you become that person. So that's when you walked away, and that's when we, the disappointed fans, still gave you a healthy round of applause.
And then something happened.
When did you know you were going to take this job, Urban? Was it when you started hearing about the scandal occurring at Ohio State? Did you see the sweat dripping onto Jim Tressel's sweater vest and realize that there may be a vacancy soon?
Did you see the light? The chance to coach in your home state for one of the greatest college football programs in the country is pretty damn attractive, isn't it? Just think about it, Urban. 106,000 scarlet-clad fans will be chanting your name in just a few months.
You will have a program tailor-made for success. You will be able to recruit not only from the hotbed of talent in Ohio, but also from the Sunshine State, the one you conquered like Pizarro. You will have an unwavering fan base, one that has expectations of a national championship every single year. You will get to play college football's most storied rivalry.
Did you get tired of playing Florida State?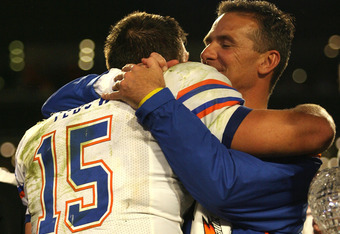 Marc Serota/Getty Images
It won't surprise any of us if you return Ohio State to dominance. In fact, multiple national championships are not out of the question. Just look at what you did for us! Thanks for that, by the way.
Or should we be thanking the real heroes of those two championship teams? Maybe you should give some royalties to Dan Mullen, Charlie Strong, Tim Tebow, Percy Harvin, and the 92,000 Florida fans who packed the Swamp every single weekend knowing that Urban Meyer would do his damnedest to bring glory to Gainesville.
Maybe you did.
And then something happened.
Urban, we wish you the best of luck as a Buckeye.
Actually, we really don't. Actually, we hope that the recruits will see the way you stabbed the Florida football program in the back with a scarlet and grey knife. We hope the fans will remain skeptical of you as long as you are there. We hope that Michigan beats you every single year. We hope that every Ohio State Buckeye knows the same pain that we, the Florida Gators, feel right now.
We loved you, Urban. You had us tied around your finger. You could tell us to jump off a bridge behind you, and we'd do it. You had us thinking that the orange and blue would forever be victorious. You had us thinking that the school actually meant something to you.
And then something happened.
Sincerely,
The Florida Gators