Roger Federer Wins 6th World Tour Finals Title Against Jo-Wilfried Tsonga
November 27, 2011
Julian Finney/Getty Images
In a match no one deserved to lose, Roger Federer came out as winner in a tight, well-played and extremely intense match against Jo-Wilfried Tsonga.
Federer won the match 6-3, 6-7 (6), 6-3, but the first and the third were a whole lot closer than the score suggests.
One could argue it was almost robbery when Federer stole the first as Tsonga barely put a foot wrong as he went 12 winners to four unforced errors.
The two of them were both holding serve until Tsonga served to equal at 3-4 in the first. However, while Roger had won just won point on the Tsonga serve, Tsonga had gotten to 30-30 in each of Federer's four service games and even held a 15-30 lead.
It seemed only a matter of time before Tsonga's heavy ground strokes, all of them which found the court, would be enough to break Federer. But Federer hung in and turned the match around within the blink of an eye.  
Roger's backhand hadn't done much in the match so far, but as he broke Tsonga for love, the backhand did all the work. He went up 0-30 by two backhands down the line, the second more stunning than the first.
At 0-30, Tsonga attacked with a slice 115 mph serve out wide and some heavy hitting. He sent a forehand down the line and an excellent volley cross court, but Federer somehow got to both and was rewarded with a Tsonga volley that sat up at the net that Federer could put away with another backhand down the line.
Three breakpoints earned, but he only needed one as Tsonga netted a volley on a difficult Federer backhand, again down the line.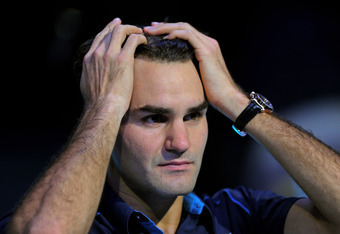 Michael Regan/Getty Images
Up 5-3, Roger will serve the set out easily right? Wrong. Tsonga had other ideas and pulled two stunning backhand passing bullets that got him to deuce two times.
In the end, Federer got a bit lucky as Tsonga was pushing him around the court before a forehand took the top of the net and sat up nicely for Federer to put it away.
Federer took the set with a big one-two combination that Tsonga somehow got back. However, he couldn't get back on court in time for the Federer backhand and Federer squished out a set that had Tsonga's name written all over it.
What Federer did incredibly well was to raise his game in that one pivotal return game and hang in there, when Tsonga was crushing forehands and backhands down the line and cross court with immaculate precision.
What Tsonga did well was pretty much everything, except that one service game where Federer raised the bar.
Second set was another tight affair. At 1-1 it seemed as if Tsonga had his spirits broken when he went down 0-30 by two double faults. But no, he aced and smashed his way out of trouble and went up 2-1.
But in the next service game, he found himself in trouble again. He led 30-0 by virtue of a smash and an un-returned serve, but then he missed a down the line backhand by an inch and Federer hit a nasty low return on a 129 mph serve that Tsonga sliced long while rushing to the net.
Fed attacks on the next points and forces a Tsonga forehand long. The breakpoint was reminiscent of the early break against Ferrer in the second set yesterday. Roger went big on a second serve and hit an inside-in forehand down the line for a clean winner. No chance.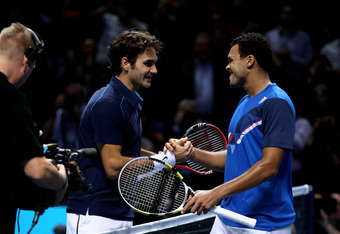 Julian Finney/Getty Images
Tsonga had done next to nothing wrong and yet he found himself down a set and a break.
Federer was having an easier time holding his serve as Tsonga started making errors, where he had made almost none in the first. Federer  almost broke Tsonga again for what would most likely have been a decisive 5-2 lead.
Instead Tsonga saved the break point behind a big serve and a drop shot that was impossible for Roger to get to. He then served it out with his seventh ace and an nonreturnable, 4-5 and Roger could serve it out.
Except that he couldn't. Both players were having trouble finding their first serves and in this game, Tsonga not only went big, but massive on four Federer seconds and won all of them. Too good.
Both got to the tiebreak, where Federer started out with a minibreak only to hand it back with a double-fault. That double-fault was a direct consequence of Tsonga's aggressive returning.
Yet, Federer earned another minibreak to go up 3-1 as he hit a very low return slice that Tsonga netted as he went for an inside-out forehand. At 5-4, Federer had two chances to serve it out.
But Tsonga, never a man to go down easily, made some amazing defending as he got an inside-in forehand back and then went on the offense. After a great rally, Tsonga forced a Federer forehand in the net.
Still, with an ace, Federer gave himself a matchpoint on the Tsonga serve. Tsonga netted his first, but sent two ballistic inside-in forehand missiles towards Federer on Federer's slices. The second was a clean winner, gutsy play from a gutsy player.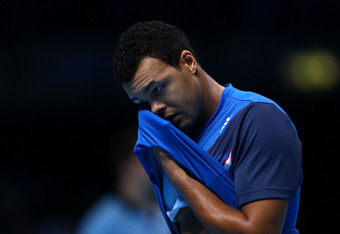 Clive Brunskill/Getty Images
He followed that up with a 137 mph nonreturnable serve and then absolutely crushed an inside-out forehand return on a 110 mph Federer second serve. Right in the corner. Federer could do nothing, but get a racquet on it.
A final of this kind and a match of this quality deserves a third set. The crowd wanted it, Tsonga wanted it, probably everyone but Federer wanted it. But he had to play it nonetheless.
The third set was again high quality and high intensity with Tsonga bombing his forehand and backhand around the court and Federer staying with him and coming up with some high quality shots of his own.
Again, Federer just needed one break to serve out the match just as in the first. The break came at 3-3, when Federer earned a 30-0 lead via some good, aggressive forehand returns. Tsonga got back to deuce with some great serving, but in the end a big Federer forehand cross-court was deciding as Tsonga couldn't get it back in court.
This time, Federer didn't fail to serve it out and won his third consecutive Sunday match against Tsonga.
He thereby became the only man to win the year-end championship for the sixth times in his 100th final. It is his 70th ATP tour victory overall and he's his best ever finish to the year with three consecutive victories.
Tsonga can take pride in his performance for the year and the this tournament in particular. He's proved that he is a player to be counted on, when injuries are not setting him back. He's proved that he can play with the big four and beat them on any given day.
He said good bye to his coach in the spring and apparently that move has set his game free. When Tsonga catches fire, there is hardly a more daunting opponent on tour.
If he stays injury-free, look for Tsonga to pull some serious upsets in the slams next year and be a threat in any non-clay tournament he enters.