Roger Federer Meets Jo-Wilfried Tsonga in World Tour Finals Final, a Preview
November 26, 2011
Clive Brunskill/Getty Images
We've found our two finalists at the World Tour Finals: Roger Federer meets Jo-Wilfried Tsonga for the second—no wait—third consecutive Sunday.
They met two weeks ago in the Paris Masters final, a week ago in the opening match at the World Tour Finals and now again in the final.
That's almost a record in and of itself.
The two of them have paired up seven times this year already and Roger holds a 5-2 lead for the year (7-3 overall), having won their last three matches.
Does that mean he's a lock in the final?
By no means.
Tsonga is the kind of player who can come back from virtual defeat as he has demonstrated against Federer two of the three times he's beaten him. As is well known, Tsonga became the first man to win against Federer in a slam when Federer held a 2-0 lead in sets.
A few months later, Novak Djokovic became the second.
What is less well known is that Tsonga has come back from the brink of defeat against Federer in Montreal 2009. Federer was up 5-1 in the third, before Tsonga turned the match around and won the tiebreak 7-3.  
If we go by their form, there are reasons to go with both players.
On the one hand, no one has shown anything remotely like what Federer showed when he bageled Rafael Nadal on Tuesday. On the other hand, his other performances, including Saturday's semifinal, have featured many ups and downs.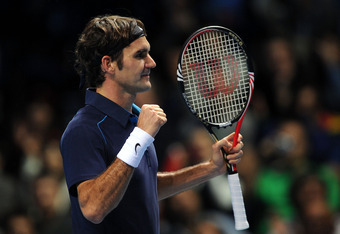 Michael Regan/Getty Images
Tsonga has had ups and downs within his matches, but his form has generally just been getting better and better and better.
He played very well against Federer for a set and a half. He played a decent first set against Mardy Fish, before he turned the heat on in the second.
He played incredibly well against Rafael Nadal on Thursday and again Saturday as he dispatched the ever dangerous Tomas Berdych in straights, making 22 winners to 13 errors in a match where he says he "didn't play good tennis, but I won and that's the most important."
If we had to go by form alone, Tsonga would probably be the favorite. Yet, Roger has defeated him three times within the last three months. That has to be a factor too.
The Key to the Match
Both are big hold game players who like to play fast, attacking tennis. Both can get into the zone and become nearly untouchable as they hit winner after winner after winner.
The first-serve percentage will be pivotal, but perhaps even more important will be how well each of them defend their second serves. Against Berdych on Saturday, Tsonga won 57 percent behind his second whereas Berdych won a mere 29 percent.
Factors like that can decide a match.
Federer will have to keep Tsonga off balance, strike when he can and stay as much away from Tsonga's forehand as he can.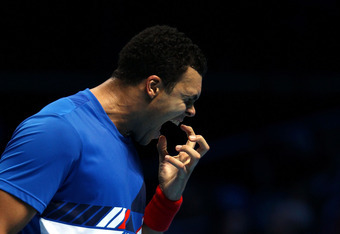 Clive Brunskill/Getty Images
Federer is a master at blocking back a big serve, which is part of the reason why his record against Andy Roddick is so good. Against Tsonga, a block is not enough as Tsonga feats on short, bouncing balls in the middle of the court.
Federer will need to attack the second serve and try to keep his returns of the 135 mph bombs low. That's a tough task.
What does Tsonga have to do?
Play his game, find the court and keep his errors in check. He loves the inside-out forehand which can trouble the Federer backhand. He loves the net which will force Federer to come up with the goods. And he loves bombing big serves past his opponents.
Is there a favorite?
Not really.
Both players have clearly been the in-form players this tournament and have played the best and most exciting, attacking tennis.
Sure, Roger may have a slight edge, but if there is anyone who can play with the Big Four when they are playing well, it is Jo-Wilfried Tsonga.
Expect an exciting match, where Roger will try to come out guns blazing to subdue Tsonga from the get-go. But also expect Tsonga to be capable of coming back from virtual defeat, if it gets to that, as he's never defeated before the last ball bounces twice.