Roger Federer Beats David Ferrer in Straigths, Advances to His 100th Final
November 26, 2011
Michael Regan/Getty Images
Roger Federer beat David Ferrer 7-5, 6-3 to secure his place in the World Tour Finals final tomorrow. It will be his 7th final at the year-end championship and his 100th ATP tour level final.
If he wins, it will be his 70th career title and 6th year-end championship trophy which would set him one apart from fellow record holders Ivan Lendl and Pete Sampras.
Though Federer won in straights, it was hardly a walkover for the Swiss. The first set was close and it wasn't pretty. Federer admitted that David Ferrer had the upper hand from the baseline in the first set.
That is even an understatement. Federer hit one forehand winner to ten unforced forehand errors and zero backhand winners to nine unforced errors.
Ferrer wasn't much better winner wise as he hit one from both wings, but he kept his errors down to five and three from forehand and backhand respectively in the first set.
What kept Federer in the set was his serve and hit volleys. Even when Ferrer handed Federer a 0-30 lead by virtue of two double faults at 2-2 and failed to put all but one of his first six first serves in play in that game could Federer capitalize.
After wasting two breakpoints by virtue of a forehand error and some good Ferrer play, Federer handed Ferrer the game with a forehand and a backhand long.
The pivotal game in the first set came at 4-5, Federer serving. The game got to deuce by virtue of a couple of Federer aces, a lucky Ferrer netcord and two failed Federer forehands. It reached deuce another four times without Ferrer getting a break point, but also without Federer being able to close it out.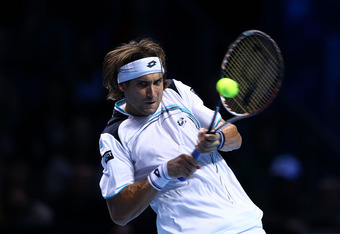 Julian Finney/Getty Images
A good serve would be followed by a forehand miss. And Ferrer couldn't capitalize as he was putting some very makeable backhands of his own in the net. In the end, Federer won the game as he approaches and Ferrer put his running backhand down the line just wide.
If appeared as if that game was a wake-up call for Federer. He sprinted to a 15-40 lead and two break points in Ferrer's next service game via some great attacking tennis. Ferrer save the first, but put a one-two forehand an inch or two wide to hand Federer the crucial break.
Even then, Federer didn't loosen up just yet. Serving for the set, he put a backhand in the net and a backhand long on his first set point. But his serve got him there in the first place and it got him out of potential trouble as he finished the set with a 125 mph unreturnable out wide.
Maybe Federer was nervous, maybe the pressure of him being the overwhelming favorite against a foe whom he was 11-0 against made him freeze about.
Whatever it was, it was a different Federer that came out in the second.
He found the court with his forehand and started dictating the points more and as the set progressed, he would also hit his backhand with more power and resolve.
When he broke Ferrer at the onset of the second with a massive inside-in forehand return down the line to start the second, he was about to go into the Federer zone. While that never quite happened, he was ruthlessly effective on his own serve, allowing Ferrer just one point on his serve in the set.
Federer never blasted winners past Ferrer the way he did against Rafael Nadal earlier in the week. What he did do extremely well, especially in the second was to use his forehand and backhand to approach and then finish Ferrer at the net.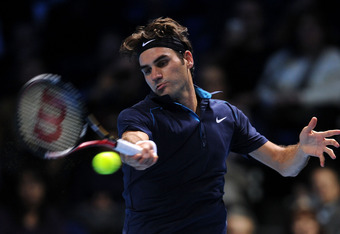 Michael Regan/Getty Images
There, he was excellent throughout the match going 17 out of 19 for the match. Ferrer was very good too with five out of six.
Ferrer could have won this match had he played as well as he had done earlier in the week. All week, he's been posting great first serve percentages and has been great behind his first serve.
Today, his first serve percentage wasn't good enough, 56 percent for the match and 53 percent for the first, and it deserted him at crucial moments.
"If I don't have a good percentage with my first serve, is very difficult to beat the top players, no? Roger, in important moments, he serve very good. Maybe this is key," Ferrer analyzed afterwards.
Nevertheless, Ferrer can take pride in his performance this week and this year. He beat Andy Murray and Novak Djokovic in straights and almost did the same to Tomas Berdych yesterday. Today, he lost another match to Federer, but he still has the chance to win the Davis Cup.
The hard-working Spaniard certainly won a lot of hearts in London with his never-say-die attitude and gutsy, persistent play. He received a massive roar of applause for his efforts this week.
As for Roger, he'll be on court again tomorrow, where he'll meet either Jo-Wilfried Tsonga or Tomas Berdych.
And once again, history is on the line.