Rafael Nadal Ousted by Net-Rushing Jo Wilfried Tsonga
November 25, 2011
Julian Finney/Getty Images
Rafael Nadal and Jo-Wilfried Tsonga had plenty on the line as they took to the court to compete for the final semifinal spot from Group B. Neither man failed to deliver in a fantastic match with spectacular winners and high intensity.
In the end, the more attacking Tsonga proved the better man on this night as he defeated Nadal 7-6 (2), 4-6, 6-3 in two hours and 42 minutes. But what happened in between was the best match of the tournament so far.
Sure, Roger Federer's demolition of Rafa the other night was the highest level any player has played here at the WTF. But that was hardly a match, as Roger was simply on another level. Today, both players played well—Tsonga extremely well—and came up with the goods, when they needed them the most.
While Nadal tried to stay away from Tsonga's big forehand and attack the weaker, but by no means weak, backhand, Tsonga would try to control, or rather, end the rallies with his big forehand followed by a rush to the net.
At the net, Tsonga was nothing short of extraordinary. I've seen different stats on it, so I'll present them both. At 2-3, 40-15 in the third set, Tsonga had won 33 points out of 40 at the net.
Another stat suggests 27 out of 36 at the end of match. Either way, that is extraordinary against a player with passing shots as good as Nadal's.
And they were good, Nadal's passing shots. Tsonga simply managed to get the most impossible passing shots back as he dived down with his backhand or forehand to make a completely controlled drop volley cross-court.
While Tsonga was great at the net, he was also great with both his forehand and backhand groundstrokes. Especially his massive forehand was on a roll as evidenced when he crushed an inside-out forehand on match point.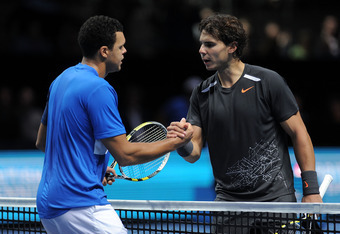 Michael Regan/Getty Images
And his first serve was untouchable for large periods of the match. Nadal won the second set partly due to a lower first serve percentage (41) by Tsonga in that set.
Nadal's own level was probably the best since the Davis Cup just after the US Open. He served bigger and better than against both Fish and Federer. And his forehand had more zip and more precision.
Still, there were more errors than when he is at his very best, but Tsonga also forced him to go big if he were to stay in the rallies.
His own evaluation of his game was more bleak:  "I didn't play well tonight…The first two sets, I didn't play bad, but I didn't play well...I was solid, but too slow with the legs...The third was disaster."
Tsonga played a part in that. He attacked him on every opportunity (making 46 winners and 45 errors in the process), be that on a Rafa second serve or even when Rafa was on the attack. One of the most amazing shots of the match was at 4-4, 15-0, Nadal serving.
Nadal followed up his serve with a well-placed forehand down the deuce corner hit from the net. Tsonga not only got to it, but send a bullet running forehand pass by Rafa at the net, who could do nothing, but stare.  
The best point of the match was probably the one, where Nadal forced Tsonga to hit two double backhand smashes and come up with some incredible touch at 2-4 in the third. Tsonga's skills, feel and power at the net were nothing short of fantastic.
Still, even with Tsonga playing this great, the match could have gone either way.
Fans of the Fedal rivalry will regret a missed opportunity for a second consecutive final between the two.
Fans of attacking, aggressive serve and volley tennis will be glad to see Tsonga through.
Judged on current form and play in the tournament, the final match could very well be a repetition of the opening match of the tournament:
Jo-Wilfried Tsonga versus Roger Federer.