David Ferrer Upsets Novak Djokovic in Straights, Goes Through to the Semis
November 23, 2011
Julian Finney/Getty Images
"David Ferrer beats Andy Murray and Novak Djokovic in straights."
Who saw that coming? I didn't. The Spaniard isn't as flashy a player as many of his peers, and he does not have that rally finishing shot that so many of the best have.
Perhaps that is the reason why many, myself included, tend to underestimate him.
What he does have in plenty, though, is a tremendous work ethic, fantastic footwork, court coverage and speed and a more-than-decent forehand and backhand.
He's always been a great returner, but the past couple of years he's added an extra layer to his hold game with a bigger and better serve. Today, he won a stunning 92 percent behind his first serve and a very decent 55 percent behind his second (Djokovic was 66 and 33 percent).
The world's best returner and world No. 1 Djokovic failed to break him, and only had one break chance.
But what really happened out there, when Ferrer beat the world No. 1 6-3, 6-1?
The first set felt close, but Ferrer still won 33 points to Djokovic's 24 (63-41 for the match). The deciding break came at 3-all in a combination of some big Ferrer winners and some just long or wide Djokovic shots.
The actual breakpoint told the story of the match, Djokovic sent a good wide serve to Ferrer, who got it back and scrambled back toward the center. Djokovic hit a cross-court backhand that Ferrer also got to, and then a forehand cross-court hit from the middle of the court.
Ferrer's answer?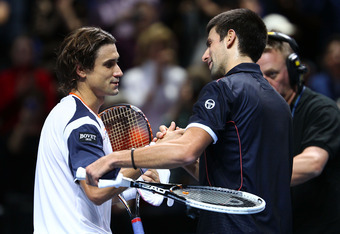 Julian Finney/Getty Images
A running forehand pass that Djokovic couldn't volley over the net. That break was all Ferrer needed. Ferrer won the set by once again staying much longer in the point than he should have, and Djokovic eventually erred on the backhand side.
He did that eight times in the first set, and 17 times in the match. The best backhand in the world simply wasn't there as he continuously hit it in the net or just wide or just long.
The forehand wasn't much better, and in total Djokovic hit 33 errors to 10 winners, whereas Ferrer was 18 to 11.
Djokovic assessed his match as "the worst I've played this season," and said that nothing felt good out there. "All the credit to the opponent; he played a great match. But, you know, I just wasn't there."
When that is the case, you have to hope for a different opponent than David Ferrer. Because it wasn't as if Djokovic couldn't hit a good shot; he hit many.
But Ferrer would often force him to hit two, three or even four winners to win the point—a strategy that is not too foreign to Djokovic—and at some point, Djokovic would inevitably fold to the challenge or Ferrer would hit a winner of his own.  
As bad as Djokovic was, as solid and good was Ferrer. And he earned both of his first breaks with great forehand winners, whereas Djokovic gave him the third on yet another backhand error.
As for the rest of the tournament, Ferrer is safe in the semis and either Tomas Berdych or Novak Djokovic will follow him.
Ferrer plays Berdych on Friday, and Djokovic has fellow Serb Janko Tipsarevic.