Would a Repeat of LSU vs. Oregon or LSU vs. Alabama Cause a BCS Train Wreck?
November 18, 2011
Drivin' that train, high on...
Before the start of the 2010 season, BCS executive director Bill Hancock wrote an op-ed piece for USA Today incorporating in its title the BCS mantra of "every game counts."
"People love this game," Hancock wrote. "From Labor Day to January, fans are treated to games with national-title implications." 
He continued, "In college football, the National Championship, not just seeding or home-field advantage, is at stake every week. Fans from different regions tune in to games they would otherwise ignore. This 15-week frenzy is cherished. And the BCS arrangement ensures that it will be protected."
... [Bill Hancock] better watch [his] speed.
The BCS was created to ensure that at the end of the regular season the agreed-upon No. 1- and No. 2-ranked schools would meet in a bowl game to determine a national champion. Indeed, the BCS does just that—it has their No. 1 play their No. 2. 
However, the process that they use to determine those rankings, characterized by Hancock as a "cherished frenzy," has been at times mired in latent and contentious subjectivity or fatuous pedantry.
Trouble ahead
If both LSU and Oklahoma State remain unbeaten, then clearly it will be the Tigers and the Cowboys in New Orleans with little, if any, argument from anyone.
If Oklahoma State remains unbeaten and the Tigers lose to Arkansas, it becomes a bit more muddled—at least for the SEC—but not necessarily for the BCS. With a 3-way tie atop the SEC West between LSU, Alabama and Arkansas, the process of pronouncing a West Division representative for the SEC Championship game would become somewhat dicey. 
However, the SEC has a process in place. For the record, it is the winner of the game between the two highest BCS ranked teams. Once this determination has been made and the various conference championship games played, the remaining one-loss teams would sort themselves out without increased dispute as the BCS process moved forward in choosing an opponent for Oklahoma State.
Contrary to what many suggest, there would not be an Armageddon if both LSU and Oklahoma State were to lose to Arkansas and Oklahoma respectively. A one-loss Oklahoma would take the Big 12 title and ascend to a higher BCS ranking than the now one-loss Cowboys. 
The SEC would determine a West Division representative (as just detailed) and, again, the one-loss teams would sort themselves out without increased dispute as the BCS process moved forward determining its No. 1 and No. 2 spots.
Ah...but there is a fourth, very real possibility.
What if the Cowboys stumble and the Tigers are the only undefeated team at the end of the season? Which one-loss team should play undefeated LSU for the BCS National Championship?
Trouble behind
In 2001, the BCS formula resulted in previously undefeated Nebraska, who lost by 26 points, 62-36, to Colorado in their final Big 12 North regular-season game, somehow finishing the season ranked No. 2. This was ahead of the Big 12 champion Buffaloes (ranked No. 3) and resulted in the Cornhuskers playing No. 1-ranked and undefeated Miami for the National Championship—a game that the Huskers lost by only 23!
Then, in 2003 Oklahoma, after a 35-7 blowout loss to Kansas State in the Big 12 Championship game, inexplicably remained ranked No. 1 and played a controversial No. 2 LSU (not USC, ranked No. 1 in both human polls) for the National Championship. This actually resulted in a split national championship between LSU and USC, creating the exact situation that the BCS was designed to avoid!
It is BCS determinations like these that have acted as a lightning rod for contention, controversy and contempt, leaving many to view Mr. Hancock's "BCS arrangement" as a "protected" and fanciful canard.
And you know [this] notion, just crossed my mind...
Back to the trouble ahead, what if LSU (and maybe Houston) is (are) the only undefeated team(s)?  For the sake of this argument, there could be up to eight one-loss teams in the FBS—Oklahoma, Oklahoma State, Alabama, Oregon, Stanford, Virginia Tech, Clemson and Boise State.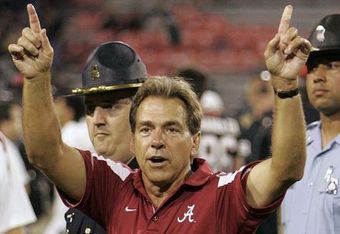 So how could this potentially play out?
Eliminate Boise State. No one-loss team from a non-automatic qualifier conference is going to finish as highly ranked as No. 2 in the final BCS standings.
That leaves the interesting question of where does an undefeated Houston team finish?  With a non-conference resume of wins over UCLA, Louisiana Tech, North Texas and Georgia State, they could not finish in the BCS standings ranked No. 2. So put the Cougars back in their non-AQ cage.
Next, consider the ACC, where only one of their candidates would survive the ACC Championship Game with one loss.
Move on to the Pac-12, where, if both Stanford and Oregon were to finish with one loss, Oregon's win over Stanford gives them the Pac-12 North title and placement in the Pac-12 Championship Game. Stanford has two chances of supplanting the Ducks: (1) Oregon loses the Pac-12 Championship Game against the South Division representative or;  (2) Oregon loses its final two regular-season games to USC and Oregon State. Both of these outcomes are highly unlikely, but under either of these possible circumstances, a one-loss candidate would emerge from the Pac-12.
Finally, let's go to the Big 12. Yes, Oklahoma State could lose to Iowa State and then beat Oklahoma for the Big 12 title, but most likely it will take a Sooner defeat of the Cowboys in Bedlam to prevent Oklahoma State from finishing undefeated. This would ascend Oklahoma past Oklahoma State and, like the Pac-12, only a one-loss candidate would emerge from the conference.
Got two good eyes but [we] still don't see...
So we are left with up to four viable one-loss candidates to oppose an undefeated 13-0 LSU: Oklahoma State or Oklahoma from the Big 12; Virginia Tech or Clemson from the ACC; Oregon or Stanford from the PAC-12; and Alabama from the SEC.
If it is the Big 12 or the ACC candidate or even a Pac-12 champion, Stanford, that finishes second in the BCS—and right now that appears very unlikely—then keeping with the lyrics of the song, "...the switchman [isn't] sleepin'.
However, if a Pac-12 champion Oregon or a second-place SEC West Division Alabama were to finish No. 2—and right now, that appears to be a very good possibility—then as the refrain states, "...the fireman screams and..."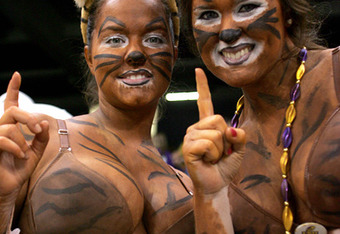 "...on the wrong track and headed for you..."
In his article two years ago, Hancock decried that the current BCS system "is driven by on-field competition." How can he possibly defend this statement if Alabama or Oregon, after having lost to LSU, were to get another chance against the Tigers before a one-loss Big 12 or ACC champion? 
If somehow Alabama or Oregon were to be the only remaining one-loss teams, then the BCS could justify the outcome. But in all other eventualities, why should the Tigers now have to defeat the same foe twice in the same season to win the National Championship, while that foe would only have to beat LSU once!
Didn't the first games count? Mr. Hancock, don't let this train wreck come 'round the bend.