Novak Djokovic Leads the Way in a Year of Complete Dominance by the Big Four
November 21, 2011
Clive Brunskill/Getty Images
In men's tennis, we're used to dominance from a few top players. In the major part of the last decade, that dominance has come from one or two players. The same can be said this year, but the dominance extends further down the ranks. 
The Big Four have been going by that name for quite a few years now, but never have they dominated the circuit to the extent they have this year. 
They've not only won all tournaments of importance, but they've also regularly been the last two or four men standing come the semis and finals. 
Both the French Open and the US Open saw each and every one of the Big Four in the semis. The only non-Big Four players who reached a slam semi this year were David Ferrer at the Australian Open and Jo-Wilfried Tsonga at Wimbledon. 
However, note that neither of them reached a slam final. Those eight spots were all taken up by the Big Four and mainly by the big two. Note also that Ferrer, as well as he played, was aided by a Nadal injury in the Australian Open quarterfinal. 
Tsonga, who made it all the way to the semis at Wimbledon, had to do so coming from two sets down against the six-time Wimbledon champion Roger Federer. 
The Big Four's dominance extends to the Masters level, too. All nine Masters titles have been won by one of them. Djokovic leads the field with five ahead of Murray's two and Federer and Nadal's one. 
Indeed, only a few men outside the Big Four have made it to a Masters final this year. Novak has lost one final and Nadal has lost four. The three other losing finalists are Tsonga, Ferrer and Fish—all Top-10 players.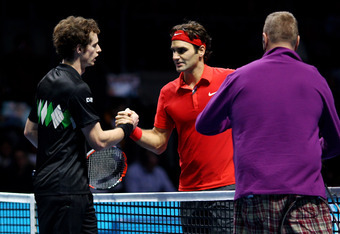 Julian Finney/Getty Images
In a sense, the dominance is of course more simply just Djokovic winning everything in sight and Nadal making it to the finals and losing to him rather than the Big Four dominating as a whole. 
However, Federer and Murray have also made the finals of a slam and won Masters competitions where Djoko and Nadal failed. In this respect, they are essential to complete the dominance of the Top-Four players in the world. 
With the World Tour Finals in London approaching, it would be a huge surprise if one of the Big Four didn't win this against a fellow Big-Four player in the final.
Will a non-Big Four player make it to the semis? Jo Wilfried-Tsonga and Tomas Berdych are the best guesses, but don't be surprised if the Big Four once again rule the tables.