Roger Federer: Is His Form a False Alarm, or Will He Be a Threat in 2012?
November 11, 2011
Harold Cunningham/Getty Images
We saw this all before in 2010.
After a disappointing season by Roger Federer's lofty standards (the highlight of which was winning in Australia), Federer suddenly caught fire as the indoor season approached. He'd won only two titles until then, but he cruised through the Stockholm Open before avenging his 2009 Basel defeat to Novak Djokovic by beating the Serb in the final of his hometown.
He reached the semis at Bercy for the first time in his career, losing disappointingly to Gaël Monfils despite holding a staggering five match points. Then, most impressively, he showed he was a class apart as he won the Tennis Masters Cup in London without losing a match. A satisfying exclamation point must have been defeating Nadal in the final with a clinical display, outwitting him 6-1 in the last set of the 2010 tennis season.
The 2011 season loomed positively for the Swiss. He had been the man in form and the guy to beat towards the end of last season. He showed that nothing had changed when he eased through the first tournament he played, in Doha.
While fans and tennis romantics swooned around the possibility of the "Rafa Slam," tennis experts (and Roger's legion of fans) were quietly confident that Federer was probably the favourite to defend his title in Australia.
Needless to say, as the season winds down, that that simply hasn't been the case. Federer played brilliant tennis at the Grand Slams and was desperately unlucky to not end up with at least one Grand Slam for the year. He's had a similar season to 2010 until now (if not slightly more disappointing), with Doha remaining the only title he'd won until what is now becoming his customary win in Basel last week.
Yes, Federer was on a title drought. There's a sentence I never thought I'd say!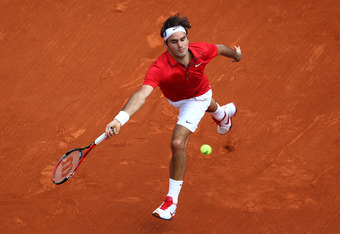 Clive Brunskill/Getty Images
The end of this season has a familiar feeling for Federer fans. He's playing his best tennis of the season (Roland Garros aside), and this looks like his greatest chance to date of finally lifting the Bercy title. If he can manage that, he'll certainly be the favourite, along with Andy Murray, to win an unprecedented sixth year-end Masters Cup (Djokovic seems to be dealing with a few niggling injuries; fully fit, he's the obvious favourite).
Even if Federer does win, however, is he expected to carry this hot streak over into 2012? Is post-U.S. Open tennis ever an indicator for what's going to happen next season?
In most cases, the answer appears to be "no." The argument is that most of the top players have played too much tennis over a grinding season, and as their body wears down, others get the opportunity to swoop in and cause a few upsets, but when fully rested, the top players are ready to wrest control back again.
If I had to make picks for Bercy and London, I'd say Federer will win both tournaments. He's got the game, and he's the only one of the top players who genuinely doesn't seem to be carrying any injuries at the moment. Well, Rafa probably isn't, either, but he hasn't played much indoor tennis this season and, frankly, Federer's a much better indoor player than Nadal.
However, going into next season, I wouldn't be so confident of Federer's chances at the Slams. He's obviously not head and shoulders above the rest the way he used to be three years ago, and he's on the wrong side of 30.
It is testimony to his greatness that he's still around competing with guys at least half a decade younger than him, but I can't see him keeping that up for a full season. He can still raise his game for the Slams, and I think he's going to end up with a Slam next year, but by the time 2012 rolls around, Djokovic will be the man to beat once again.
Father Time eventually catches up. One would have thought Federer might be an exception, but alas, no one is. He probably belongs more in tennis's list of immortals than on court now, and the champion that he is, that's what he'll hate most.