2012 MLB Offseason: Rating the Top 15 Catchers According to TPR
November 7, 2011
Ezra Shaw/Getty Images
Welcome to a new offseason feature here at Bleacher Report. We are looking at something I call total player ratings. The system works similarly to what we have done with the fielding. In this case, we took Fangraphs, Baseball Prospectus and Baseball Reference and took their ratings for fielding runs, hitting runs and base running runs above average.
I actually prefer the fielding bible data over the other three in terms of fielding, but I want to keep the sources constant throughout the process. So, when you see the totals, remember to divide the total by three to get a real representation of the number of runs that player earns for your team (above the average player).
We will look at the top fifteen catchers today. One thing to keep in mind is that all three sources compare all hitters together. So, most catchers have an uphill battle. That is also true in base running. When those factors are considered, every catcher that exists over zero total runs is a solid catcher. In addition to the top fifteen we will look at the bottom three.
15. Ryan Doumit, Free Agent
Fielding: -4.0
Hitting: 22.6
Base Running: -6.3
Total Player Rating : 12.3
I know what you are thinking because the thought occurred to me too. If Doumit played a full season behind the dish he likely wouldn't finish here. Think of him as a poor man's Victor Martinez and you'll be happy. If he can sign with a team that will use him like that, he will be a surprise player next year.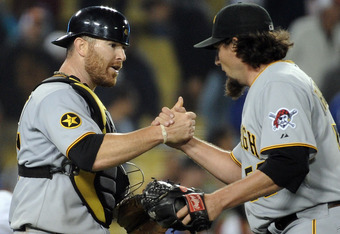 Harry How/Getty Images
14. Buster Posey, San Francisco Giants
Fielding: 6.5
Hitting: 8.1
Base Running: -0.9
Total Player Rating: 13.7
Considering the time he missed, you could probably multiple each of these by two and a half and get the player you will see next season. However, I cannot fudge the data for something like this. Still, Posey is easily a top ten catcher in reality.
13. Joe Mauer, Minnesota Twins
Fielding: 7.2
Hitting: 7.6
Base Running: -1.1
Total Player Rating: 13.7
Last season was a rough one for Mauer. You could probably conservatively double it and get a better approximation to where he is at. That would comfortably put him in the top ten.
12. Ryan Hanigan, Cincinnati Reds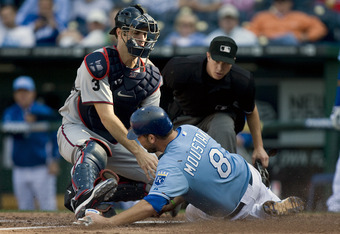 Ed Zurga/Getty Images
Fielding: 10.0
Hitting: 1.8
Base Running: 2.3
Total Player Rating: 14.1
The Reds are going to let Ramon Hernandez go and he is a positive impact catcher. That's how good they think Hanigan will be when he gets to play full-time. The fact that he is good defensively helps.
11. Wilson Ramos, Washington Nationals
Fielding: 1.6
Hitting: 14.3
Base Running: -0.1
Everyone loves Ivan Rodriguez, but let's be honest here. He was holding back Ramos and the Nationals last season. Ramos finally took over early in the season and never looked back. Jesus Flores is still lurking and Derrick Norris is projected to be a stud, but Ramos should be the guy in 2012.
10. Brian McCann, Atlanta Braves
Fielding: -13.4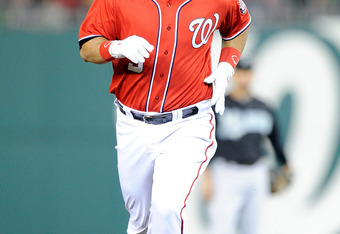 Greg Fiume/Getty Images
Hitting: 41.7
Base Running: -9.9
Total Player Rating: 18.4
Wait, isn't Brian McCann a stud? In the batter's box he is, but everywhere else he leaks runs for the Braves. The Braves will take the leakage if he hits like he did last season. Some missed time cost him some in the end.
9. Yadier Molina, St. Louis Cardinals
Fielding: -5.9
Hitting: 43.7
Base Running: -10.3
Total Player rating: 27.5
Molina is usually 10 to 15 runs better than this defensively and usually not this good offensively. In the end, it all cancels itself out. Unfortunately, Molina is one of the worst base runners in baseball.
8. Chris Iannetta, Colorado Rockies
Fielding: 14.9
Hitting: 13.2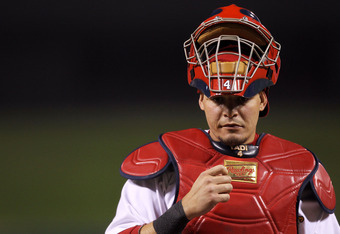 Ezra Shaw/Getty Images
Base Running: 0.3
Total Player Rating: 28.4
Iannetta kind of sneaks up on you. He is solid across the board and being solid across the board makes him a very good catcher. He'll likely never win a Gold Glove or Silver Slugger, but I'd take him on my team in a heartbeat.
7. Nick Hundley, San Diego Padres
Fielding: 8.9
Hitting: 36.6
Base Running: 1.2
Total Player Rating: 46.7
Like Iannetta, Hundley is good across the board. Since he plays in Petco Park, his offensive numbers don't look good to the naked eye, but when you factor in the disadvantage he winds up here.
6. Carlos Santana, Cleveland Indians
Fielding: -6.8
Hitting: 60.2
Base Running: -3.0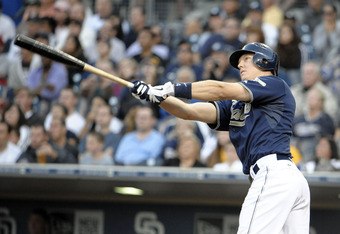 Denis Poroy/Getty Images
Total Player Rating: 50.4
Let the debate in Cleveland commence. Some believe the Indians should move Santana to first base and let Lou Marson play regularly. Marson is a better defensive catcher and Santana would get more plate appearances. Discuss.
5. Miguel Montero, Arizona Diamondbacks
Fielding: 24.0
Hitting: 35.1
Base Running: -6.3
Total Player Rating: 52.8
I hesitate to call Montero the Dbacks MVP because of what Justin Upton did down the stretch, but he likely won't finish this high on the right field list. Montero should have been the Gold Glove winner and he can hit.
4. Victor Martinez, Detroit Tigers
Fielding: -2.6
Hitting: 73.5
Base Running: -12.1
Total Player Rating: 58.8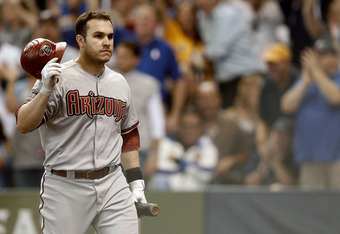 Jared Wickerham/Getty Images
Yes, I realize Martinez isn't a regular catcher. The DH isn't a position. It's a gimmick that stuck. He did have more than 200 innings behind the dish, so he isn't just a DH. However, Avila will always be the regular catcher.
3. Matt Wieters, Baltimore Orioles
Fielding: 41.2
Hitting: 21.1
Base Running: -3.3
Total Player Rating: 59.0
In this case, you have to feel good for the Orioles and Wieters. He was billed as the next big thing and you have to love seeing guys make good on all that promise. Now, if the Orioles can develop three or four more guys on that level they could be competitive.
2. Alex Avila, Detroit Tigers
Fielding: 1.2
Hitting: 92.1
Base Running: -0.5
Total Player Rating: 92.8
I'm going to go out on a limb and say Avila isn't quite this good. Still, even if he produces at half this rate he will still be a top five catcher.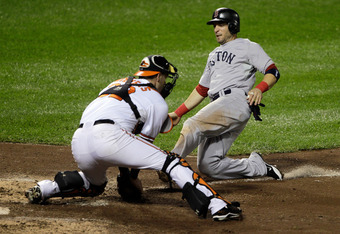 Rob Carr/Getty Images
1. Mike Napoli, Texas Rangers
Fielding: 4.7
Hitting: 127.5
Base Running: -6.1
Total Player Rating: 126.1
When the final epitaph is written on Tony Reagins tombstone, there will be a picture of Mike Napoli. It's hard to say one deal single-handedly turns a division, but the difference between Napoli and Mathis is like the difference between Babe Ruth and Danny Heep.
Bottom Feeders
Jeff Mathis, Los Angeles Angels
Fielding: 11.3
Hitting: -69.1
Base Running: -4.1
Total Player Rating: -54.7
Okay, the pitchers love this guy and he is legitimately good defensively, but most of the pitchers in the National League out produce him at the plate. We had the same debate in Houston when Brad Ausmus was near the end. All the defense in the world cannot make up for a bat this bad.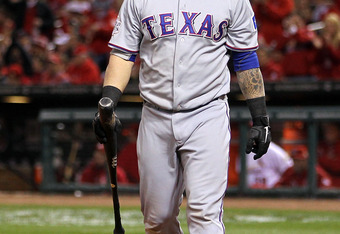 Ezra Shaw/Getty Images
Miguel Olivo, Seattle Mariners
Fielding: -12.3
Hitting: -37.0
Base Running: 0.8
Total Player Rating: -48.5
Hey, he's a heck of a base runner for a catcher. Olivo was supposed to be a solid defensive catcher, but he suffered all the way around. He won't be a top 15 catcher in 2012, but he shouldn't be on this list again.
Yorvit Torrealba, Texas Rangers
Fielding: -10.9
Hitting: -20.4
Base Running: -9.6
Total Player Rating: -40.9
He's a good guy to have around, but the Rangers discovered they were worlds better with Napoli behind the dish. Look for Napoli to start 100 games or so behind the dish and then play some combination of DH and first the rest of the time. Torrealba is a nice secondary catcher, but he shouldn't have gotten that much playing time.