Major Champs, a Former World No. 1, Headline PGA Tour Q-School
November 4, 2011
Scott Halleran/Getty Images
A former World No. 1. A US Open Champ. A British Open champ. A PGA Champ. A Ryder Cupper. A Presidents Cupper. What do they have in common? They're all in the PGA Tour Q-School this year. 
And they aren't exempt into the final round. They have to play second stage to get to the finals.  Once there, they have to beat numerous talented newcomers as well as other PGA Tour winners to either improve their position in the pecking order for next year's tournaments or to win a PGA Tour card outright for the 2012 season.
Who's playing?
David Duval, who won the British Open and The Players, and dethroned Tiger Woods as World No. 1. But that was 10 years ago. In golf, it's "What have you done lately?" Duval, like fellow British Open champ Todd Hamilton, is back at Q-School.
Also trying to get playing status back or improved status over their finishes on the money list are PGA Champs Shaun Micheel and Rich Beem.  
Former Ryder Cuppers Boo Weekley and Chris Riley and Presidents Cup "Aquaman" Woody Austin are also signed up. Austin got the nickname when he fell into a hazard after taking a shot during the Presidents Cup. He showed up the next day with a swim mask.
There are plenty of tournament winners in this year's Q- School, too.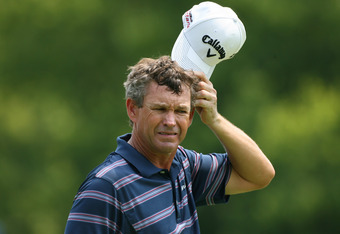 Hunter Martin/Getty Images
PGA Tour winners abound in this year's Q-School drama: Jeff Maggert, Frank Lickliter III, Len Mattiace, Robert Gamez, Robert Damron, Joe Durant, Ted Purdy, Nolan Henke, Blaine McAllislter, Paul Stankowski, Duffy Waldorf, Notah Begay, Ted Tryba, Ted Purdy, Will Mackenzie. And that's just the tip of the talent iceberg.   
But perhaps the story of all stories is that the legendary Mac O'Grady, who has already been to 17 PGA Tour Q Schools, is back for his 18th attempt. O'Grady won twice on the PGA Tour, including the MONY Tournament of Champions in 1987.
Considered an intellectual, just a little bit quirky and outside the mainstream, O'Grady always marched to a slightly different beat. He has played both right-handed and left-handed (as an amateur). O'Grady once had a six-event suspension placed on him by former PGA Tour commissioner Deane Beman for conduct unbecoming a professional. 
Some of the more familiar names in this year's Q-School:
Woody Austin
Rich Beem 
Brian Bateman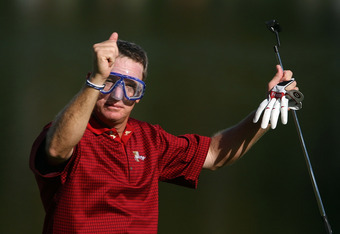 Scott Halleran/Getty Images
Doug Barron 
Clark Dennis
David Gossett
Jeff Maggert 
Shaun Micheel 
Cameron Percy 
Ted Purdy 
Chris Smith 
Vance Veazey 
Brian Watts 
Charles Warren
Eric Axley 
Robert Damron
Joe Durant 
Nick Flanagan 
Robert Gamez 
Lee Janzen 
Frank Lickliter 
Will MacKenzie 
Ted Tryba
Patrick Sheehan
Scott Dunlap
Carlos Franco 
Nathan Green 
Scott Gutschewski 
Todd Hamilton 
Brenden Pappas 
Paul Stankowski
Chris Tidland 
Tommy Armour
Guy Boros 
Glen Day 
Nolan Henke
Richard Johnson
Skip Kendall 
Peter Lonard
Len Mattiace 
Blaine McCallister
David Morland 
Dicky Pride
Marc Turnesa
Boo Weekley 
Omar Uresti 
Craig Barlow
David Berganio 
Jeff Brehaut 
Alex Cejka 
David Duval 
Mark Hensby
Doug LaBelle 
Bob May 
Troy Merritt 
Mac O'Grady 
Jeff Quinney 
Chris Riley
Daniel Summerhays 
Esteban Toledo 
Duffy Waldorf 
Dean Wilson 
Notah Begay 
Carl Paulson