Pittsburgh Steelers: Winners and Losers from Steel Curtain's Win vs. Patriots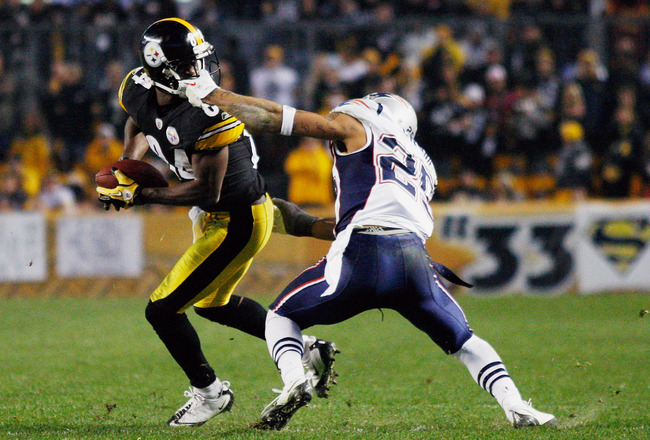 Jared Wickerham/Getty Images
The Pittsburgh Steelers solved the Tom Brady situation Sunday afternoon, beating the New England Patriots 25-17 in a game that wasn't as close as the score indicates.
The win catapults the Steelers into first place in the AFC.
The Steelers beat the Patriots at their own game, slicing their secondary with short passes all game long. Steelers quarterback Ben Roethlisberger completed 36-of-50 passes for 365 yards, two touchdowns, and one interception.
Roethlisberger's favorite target was Heath Miller, who had seven receptions for 85 yards on nine targets. The speedy Mike Wallace also had seven catches, adding 70 yards. Running back Rashard Mendenhall had a nice game as well, rushing for 70 yards on 13 carries.
The defense was great all afternoon, allowing the Patriots to gain only 213 yards of total offense.
The Steelers take on the Baltimore Ravens next Sunday night in a game that could decide the outcome of the AFC North.
There is a lot of praise to go around, and a few mistakes that allowed the game to remain close.
I'll touch on a few keys to the game, and how they impacted the outcome both good and bad.
Winner: Ben Roethlisberger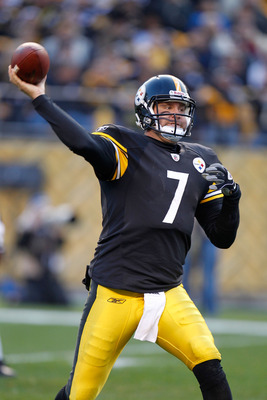 Gregory Shamus/Getty Images
Outside of one boneheaded interception, Ben Roethlisberger played the perfect game Sunday against the New England Patriots.
Picking apart the Patriots defense like it was a practice drill, Ben took what the defense gave him. Instead of forcing the ball deep, he took the short to intermediate passes and couldn't be stopped.
This was a thing of beauty, because usually this is the formula Tom Brady and the Patriots use to beat the Steelers.
Passing for a season high 365 yards and two touchdowns, Ben proved yet again that he is one of the league's best quarterbacks.
Although he doesn't get mentioned with Tom Brady or Peyton Manning, fans who know football realize how good Big Ben is.
He is easily a better all around football player than any quarterback in the game outside of Aaron Rodgers, who still hasn't accomplished what Ben has to this point in his career.
Ben doesn't throw a perfect spiral or make the best decisions, but the guy is an old school baller!
He is a Brett Favre clone with better decision making, although not quite as unbreakable as the old man!
This is another monkey off of Ben's back.
Winner: Rashard Mendenhall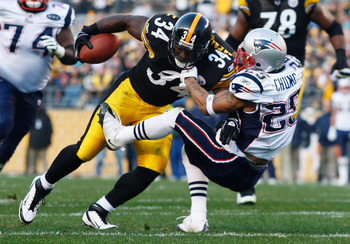 Jared Wickerham/Getty Images
Steelers running back Rashard Mendenhall has taken a beating since his costly fumble in last season's Super Bowl loss to the Green Bay Packers.
Detractors point out his lackadaisical attitude and his dangerous way of carrying the football. He is also haunted by political comments he made on Twitter, and hated on for "running soft".
Ever since all of this turmoil, he has had a slow start to the season. Held in check by opponents and injuries so far this season, Mendenhall ran hard against the Patriots.
He showed a lot of strength, rarely going down after the first hit. He averaged 5.4 yards a carry, totaling 70 yards on 13 carries.
Like him or not, the guy can and will play a vital part of any playoff run the Steelers might make.
I for one hope he gets a few more carries a game and becomes the confident player he was the first two years of his career. He's had over 1,000 yards rushing in each of his first two seasons as a starter in the NFL.
I look for him to become a bigger part of the Steelers offense again as the season wears on.
Winner: Offensive Line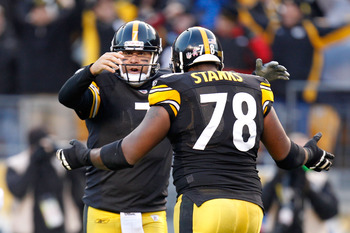 Gregory Shamus/Getty Images
Ben finally had time to throw the ball today, so I have to give some props to the offensive line!
He was still hit and took a couple of sacks, but these were on him as he tried to extend plays. On the one sack, he held the ball for over five seconds before he was hit.
The quick passes were also key and a great game plan when the offensive line is struggling.
The faster you get the ball out of the quarterbacks hand, the better.
Max Starks especially deserves a lot of credit for the recently-improved play of the offensive line.
Before Starks was re-signed a couple of weeks ago, Ben got hit more often than Rocky Balboa.
If the banged up offensive line can keep up the recent success, there is no reason the Steelers shouldn't be in contention for another Super Bowl win.
Winner: Steelers Defense Returns to Form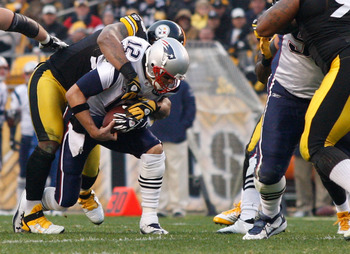 Jared Wickerham/Getty Images
Led by linebacker LaMarr Woodley's two sacks, the Pittsburgh Steelers defense returned to form.
Tom Brady finished the game with only 198 yards passing and two touchdowns, one of which was a gift after a Ben Roethlisberger interception.
While the secondary didn't pick Brady off, they blanketed his receivers all game long. The game was closed out when Brett Kiesel and his wizard beard forced Brady to fumble the ball, ultimately leading to a safety.
Just as impressive was the Steelers run defense that has struggled this season. They looked like the defense of old, allowing only 43 yards on 12 carries.
The defense was outstanding on third down, allowing New England to convert only three times on ten attempts.
When Woodley went out with an injured hamstring, the defense didn't miss a beat.
Something tells me that Joe Flacco won't get much sleep leading up to next Sunday night's rematch!
Winner: Tom Brady Got a Haircut!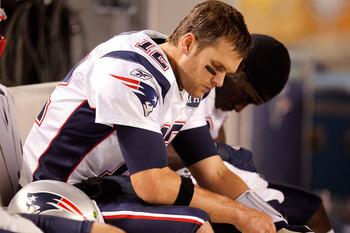 Gregory Shamus/Getty Images
The Justin Bieber hairstyle in combination with Ugg boots was a nightmare!
Luckily for us, some glorious barber eliminated the locks. Tom Brady is annoying enough just being himself, no need to make things worse.
Now that the Steelers finally beat the Brady-led Patriots, I might not have to hate him so much!
Loser: New England Patriots Secondary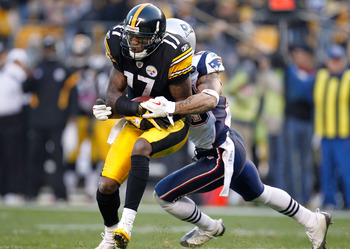 Gregory Shamus/Getty Images
Already ranked dead last in the NFL against the pass, the New England Patriots secondary stayed true to form.
Allowing 322.2 yards passing a game, Ben Roethlisberger lit them up for 365 yards and two touchdowns.
They take bad angles and can't tackle, very surprising considering how much effort the Patriots put into building that defense.
I know the Patriots are still in good shape at 5-2, but they shouldn't expect to last long in the playoffs playing this poorly against the pass—especially considering that most teams in the NFL throw the ball more often than ever before.
It doesn't get much easier with the New York Jets on the schedule in two weeks.
Loser: Officiating Crew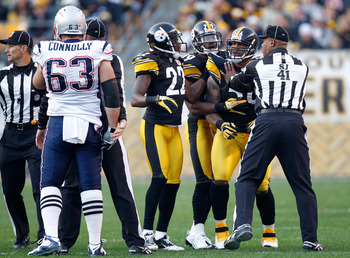 Gregory Shamus/Getty Images
For a league that used to allow assault on the field, things sure have changed.
There were 14 penalties totaling 87 yards in this game alone, and I see a lot every week.
I'm all for players safety, but this is getting hard to watch. You can't even look at a player wrong anymore or they call unnecessary roughness.
You know things are getting bad when clean hits are deemed dirty and illegal in today's NFL. You can see guys easing up before making a hit to avoid a penalty.
Soon tackling will be outlawed so that Roger Goodell can ensure there will be no injuries on his watch! I can see him in a tower somewhere watching every game, lightening crackling outside of the windows.
He will have robots patrolling the sidelines, making sure all goes as planned.
Scary thought huh?
Keep Reading

Pittsburgh Steelers: Like this team?