Roger Federer, Novak Djokovic and Andy Murray Meet in Basel: A Preview
October 31, 2011
Julian Finney/Getty Images
It's not always that an ATP 500 tournament can attract three of the big four. Whereas David Ferrer is top seed in this weeks ATP 500 in Valencia, the ATP 500 in Basel has Novak Djokovic, Andy Murray and Roger Federer in the draw.
It marks the first time since the US Open that Federer and Djokovic return to the tour and the Basel tournament should give us the first indication of what we can expect from the upcoming World Tour Finals in London.
Federer is the defending champion as he beat Djokovic in last year's final, while Djokovic beat Federer in the 2009 final. 
If anybody but Djokovic, Murray or Federer wins the tournament, it will be a surprise. There are a number of story lines and questions as we head into the tournament. 
Can Murray make it four in a row and continue his Asian form against Federer and Djokovic? 
Can Djokovic switch is back on right after his back injury and continue where he left us at the US Open? 
Can Federer defend his title and win his fifth Basel title overall and his second title this year? 
Can the players still fighting for a spot at the World Tour Finals come a step or two closer?
First, a look a look at the four quarters:
Djokovic' quarter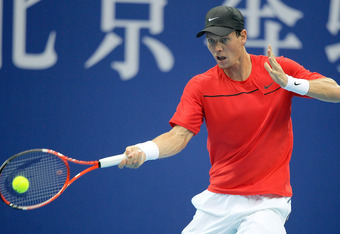 Matthew Stockman/Getty Images
Djokovic is set to meet Xaviar Malisse in the first round, a qualifier in the second and most likely either fellow Serb Victor Troiki or Mikhail Youshny in the quarterfinal. Hardly a draw that should keep Djokovic sleepless and if he is a little rusty, this draw should allow him to play his way into form. 
Tomas Berdych' quarter
Berdych has a tricky draw with a first round encounter with the in-form Kei Nishikori before big-serving Giles Muller probably awaits in the second. If he survives that, he has Mardy Fish awaiting in the quarters, provided the American make it that far. 
Both Fish and Berdych have a place at the WTF on the line these weeks and since Jo-Wilfried Tsonga and the players just outside the top eight positions all are playing in Valencia this week (with no members of the big four), the pressure is on Fish and Berdych to perform well. 
I can see either player making it through, but am picking Fish. That said, I wouldn't be overtly surprised if another player made it through to the semis. 
Federer's quarter
Federer is playing his first tournament since Murray passed him in the rankings and though he is the defending champion, he's not the favourite coming in to the tournament. 
Federer faces a negotiable draw in his hometown with American Andy Roddick as main threat to Federer's way to the quarters. Given their head-to-head record and Roddick's recent form, you would have to put your money on Federer.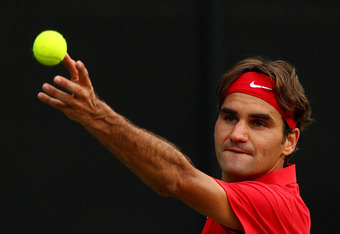 Mark Nolan/Getty Images
Before that, he would have to make his way through Potito Starace followed by either Thomas Belucci or Jarrko Nieminen, but those are not names that should trouble the Swiss too much on an indoor hard court. 
Andy Murray's quarter
Is Murray the favourite for the tournament? Given he's on a 16-match winning streak (he's is 26-1 since Cincinnatti) and Djokovic and Federer both are coming back from long breaks, you would be inclined to say yes. 
But given Djokovic has had the year he's had and that Federer and Murray will likely square off in the semi's, you would have to give the edge to Djokovic, who has an easier path to the final. 
Murray faces big-serving Robin Haase in the first round followed by Stan the man Wawrinka or Ivan Dodig in the second. Not impossible, but also not gimmies. From the other half of the quarter, he can face either Janko Tipsarevic (who's fighting for a spot at the WTF), Florian Mayer, Michael Llodra or Ivan Ljubicic. 
Given Murray's recent form, I can't bet against him to make the semis. On the other hand, you would expect hm to come back to earth at some point—or isn't that exactly what people have been saying about Djokovic all year?
Semis: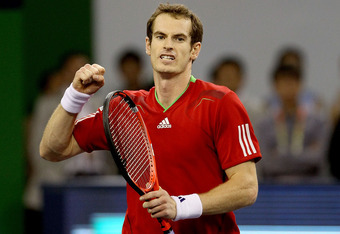 Matthew Stockman/Getty Images
Djokovic beating Fish. 
If Djokovic is back and not too rusty, the Djokovic we've seen this year should make it through any player from the other quarter. 
Murray beating Federer?
I'm conflicted here. On form, you would have to go with Murray. He also beats Federer more often than not in the three-set format on a hard court. And Federer is not having his best year ever, to put it politely. 
On the other hand, Federer is playing in his hometown. He would want to stop the 'bleeding' and make a statement and indoor hard court is probably his best chance to do so these days. 
What weighs more? We'll see, but I give an ever so tiny edge to Murray. 
Final: 
Djokovic versus Murray. It would be a repeat of the Cincinnati final, where Djokovic withdraw a set and a break down in the second with shoulder pain. 
Is Murray ready to beat Djokovic fair and square? Is Djokovic ready to suffer his second non-injury related defeat in 2011? 
It would be a tremendous statement for Murray if he can beat Federer and Djokovic en route to the title. Combined with his victory over Nadal in Tokyo, it should give him all the confidence he needs prior to the WTF. 
Again, I believe the match is very close to a 50-50, but I give the edge to Djokovic by virtue of his year and his easier path to the final.  
Whoever wins it, we will know a lot more about the players form going into the WTF in three weeks time.