Manchester United: 25 Best Players of Sir Alex Ferguson's 25 Years with the Club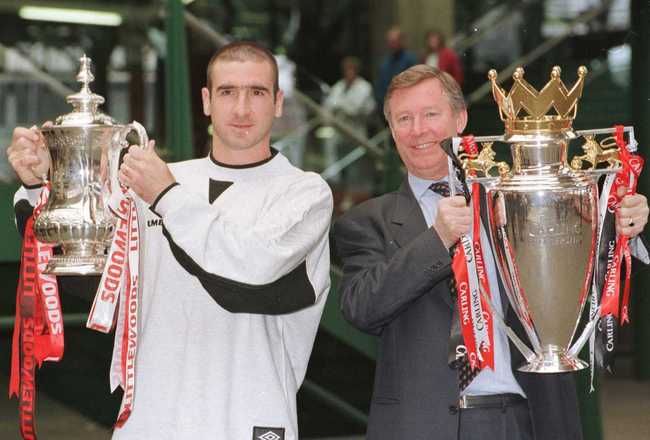 Shaun Botterill/Getty Images
For Manchester United to win so much in the last 25 years, you need great players as well as a great manager. Arguably, Sir Alex is the greatest of all time; some of his players come close.
Apart from his legendary passion and drive, Ferguson has had to sign, develop, select and integrate a wide variety of talents, personalities, nationalities and egos. With one possible exception, no man has been bigger than the club (except the Boss of course).
When you consider that his job was supposedly under threat in late 1989, three years after his arrival, what he has achieved in the last 22 years is nothing less than extraordinary. While some players cost massive fees (Rio, Rooney and Berbatov), others on our list were free (Giggs and Scholes).
Among the other items of evidence of his managerial competence is surely the loyalty of so many of his players. Some came through the Academy and were "one-club men" (Gary Neville); others were signed and stayed for the rest of their career (Denis Irwin).
Each of you will have your own view of who should be on this list and even who should be No. 1. There is a balance to be struck between statistics and skill.
Given that Manchester United is a team that always strives to entertain (even when 3-1 down to your nearest rivals!), those that pleased the eye should surely be near the top.
So here, in reverse order, is one person's view of the 25 best players to play for Sir Alex. Some have been excluded because they only occupied a small portion at the start of his realm; others were excluded because they may still have many years at Old Trafford ahead of them.
25. Nemanja Vidic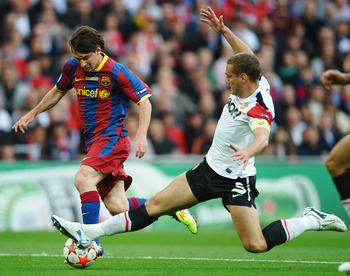 Laurence Griffiths/Getty Images
In less than six years since he was signed, Nemanja Vidic has played 238 times, scoring 18 goals. More importantly he has been part of a central defensive partnership that some would say is the best Manchester United have ever had. Only Steve Bruce and Gary Pallister come close.
If there was ever any doubt as to his value, it surely came on Saturday against Everton. After a thrashing by City, United needed a result to recover their composure. Despite having not played for almost two months, the captain took the helm, put in a characteristically doughty performance and led his team to success.
Few had heard of him when United signed him for £7 million at the same time as Patrice Evra. Whether at United or as stalwart of the Serbia and Serbia-Montenegro team he has been a giant. He was part of the defence for the latter which conceded only one goal in 10 matches during the 2006 World Cup qualifying.
He has four times featured in the Premier League Team of the Year and, having given up his international career at just 30, he clearly hopes for a few more years at the top with United.
24. Teddy Sheringham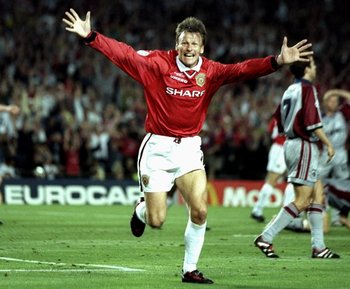 Ben Radford/Getty Images
If for nothing else, Manchester United will forever treasure this memory. Coming on as a substitute, he scored an injury-time equaliser against Bayern Munich, before Ole Gunnar Solskjaer scored the winner.
Sir Alex Ferguson must have rated Teddy very highly to pay £3.5 million for a 31-year-old player. He was needed to replace Eric Cantona—a tall order.
Although he did not get as much playing time as hoped for after the arrival of Dwight Yorke, he still made 153 appearances, scoring 46 goals, including many crucial ones like the above.
He remains fondly in the memories of the United faithful.
23. Edwin van der Sar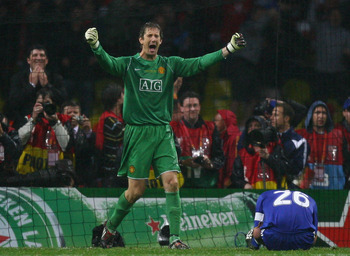 Alex Livesey/Getty Images
This is also arguably Edwin van der Sar's most celebrated moment in the European Champions League Final against Chelsea in 2008.
But that's not all he will be remembered for. The debate will always rage about who was the best keeper ever for United. Peter Schmeichel is our choice, simply because he stayed longer, had many more appearances and therefore more moments of glory.
Technically they were both excellent and United's defence always had the reassurance of one of the greatest goalkeepers in the world behind them when these two greats played.
Edwin holds the all-time world record for the longest time without conceding a goal, at 1,311 minutes. He may not have played for United as long as Schmeichel, but he did play for United until he was 40 and is held in the same high esteem.
22. Andy Cole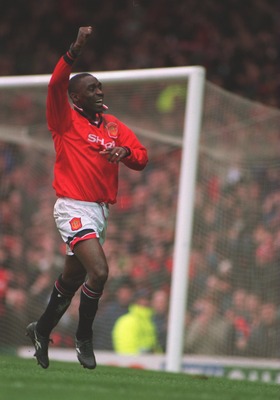 Anton Want/Getty Images
On 4 March 1995, Andrew Cole scored five goals in the 9-0 rout of Ipswich Town. He went on to score 121 goals in 275 matches for United in his eight seasons.
Although it was something of a shock when Sir Alex signed him in for a then-British record fee of £7 million, he had scored 68 goals for Newcastle at a rate of 0.81—the best rate ever. He had also won the PFA Young Player of the Year and the Golden Boot in 1994.
Apart from Cole's strike rate, very few players hit the target more frequently than he did. It was his hallmark.
From the beginning of 1998/9 he had to compete with Dwight Yorke, Teddy Sheringham and Ole Gunnar Solskjaer for a striker's spot. Later, when Sir Alex played Paul Scholes "in the hole," there was yet more competition.
So it was no surprise that Andy moved on to Blackburn Rovers in 2001 at the age of 30. Nevertheless, he still had another eight years in him, before he retired in his hometown Nottingham, aged 37.
During his time at United he won 11 major honours, including five Premier League titles.
21. Brian McClair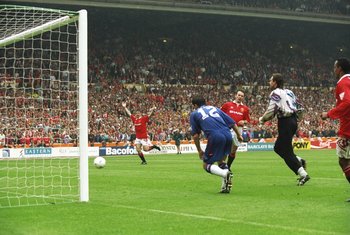 Getty Images/Getty Images
Brian "Choccy" McClair scored the fourth goal in Manchester United's 4-0 defeat of Chelsea in the 1994 FA Cup Final. His nickname originated from his name reminding his teammates of Chocolate Eclair.
He was not the most prolific striker, but apart from scoring important goals, his work rate was second to none and this endeared him to supporters.
One of Ferguson's earliest signings, he went on to play for United for 11 years, scoring 127 goals in 471 appearances. He scored the winner in the UEFA Super Cup in 1991 and was in the winning Cup Winners' Cup Final in the same year.
In total, he has been at Old Trafford only two years less than Sir Alex. After a brief unsuccessful spell as Brian Kidd's No. 2 at Blackburn, he was appointed Reserve Team manager in 2001 and has been director of United's Youth Academy since 2006.
20. Dwight Yorke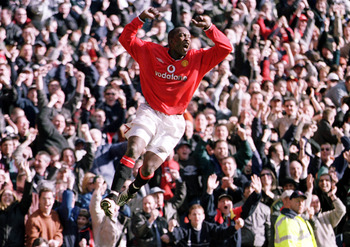 Gary M. Prior/Getty Images
In 2001, Dwight Yorke scored a hat trick in the title clash against Arsenal. He was the other member of the prolific partnership with Andy Cole. None of his 64 goals for United were more important.
He may only have been at Old Trafford for four years and 188 games, but is fondly remembered for his cheery personality and flamboyant style.
Sir Alex paid £12.6 million to Villa for him, recouping only £2 million when he moved on to Blackburn, but during the four seasons in which he participated, United won three Premier League titles, the Champions League and the Intercontinental Cup.
Definitely worth the money!
19. Paul Ince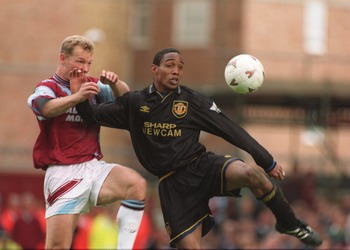 Getty Images/Getty Images
"The Governor" is certainly not the most popular player ever to sign for Manchester United. He's "Marmite"—he divides opinions, not least with Sir Alex, who later described him as a "big-time Charlie."
He was also deeply unpopular with West Ham fans after his transfer, a crime that was compounded by him scoring both goals against his old club in 1994. The trouble started when the Daily Express published a picture of him in a United shirt before he had completed his transfer.
Ince's major contribution at United was in bridging the era between the two all-time midfield greats of Bryan Robson and Roy Keane—a tough act to follow.
Nevertheless, despite only spending six of his 21 playing years at United, he made 281 appearances and scored 29 goals.
Ferguson's decision to sell him to Inter in 1995 for £7.5 million was deeply unpopular with the fans, despite a £6.5 million profit—especially as he was replaced internally by Nicky Butt.
18. Gary Neville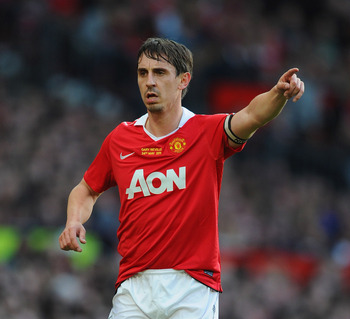 Michael Regan/Getty Images
As a "one-club man who spent his entire playing career at Old Trafford, Gary Neville thoroughly deserved his 2011 testimonial. The calibre of player that returned to play for him—including David Beckham who flew in from the US specially—sums up what he has brought to the club.
His debut as one of "Fergie's Fledglings" was in September 1992 and, in just over 18 years, he won eight Premier League titles and 11 other major trophies, before finishing his career as club captain.
He also featured five times in the Premier League Team of the Year and was selected in the Team of the Decade in 2002.
His 602 appearances for United is the fifth-highest total of any player; he is also the most-capped right-back ever for England, with 85 appearances.
Now a Sky Sports presenter, he is recognised for his knowledge and analysis of the game but, despite Sir Alex's urging, he has as yet shown no urgency to take up club management.
17. Ole Ole Ole Ole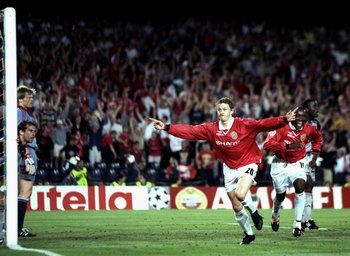 Ben Radford/Getty Images
Who could forget this night?
Who could ever forget Ole Gunnar Solskjaer? If ever the description "supersub" could be applied to anyone...
Sir Alex has said Ole is one of the best readers of a game he's come across. So it's no surprise that he did so well with the Reserves last year and now he has guided Molde to their first league title ever!
"The Baby-Faced Assassin" scored 121 goals in 366 appearances, but only actually started 235 matches. Against Nottingham Forest in 1999, he scored four goals as a substitute.
Sir Alex was always able to rely on Ole. He never complained about being used as a substitute. When he was seriously injured, he was out for two-and-a-quarter years but never gave up. In the event, he struggled on for four more years, but was never the same player.
It is entirely fitting that Ole scored the winning goal in the Champions League win. As a quiet, utterly professional footballer he deserved everything that came to him.
As much as anything, he will forever be remembered by the fans for his completely unselfish act against Newcastle, giving away a red card to keep Rob Lee from scoring a goal that could have transformed the title race in 1998.
He always put the club first, so who could blame Fergie for letting him return to Molde to make a name for himself as a manager?
16. Mark Hughes
Clive Brunskill/Getty Images
In this match against Oldham in 1994, "Sparky" Mark Hughes scored one of the finest goals ever for Manchester United.
He was a very effective finisher for whom the spectacular was commonplace.
It could be said that Hughes was an Academy product, because he joined the club at 17 and didn't make his first-team debut for three years in 1984/5. Two years later, he was sold to Barcelona for £2 million to partner Gary Lineker.
In 1988, Sir Alex brought him back for £1.8 million and in his first season he won the PFA Player of the Year award.
He went on to score a total of 163 goals in 467 appearances for United, of which 126 and 378 came in his second spell.
In the end, Andy Cole's arrival signalled the end and, despite a stay of execution during Eric Cantona's ban, Hughes went to Chelsea for £1.5 million.
His managerial career has to date been a mixed success, however, many United fans could even forgive him for his spell at City in speculating that he may one day return to manage the Red Devils.
15. Rio Ferdinand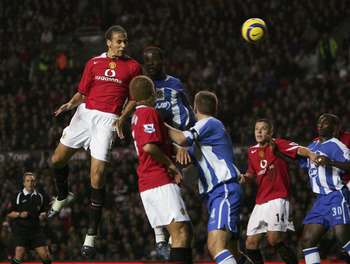 Alex Livesey/Getty Images
This was Rio Ferdinand's first goal for Manchester United after three years at the club. Mind you, he wasn't bought for that, despite starting life as an attacking midfielder.
Like the great Duncan Edwards, Rio studied ballet, which helped improve his balance. Brought up at West Ham, he twice broke the UK transfer record: once in 2000 when signing for Leeds United for £18 million, when he became the world's most expensive defender; and then for United in 2002 for £29.1 million.
To date, he has played 368 times for United—many of those alongside Vidic in one of the most formidable central defensive partnerships ever. He has also captained the side several times, most notably against Chelsea in the successful 2008 Champions League Final.
He is contracted until 2013 and, despite the young pretenders coming through, will surely be relied on for as long as his back holds up, as part of Sir Alex's defensive rotation.
14. Denis Irwin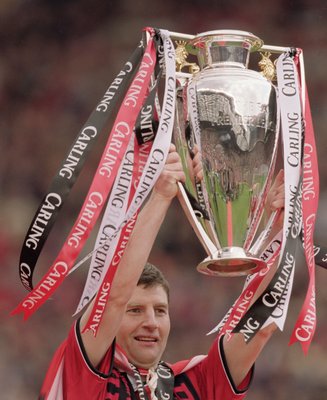 Alex Livesey/Getty Images
Denis Irwin also played for Leeds and is surely one of the greatest United servants ever. He played his last of 529 games in 2002 at the age of 36, after 12 seasons.
Comfortable in both full-back positions, he was surely one of the finest left-backs United ever had. He was also a free-kick and penalty specialist who scored 33 goals in total.
He won 19 major trophies with the club, including not only seven Premier League titles, but also the Champions League in the memorable 1999 final.
13. Gary Pallister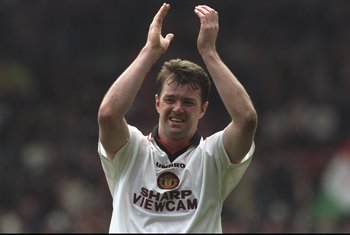 Ross Kinnaird/Getty Images
The next two selections formed United's second-best central defensive partnership ever.
Gary Pallister scored twice in the "title decider" at Anfield in 1997. Although he only scored 15 goals in his 437 matches for United, none were more significant.
For most of those matches after he joined in 1989, he partnered Steve Bruce. Amazingly, Steve never played for England, while Gary had 22 caps.
Like Rio, he was also signed for a record fee for a defender, at a more modest £2.3 million.
12. Steve Bruce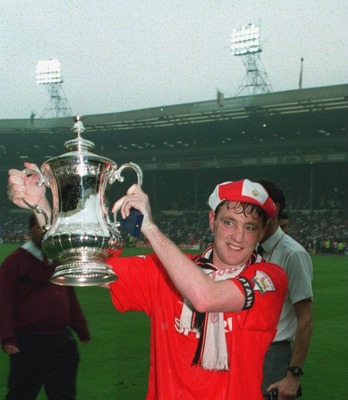 David Cannon/Getty Images
Unlike Pallister and Ferdinand, Steve Bruce was a prolific goal scorer for a defender. He scored 51 goals in 414 appearances, including an astonishing 19 in 1990/1 alone, only two fewer than top scorers Brian McClair and Mark Hughes.
His face tells the story of a fearless leader who led from the front and captained the team for several years. How on earth he never played for England is the unsolved riddle.
11. Wayne Rooney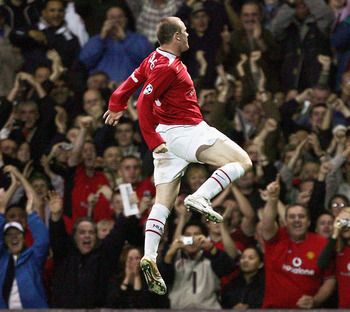 Laurence Griffiths/Getty Images
If ever there was a question as to whether Wazza was worth the £25.6 million that Manchester United paid for him, it was largely settled with this hat trick on his home debut against Fenerbahce.
Although he was only 18 at the time, he had actually made his debut for Everton two years earlier, at the age of 16. To say he was something of a prodigy is an understatement. Five days before his 17th birthday, he scored a stunning goal against Arsenal, showing the vision and skill of someone much more mature.
Barely 26, he already stands No. 9 in United's list of all-time goal scorers, only three behind Ryan Giggs and five behind Mark Hughes, with 158 in 338 appearances. Nobody except Ruud van Nistelrooy has had a better strike rate since Denis Law.
He has also played 73 times for England and the best may be yet to come. He could comfortably exceed the highest-ever number of caps and may yet captain both his club and his country.
Wayne's value to United is not just in the penalty box, however. He can play as an out-and-out striker, in support or "in the hole." He has been used on the wing and in central midfield. Although he has calmed down some of his challenges, he is a sound tackler and is also often found breaking up an attack in the penalty box.
He was never much of a header of the ball until he received some personal coaching from Sir Alex after Cristiano Ronaldo departed. The result was seen in his haul of 34 goals in 44 matches in the 2009/10 season.
This year, he already has 11 goals from 12 games.
10. Ruud Van Nistelrooy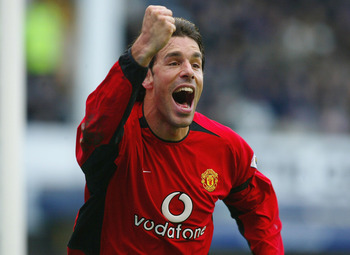 Ben Radford/Getty Images
Ruud van Nistelrooy was born to score goals. Sir Alex tracked him for a long time. He was originally due to join in summer 2000 but, following ruptured knee ligaments, the £19 million buy was delayed until April 2001. During that period, the Boss was so sure of his choice that he kept in touch personally.
His judgement was repaid many times over as Ruud became one of the club's greatest goal scorers of all time. He passed 100 goals for United in February 2004, less than three years after he signed (see above).
His goal-scoring frequency in the Champions League remains unsurpassed at 0.73 (53 goals in 73 matches), despite Lionel Messi's recent surge (42 in 62).
In total, he played 219 times for Manchester United, scoring 150 times, making him the 11th-highest scorer of all time. He also remains United's leading goal scorer in Europe with 38.
9. Jaap Stam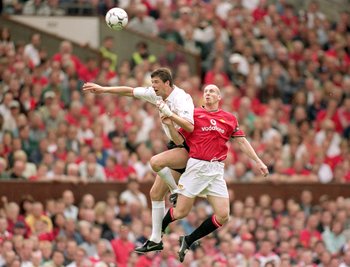 Phil Cole/Getty Images
It's a pity that Sir Alex changed his mind about Jaap Stam, who was arguably one of the greatest centre-backs ever to play for Manchester United.
Jaap had been voted best defender in the Champions League in two of the three seasons he was at United, during which he played 127 times. He was ideally suited to Europe, especially with his background at PSV Eindhoven and in the Dutch national side.
It appears that Sir Alex was not best pleased about some of Stam's allegations and comments in his book Head to Head. Although the manager claimed that Jaap had "just lost a little bit," and he was 29; he later acknowledged that he may have sold the player too soon.
Jaap went on to make a further 143 club appearances over the next six seasons in Italy (including the ECL Final with Milan in 2005) and Holland, together with almost 30 for his country.
8. David Beckham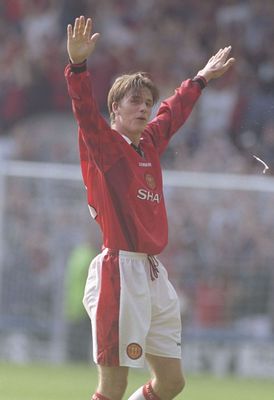 Michael Cooper/Getty Images
David Beckham is one of three of Fergie's Fledglings to make our top 10.
This goal, against Wimbledon in 1996, was voted No. 18 in Channel 4's public poll of the Greatest Sporting Moments. David was only 21 at the time, but it was a precocious moment of genius typical of many goals he has scored for club and country.
He has been admired by many as the greatest living crosser of the ball and one of his hallmarks was to hit an early ball from just inside the opposition half to drop in front of a striker. He is also world famous for his free kicks, none less than the one against Greece that took England to the World Cup Finals.
This goal was largely responsible for redeeming him in the eyes of the England faithful, after his stupid sending off against Argentina in the 1998 World Cup. That led to him being universally despised across England and vilified every time he took to the pitch.
It is a testament to the personality and determination which have been the hallmarks of a long and distinguished career in football that he is such a globally popular personality.
In all, he appeared 394 times for United, scoring 85 goals. In his career to date, he has made 669 club and 115 international appearances, making him the most-capped England outfield player in history.
Although he continues to ply his trade in the US, he helped England to win the 2012 Olympics and was prominent in their bid for the World Cup. He is a UNICEF Ambassador, does massive work for charity and is one of the most instantly recognised and searched men on the planet.
Not bad for a little lad from East London whose dad used to give him 13 pence (20 cents) if he could hit a small square in the top corner of the goal and whose parents were fanatical Manchester United supporters.
7. Paul Scholes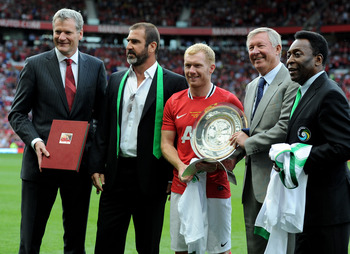 Chris Brunskill/Getty Images
During his playing career, Paul Scholes was several times described as the greatest living midfield player by various footballing greats, including Zinedine Zidane.
A "one-club boy" like Gary Neville, Paul was actually born in Salford, within hopping distance of Old Trafford.
When he was on the pitch, United fans were on the edge of their seats—mainly because they did not know when Paul was going to ping a 60-yard pass onto a sixpence, score a spectacular volleyed goal or take someone's legs away and get sent off.
Hardly a consummate tackler, Paul missed the 1999 Champions League Final due to suspension, as did Roy Keane. But he has given so much to United in a playing career spanning a total of 20 years, including 17 seasons in the first team.
His playing stats make him the fourth-highest appearance-maker and 10th-highest goal scorer for United.
Despite hanging up his international boots long before the end of his playing career, he made 66 appearances for England in eight years and even in 2010, at the age of 35, Fabio Capello was pleading for him to come back.
There is no space here to do justice to Paul's footballing achievements. This reserved, quietly spoken, undemonstrative, 1.71-metre ginger genius has won 24 major trophies, including no fewer than 10 Premier League titles.
He is truly a United legend.
6. Cristiano Ronaldo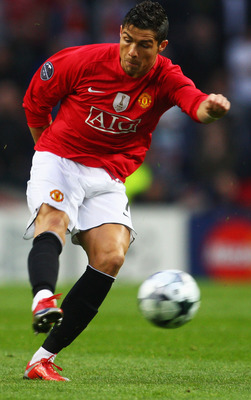 Laurence Griffiths/Getty Images
Six of the top eight in this selection are midfielders. Two are wingers. Who is to say that Cristiano would not have gone on to be No. 1 if he had seen out his career at Manchester United and if he had been less prone to theatrics in his early years?
In 2009, he scored one of the greatest goals ever seen against Porto in the Champions League. Only weeks later, he was in tears on the turf in Milan after United were beaten by Barcelona—his last match for the club before moving to Real Madrid.
He has also said that he had a childhood dream to play for Real Madrid. He has, however, not ruled out a return to Old Trafford before he retires—presumably as long as Sir Alex is still manager. Cristiano has described him as "my father in football."
During his time at United, he won the Ballon D'Or in 2008 and the FIFA World Player of the Year in 2009. In his penultimate season he scored 42 goals in just 49 matches—a feat he eclipsed last year with 53 in 54 for Real Madrid.
For many, especially younger, United fans, he is the most skilful player they have ever seen, although the debate about him and Georgie Best will run on forever.
He gave six seasons, 292 appearances and 118 goals to the Red Devils—stunning figures for a winger—and for that alone we should be grateful.
5. Bryan Robson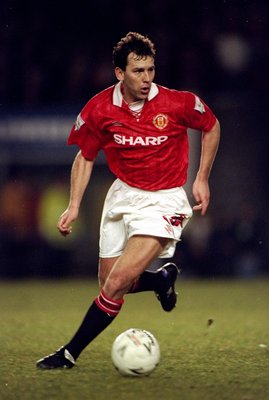 Clive Brunskill/Getty Images
"Captain Fantastic" scored his last goal for Manchester United in 1994. A few weeks later, he ended a 14-year association with the club when he moved to Middlesborough, who he went on to manage.
Although Sir Alex Ferguson inherited Bryan Robson from Ron Atkinson, who had signed him five years earlier, the two quickly formed a partnership which was ultimately to turn United into the world-class club it is today.
Robson was already captain when Sir Alex arrived and remained so until his departure in 1994, having become United's longest-serving captain.
He made 481 appearances in all, scoring a not-too-shabby 99 goals in the process. For his club and his country he often put his head and body on the line, resulting in several injuries that punctuated his career at Old Trafford.
He was also captain of his country for much of his 11 years and 90 appearances, during which he scored an even-more-impressive 26 goals, including what was for 20 years the fastest goal ever in World Cup history.
Bryan is now an ambassador for the club and his name is still routinely chanted at home matches, some 17 years after his playing career at Old Trafford ended.
4. Peter Schmeichel
How could you not love a goalkeeper who could head the ball almost as well as catching it? His many forays when a goal was desperately needed were just one aspect of what makes him, in most people's opinion, the best keeper to play for Manchester United.
By the time he retired from Old Trafford, he had made 398 appearances and - yes - scored a goal with his head at Old Trafford.
He was, of course, keeper in Barcelona for the famous Champions League Final win in 1999.
His goalkeeping stats are amazing. He has been voted the greatest goalkeeper of all time. He holds the record in the Premier League for the highest proportion of clean sheets per game at 42 percent. He is also the most-capped player for Denmark, with 129 appearances.
3. Roy Keane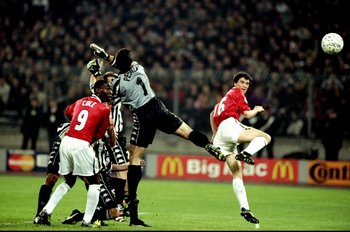 Ross Kinnaird/Getty Images
Roy Keane is undoubtedly one of the greatest players of the Premier League era. If Bryan Robson was joint architect of the renaissance of Manchester United under Sir Alex Ferguson, Roy Keane was the leader and oft-times inspiration for arguably their greatest era ever.
This was epitomised by the treble success in 1998/9, winning the League, Cup and Champions League. Roy's undoubted biggest contribution to this was the greatest performance of his career against Juventus to haul United back to a 3-2 win, including scoring himself.
This was also his greatest disappointment, as his selfless leadership led to a yellow card that kept him out of the Champions League Final.
During his 12 seasons at Old Trafford, he made 480 appearances, scored 51 goals and lifted 16 major trophies (not counting, of course, the biggest one, which he sadly missed).
It is a pity that his career at Old Trafford ended on a sad note, following his criticism of several of his fellow players, but it is likely that Sir Alex would be looking for an excuse to move Roy on in any case. He was 34, injured and had fallen out with the manager too many times.
He will never be forgotten.
2. Ryan Giggs
Without this goal, which even Ryan Giggs admits is his best ever, it is possible that Manchester United would never have won the treble in 1999.
It is far from the only sublime finish from a modern-day genius. At his best, he could be compared to George Best or Lionel Messi. His mesmerising dribbles could carve holes in an opposition defence and often ended in a goal.
He is now in his 22nd season with United and has, to date, made 885 appearances with 161 goals, making him comfortably the highest, with over 100 more appearances than Sir Bobby Charlton.
There is every possibility that he may make an appearance against FC Otelul tonight and that by the season end he will have passed 900. He has already won 34 major trophies, including an astonishing 12 Premier League titles—as many as Sir Alex...
There has never been another player like him in the Premier League—or even possibly British football—and there probably never will. While Peter Shilton made 1,005 appearances, they were for 11 different clubs and he retired at 48.
Ryan must be the greatest one-club player of all time. He will be 38 this month and Sir Alex has not written off him playing until he is 40. He can still produce a moment of magic and hardly ever lets the side down. He is a wonderful footballing example to all young players and especially the next generation at Old Trafford.
He may also be the greatest player that England never had, but he has not ruled out playing for Team GB in the 2012 Olympics.
1. The King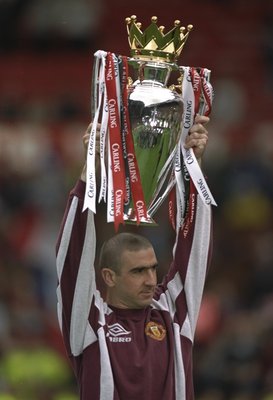 Shaun Botterill/Getty Images
For those who never saw Denis Law play for Manchester United, Eric Cantona is "The King."
And even for those who did, he is almost unparalleled in his easy talent and goal-scoring skill. He may have only played 185 games and scored 82 goals, but he is—and will always be—a legend.
I have a triptych on my wall at home titled "Seven Heaven." It contains the photos and autographs of the three great No. 7's—David Beckham, Cristiano Ronaldo and Eric Cantona.
An idiosyncratic character, who once said in a football interview following his ban for a kung-fu kick on a Crystal Palace supporter "When the seagulls follow the trawler, it's because they think sardines will be thrown into the sea," he remains to this day an enigma.
But the fans adore him and would forgive him anything—an eight-month ban or even signing from arch-rivals Leeds United.
He joined the club almost as an afterthought. The Leeds chairman wanted to sign Denis Irwin. Ferguson refused but asked whether Eric was for sale. Howard Wilkinson agreed and Sir Alex got arguably his greatest bargain at £1.2 million. Few could believe it.
He did everything his own way and left United at a time of his choosing. A film star, he is now manager of New York Cosmos and brought them to Old Trafford for Paul Scholes' testimonial.
Hard to believe that "The King" left United 14 years ago. He is a legend and a cult hero with the Stretford End.
The Future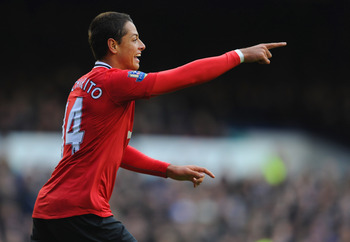 Michael Regan/Getty Images
Sir Alex is rebuilding—again.
Many people would have suggested Chicharito already, despite him being in only his second season. Nani is a future contender if he remains indefinitely at Old Trafford. His personal goals include eclipsing his fellow countryman, Ronaldo.
Phil Jones and Chris Smalling are surely also future contenders and who is to say that Paul Pogba, Ravel Morrison, Rafael and others won't be on the list in 10 years' time?
The biggest single factor is not the form, ability or tenacity of the players—it is how long Sir Alex remains as manager.
In 10 years' time I would love to write an article headed "The 35 Greatest Players of Sir Alex Ferguson's 35 Years at Old Trafford"...
Keep Reading

Manchester United: Like this team?