The 100 Greatest Moments in UFC History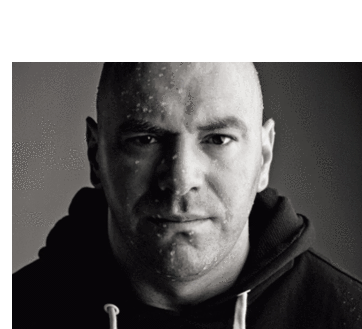 On Saturday, Nov. 12, the Ultimate Fighting Championship—that's cage fighting—makes its broadcast network television debut with UFC on Fox: Velasquez vs. Dos Santos.
At this point, it's safe to say the UFC's popularity is snowballing. Even that may be a mild analogy. With the UFC and its fighters finding newer and wider avenues into the mainstream seemingly every day, MMA's premier promotion is more like a magnet in a river of paper clips, or a molten ball of caramel careening down a mountain of chopped walnuts. You get the idea.
The UFC's blockbuster deal with the network that brought you The Simpsons and Terry Bradshaw is just the latest in a long line of accomplishments. Not to get all maudlin, but fans like me are thrilled to watch more and more people gravitate toward this compelling sport, and as a result watch old stigmas fall away as new frontiers draw ever nearer.
So as a celebration of—and perhaps a token of appreciation for—how far it has all come, here's a list of the greatest moments in UFC history. This encompasses old school and new, serious and funny, inside and outside the Octagon. Moments that were special to witness or helped in some way to move the sport closer to where it is today, which is to say, on the precipice of world domination.

Thanks for reading.
First of All, Some Props...
A tip of the hat to my fellow Bleacher Reporter writers who chipped in with ideas. Thanks, fellas!
100. Rashad Evans Catches Salmon with His Foot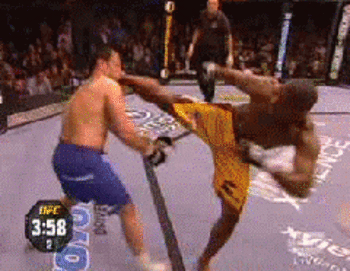 All right...let's set this off with a bang. And what bigger bang than one of the promotion's all-time nastiest knockouts?
Back in January 2007, "Suga" Rashad put a head kick on Sean Salmon that extinguished Salmon's lights before he even started to fall.
99. Jeremy Horn Finally Goes to Sleep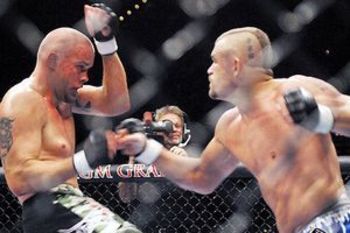 This outcome from UFC 54 wasn't noteworthy because of the box score—another ho-hum devastating knockout for Chuck Liddell—but because it was Horn's first loss by TKO.
And it only took 95 fights before it happened.
The win also served as Liddell's first title defense and as revenge for his first professional loss, which came back at UFC 19 at the hands of Horn, one of MMA's most durable and unsung fighters
(now sporting a record of 88-21-5).
(Photo credit: ESPN)
98. Brian Ebersole Makes UFC Debut—in 63rd Professional Fight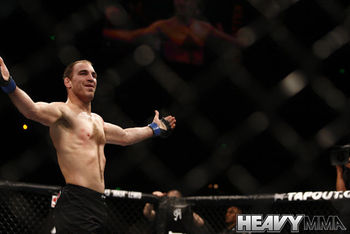 Ebersole was little more than a geographically expedient injury fill-in at UFC 127. Since picking up a surprising and stirring win there over Chris Lytle, Ebersole has gone to 2-0 in the Octagon and is now on his way toward bona fide contender status.
If anyone else had to wait as long as Ebersole to taste the bright lights of the UFC, I couldn't find him.
97. Lawlor's Wacky Weigh-Ins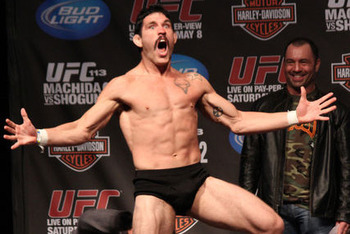 When you're dealing with a sport like cage fighting, it's not hard to bring a sense of gravitas to the proceedings.
It can be damn hard, however, to inject a little levity. But Mr. Tom Lawlor does it with ease.
And he does it with his brain, too. He's not just cracking locker-room jokes up there. He's impersonating Art Jimmerson and Dan Severn, and paying homage to Hulk Hogan and Apollo Creed. This is a thinking man's MMA humorist.

Though he has since toned down the hilarity, here's hoping the UFC hasn't permanently lost the best showman currently (and maybe ever) on its roster.
96. MMA Live First Airs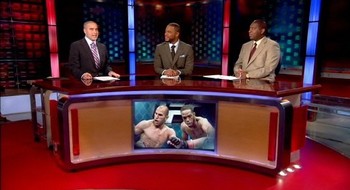 Created by ESPN in May 2010 as an Internet-only show, the program eventually moved to ESPN2 due to popular fan demand.
It provided an important and very visible forum where analysts and fighters could talk MMA, with the UFC almost always at the center of the broadcast.
95. Sanchez Guts out Win over Martin Kampmann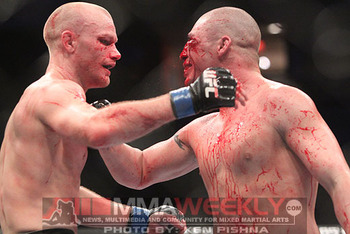 You can argue over who really won this fight back in March of this year, but what you can't dispute is that Diego Sanchez has heart.
Lots and lots and lots of heart.
Watching Sanchez fight that valiantly through that much blood and swelling made it an effort for the ages that epitomized the notion of a hard-earned victory.
94. Keith Hackney Hacks Down Emmanuel Yarborough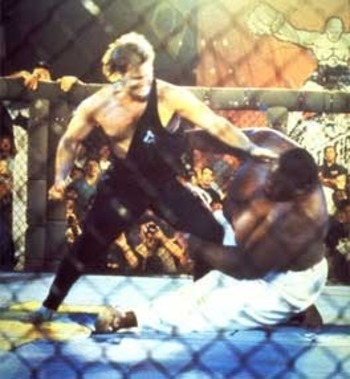 This one tends to be more of a punchline than anything else. And I get that. But let me ask you: what kind of a world would we live in today if Hackney hadn't re-entered the Octagon after Yarborough tossed him out?
93. The Introduction of Rounds and the Must Scoring System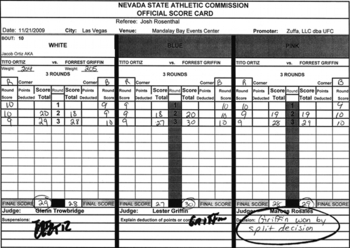 At UFC 21, the promotion implemented the basic "modern" structure it still uses today—i.e., timed rounds and the great and powerful must scoring system.
Come on...you have to admit it was at least a little great.
92. Junior Dos Santos Destroys Shane Carwin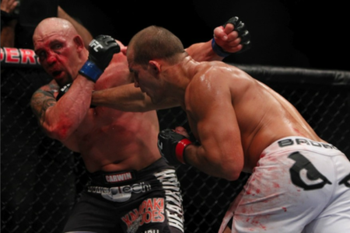 Coming into UFC 131, dos Santos was regarded as a rising star in the UFC's heavyweight division.
After three rounds of brilliant (if at times hard to watch) brutality on the hulking Shane Carwin, people removed the word "rising" from that description.
The win set the stage for dos Santos and Cain Velasquez at UFC on Fox 1, which, in my opinion, has all the makings of the best heavyweight title fight in UFC history.
91. Babalu Gets the Boot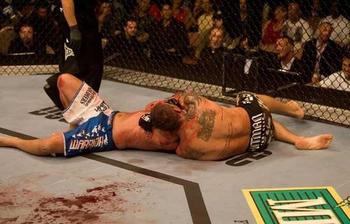 No two ways about it: MMA will always be a tough sell among certain segments of the population, for whom the sport is too bloody and brutal to be considered legitimate, or at least enjoyable.
And that's fair to a point. Because you know what? It is, indeed, a bloody, brutal sport. The problem occurs when perceptions (imagined and otherwise) arise that MMA operates somewhere outside the boundaries of law or human civility.
That's why Dana White's actions after UFC 74 constitute a great moment for the UFC.
At that event, Renato "Babalu" Sobral, fuming as he is wont to do over some gesture of prefight disrespect from opponent David Heath, beat Heath senseless before locking on an anaconda choke. Sobral held the choke long after the ref called for an end to the fight. In fact, he held it until Heath lost consciousness—in a pool of his own blood, no less.
White's reaction was swift and definitive. Five days after the fight, the UFC released Sobral—a highly accomplished and popular fighter—from his contract. Sobral hasn't stepped inside an Octagon since.
This was an important, precedent-setting decision.
90. Dennis Hallman's Shorts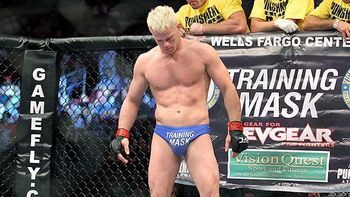 89. Ortiz Outlasts Belfort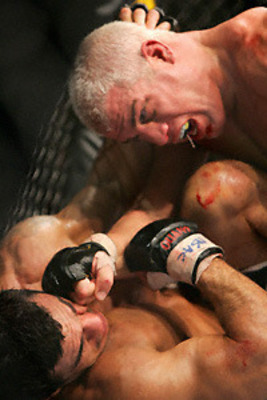 A back-and-forth brawl at UFC 51 between Tito Ortiz (who had lost the light heavyweight belt three fights ago to Randy Couture) and Vitor Belfort (who had lost the light heavyweight belt one fight ago to Randy Couture) ended in a split-decision win for The Huntington Beach Bad Boy.
(Photo credit: Susumu)
88. Seth Petruzelli Ends Kimbo Slice
Yeah, I know it wasn't a "UFC moment," per se.
But it was still a great moment in UFC history, as it lent credence to the promotion's refusal to sign the underskilled Slice, while simultaneously putting a very heavy lid and about 17 nails on the coffin of EliteXC—a prime UFC competitor. Don't forget, it was EliteXC who had the major TV deal back then; this fight aired on CBS.
87. Akihiro Gono Comes out in Drag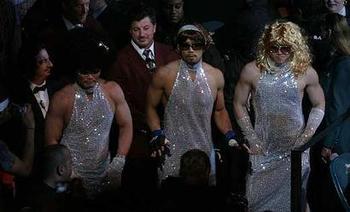 The hilarious part about this is that he actually seemed to put some thought into the dress. He didn't want to just come out in drag. He wanted to come out in, like, Diana Ross drag.
Plus he was fighting Jon Fitch. It's like singing show tunes at a wake.
86. Teila Tuli vs. Gerard Gordeau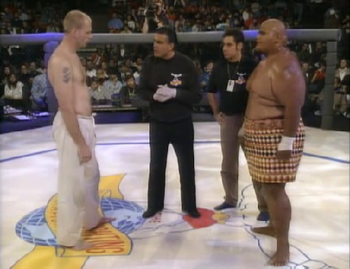 The very first fight in UFC history was over in 26 seconds when Gordeau—to this day one of the dirtiest fighters in UFC history—stomped out the Samoan sumo in Tuli's first and only Octagon appearance. One of Tuli's teeth even went flying.
But don't feel too bad for Tuli. He parlayed his combat sports background into acting roles on such vehicles as Forgetting Sarah Marshall and Hawaii Five-O.
85. Brittney Palmer's First UFC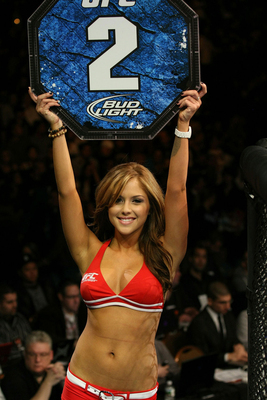 I still mourn the departure of the most, ah, charismatic Octagon girl in UFC history. Maybe I'll always mourn. She was taken from us too soon.
Damn you, art school! WHYYYYYYYYY?!?!?!?!
This photo is from happier times: Brittney's debut at UFC 125.
84. Chuck Liddell Appears on "Entourage"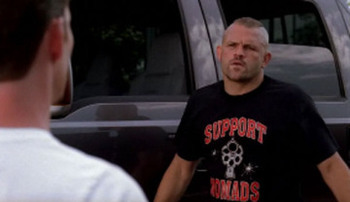 Liddell not only raised his profile and that of the UFC by appearing on the popular HBO show back in 2007, but also showed that fighters are more than square-headed beatdown machines.
83. Fighter Twitter Bonuses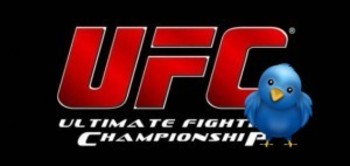 82. GSP Begs for a Title Shot
After soundly dispatching a tough Sean Sherk, Georges St-Pierre literally got on his knees after the fight and begged Dana White for a title shot. White responded by setting a title eliminator between St-Pierre and B.J. Penn, which St-Pierre won. That victory then earned him that begged-for shot against Matt Hughes for the strap, which St-Pierre also won.
The gesture, in my mind, combined hunger and humility, and was informed both by his feats in the cage and his readiness for the next challenge.
In other words, it was perhaps our first real glimpse of GSP, Superstar.
81. Clay Guida Welcomes Showtime to the Real Show
After Anthony Pettis' Matrix kick and what not back in the WEC, everyone was expecting that defunct promotion's last lightweight champ to light up the Octagon.
Clay Guida did not abide.
In almost literally smothering that expectation, fan favorite Guida provided people's exhibit Z that the UFC really is the best MMA promotion (and cemented himself as a top contender at 155 to boot).
And before you make with the hugging allegations, just know I don't necessarily feel that the UFC has the best fighters overall. I'm just saying there's evidence to support such an assertion. A loooot of evidence.
80. Chris Leben Pees on Thacker's Bed

Probably not a top-100 moment for Jason Thacker personally. As I recall, seeing his bed sprinkled with Chris Leben's urine was not Thacker's ideal outcome for that day.
But when it happened on season one of The Ultimate Fighter, it accomplished what the UFC probably had in mind when it put umpteen fighters in a house together with no cable and a closet full of booze: it made some really excellent TV.
79. Dan Severn Enters Beast Mode Against Anthony Macias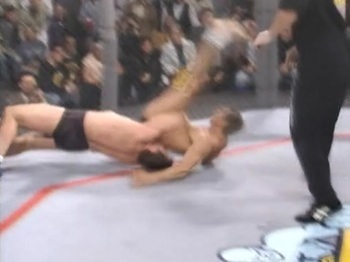 78. "The Twister"
Chan Sung Jung's unorthodox submission move on Leonard Garcia was perhaps the most innovative (and nasty-looking) submission ever pulled off in the Octagon.
77. Anderson Silva Clowns Forrest Griffin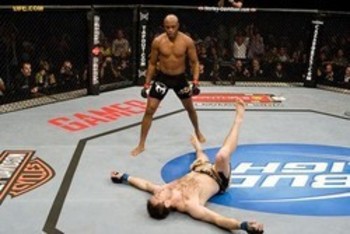 It wasn't Silva's first fight at light heavyweight. But it was his first "tough" opponent at 205.
When Silva dispatched the former champ in a flurry of taunts, feints and surgical-grade jabs at UFC 101, The Spider's already-high ceiling blew a few stories higher.
76. UFC Releases UFC Undisputed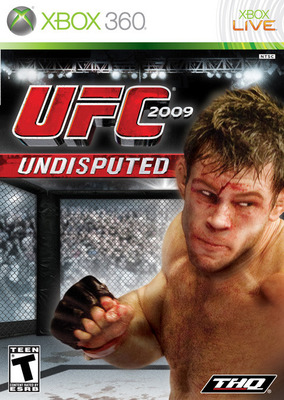 Happier times for Forrest...
When the UFC and THQ released this video game in 2009, it was the culmination of a long and often acrimonious road into a crucial consumer market.
75. Leben Wins Two Fights in Two Weeks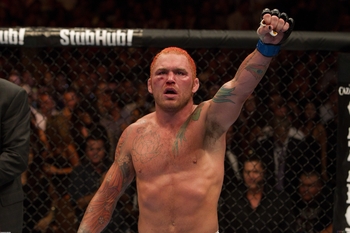 When Chris "The Crippler" Leben finished Aaron Simpson on June 19, 2010 (earning Knockout of the Night honors along the way), he probably thought he was good to rest for a while.
Not so fast, my friend.
When the powers that be needed a fill-in at UFC 116, Leben stepped up to the plate. He then choked out Yoshihiro Akiyama on July 3 (earning Fight of the Night honors along the way).
It was an outstanding feat, and one that steered the ever-popular Leben's career in a new direction. He had lost two of three entering the Simpson fight; he's won three of four since.
74. Cheick Kongo's Comeback for the Ages
Cheick Kongo weebled. Cheick Kongo wobbled. And then Cheick Kongo won.
Pat Barry had the heavyweight dead to rights back in June. But to the surprise of spectators (not to mention Barry) Kongo returned fire and scored an improbable (and extremely fast) come-from-behind KO.
73. Arianny Celeste Does Playboy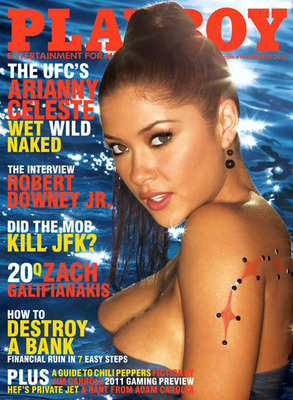 I never actually saw the spread; this makes it onto the list for the notoriety lift it gave (like it or not) to the UFC.
So, in other words, I'm including it for the articles.
72. Belfort Wins Light Heavyweight Title While Agonizing over Sister's Loss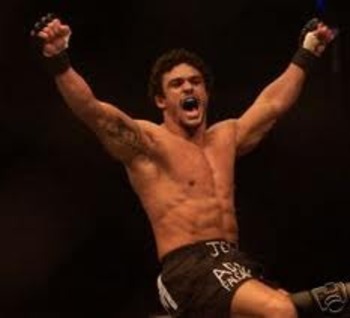 When Vitor Belfort won the light heavyweight belt after a seam from his glove found Randy Couture's eyeball, it wasn't exactly the cleanest victory in MMA history.
Nevertheless, it was certainly one of the more meaningful. The fight, which took place at UFC 46 on January 31, 2004, happened just three weeks after Belfort's sister, Priscila, was kidnapped.
Belfort had every right to turn down this fight. Instead, he went through with it. Even if the win was freakish in nature, it was still, in my book, hard-earned and well-deserved.
71. Big Nog Finishes Schaub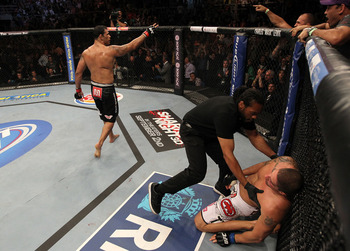 At a time when legends like Randy Couture, Chuck Liddell, Mirko Cro Cop and Wanderlei Silva are either retiring or teetering on the precipice, an old-school champion many left for dead rose up from underneath that hill of has-beens to notch an unlikely knockout at UFC 134.

Hard to imagine an ovation more thunderous than the one Brazil gave that night to their native son, Antonio Rodrigo Nogueira, after he finished Brendan Schaub.
70. Gonzaga Turns the Tables on Cro Cop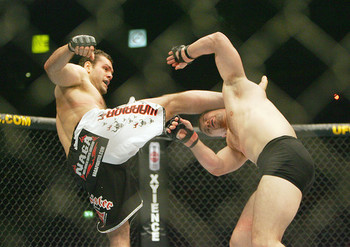 This one definitely falls into the bittersweet category, especially in light of Cro Cop's retirement following UFC 137.
But when Gabriel Gonzaga (known primarily for his jiu-jitsu) knocked out head kick legend Mirko "Cro Cop" Filipovic with one of the nastiest head kicks ever landed in the cage, it was memorable for its irony as much as its ferocity.
69. Dana White Lashes out over Silva's Effort in Maia Fight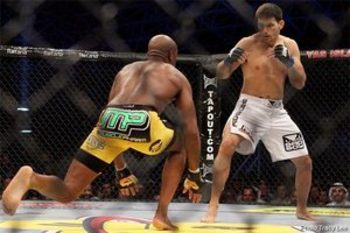 After Silva's lackluster win in front of a huge crowd in Abu Dhabi, White called himself "embarrassed" and told trainer Ed Soares to put the belt on Silva himself.
So why is this a great moment? Because it showed White was willing to sacrifice even his most sacredest of cows if he felt they weren't giving maximum effort to paying customers.
Funny...but now that I think about it, this hasn't been much of a problem since. Another strong precedent set by White and the UFC.
68. Brian Stann Becomes One-Man Memorial Day Celebration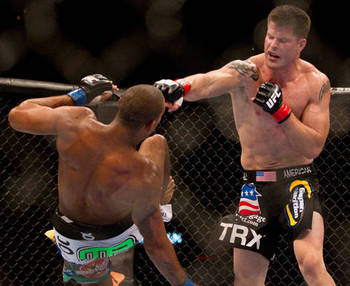 Stann, a decorated war veteran, beat Jorge Santiago this past Memorial Day weekend, then declared that he hoped this could become an annual thing. Here's hoping.
(Photo credit: Julie Jacobson, AP Images)
67. GSP's Under Armour Deal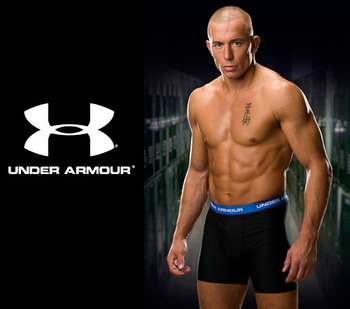 This deal, inked in 2009, was easily the biggest sponsorship deal an MMA fighter had ever signed. It was a signal not only of the sport's increasing appeal to businesses, but of its general viability as a mainstream attraction.
66. Fedor Emelianenko Loses His Third Straight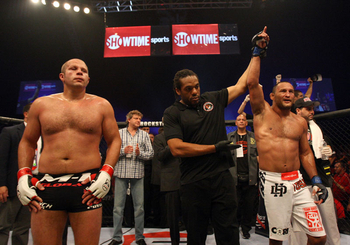 Not a good day for Fedor or Fedor fans.
Nevertheless, it validated the UFC's unwillingness to sell its soul for the fabled Russian heavyweight. And if you needed evidence of the UFC's opinion on this, check out Dana White's postfight tweet. You don't think he thought it was a great moment?
65. Dominick Cruz-Urijah Faber II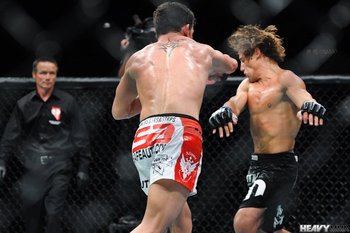 At UFC 132, a great match with lots of star power helped establish the legitimacy of two things: the ability of former WEC fighters to put on a main event worthy of a UFC pay-per-view and, more importantly, the UFC's brand-new bantamweight division.
And we've still got a rubber match to look forward to.
64. Henderson Quiets the Count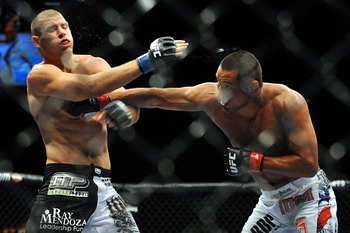 After hot-blooded Bisping and cool-hand Henderson squared off as coaches on The Ultimate Fighter, their actual fight fulfilled many fans' hopes when Henderson knocked Bisping senseless.

Perhaps psychically willed on by the fans, Henderson then added one for good measure after Bispig was already unconscious, just to, in the words of Hendo himself, "shut him up a little bit."
(Photo credit: MMAConvert)
63. Roger Huerta on SI
This 2007 Sports Illustrated cover (not to mention cover story) was a pretty early taste of serious mainstream-sports-world exposure for the UFC, the sport of MMA and its fans.
62. Jose Aldo Plants His Flag on Hominick's Head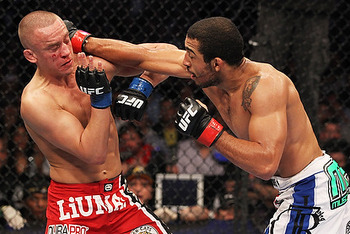 The first major contest in the UFC's featherweight division and Jose Aldo's inaugural defense of his new title will forever be known as The Hematoma Fight.
Against a dangerous Mark Hominick—who was fighting in front of his home crowd, no less—Aldo at UFC 129 helped establish the new division while giving rise to one of the greatest "nasty beatdown photos" currently haunting the intertubes.
61. The Invention of the Octagon
There seems to be a little bit of uncertainty over who, exactly, created the eight-sided cage. Some Internet types trace it back to Vince McMahon and the late 80s.
From what I can tell, though, the MMA octagonal cage was first used by something called Cage of Rage back in 1993. But for UFC purposes, some of the promotion's forebears (including the Gracies) commissioned art director Jason Cusson to officially design "the Octagon," which the UFC promptly (and smartly) trademarked.
Nowadays, that signature cage is virtually synonymous with mixed martial arts.
60. Lytle's Last Stand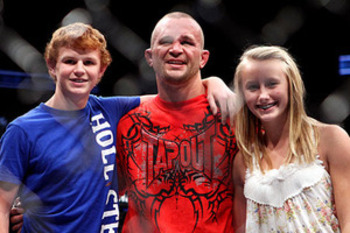 Look up "going out on your own terms" in the dictionary, and you'll see this picture, taken after Chris Lytle's submission win over Dan Hardy at UFC on Versus 5.
The UFC chipped in with Submission of the Night and Fight of the Night honors, for a cool $130,000 parting gift. It also gave Lytle the record for most post-fight bonuses in a single career with 10.
59. Crowning the First UFC Champion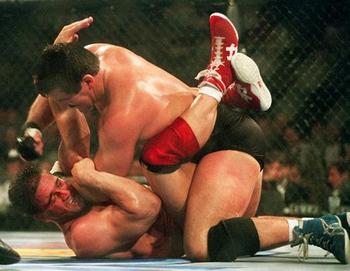 At UFC 6, Ken Shamrock defeated Dan Severn to become the UFC's Superfight Champion. It was the first non-tournament-related title in UFC history.
Today, it's called the UFC Heavyweight Championship. Yep...they later renamed it and the lineage remains unbroken to this day. So strictly speaking, Cain Velasquez is really the Superfight Champion right now.
58. Tito Ortiz Upends Ryan Bader
Who wasn't jumping and down along with the former champion and over-the-hill underdog after he choked out young Bader in the first round at UFC 132?
57. Clay Guida vs Diego Sanchez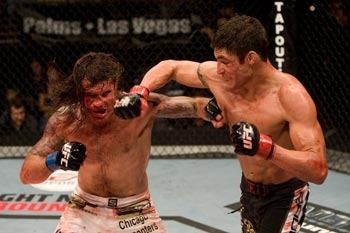 One of the most exciting fights in history, and almost certainly the single most exciting round—an opening stanza that saw the two men pound each other with abandon in the center of the Octagon.
Sanchez was the eventual winner, but really, there were no losers here.
56. UFC 70 Is First Overseas Event of Zuffa Era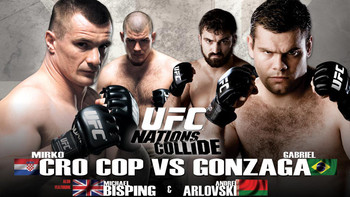 The first overseas event was UFC 30, though UFC 70, held in England in 2007, was the first since UFC 38 and since Zuffa assumed UFC operations.
Since then, they've had events in Dubai, Australia, Brazil, England and Canada. I bet the NFL or NBA would kill for that type of internationalization.
55. First Fight of the Night Bonuses Awarded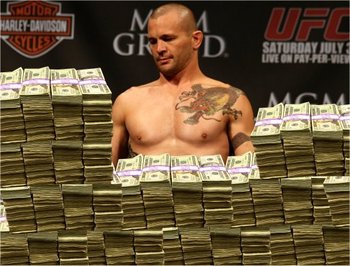 Starting with UFC 70 (or thereabouts), the promotion started incentivizing the outcomes it hoped for by throwing money at the evening's most effective providers of said outcomes.
Even if they're not incentivizing what you think they should be incentivizing, it's still a darn good example of capitalism at work.
(Photo credit: ProMMANow)
54. Kimbo Slice TUF Enough After All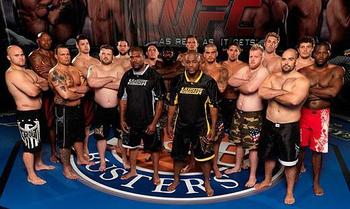 Love him or hate him, Kimbo's inclusion here was a shrewd move by Dana White. It allowed him to stick to his promise that Mr. Kevin Ferguson would need to earn his way into the Octagon, while simultaneously reaping the huge ratings records and rewards that Slice engendered.
53. Matt Hamill Wins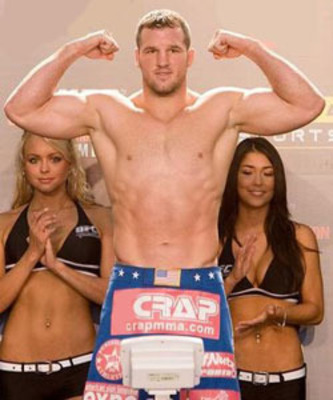 The Hammer's first real UFC fight—a first-round TKO of Rex Holman at UFC 68—struck a blow for the hearing-impaired community and helped launch Hamill's career as not only a successful fighter (he recently retired with a record of 10-4) but as one of the most inspiring stories in the history of combat sports.
52. Matt Hughes' Slam on Carlos Newton
From UFC 34...and tooootally intentional, I might add.
Newton was in the process of choking Hughes out. But Hughes, who as I understand it is something of a "fighter," willed himself to his feet, lifting Newtown into the air. Unfortunately for Hughes, Newton didn't release the choke.
Newton DID release it when a passing-out Hughes power-bomb-slash-dropped Newton to the canvas, knocking Newton cold. Soon after, Hughes became the groggiest welterweight champion to date.
51. First Fight for the Troops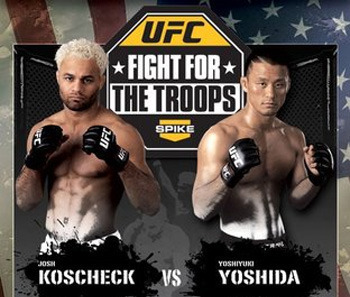 An idea brilliant in its simplicity and its appeal. Have a regular Fight Night event at a military installation, then raise money for the troops.
The inaugural event took place in Fayettville, N.C., and raised $4 million for the Intrepid Fallen Heroes Fund.
As an odd postscript, this event also played host to two of the most horrific injuries in UFC history: Corey Hill's broken leg and Razak Al-Hasan's broken arm. (If you're interested, Google them...oh, you'll find them.)
50. Lesnar beats Couture
Lesnar put those hamhocks to work at UFC 91, pounding out Randy Couture to win the UFC heavyweight title and lay claim to the title of Baddest SOB on the Planet. For a little while, anyway.
(Photo credit: Los Angeles Times)
49. Matt Hughes vs Royce Gracie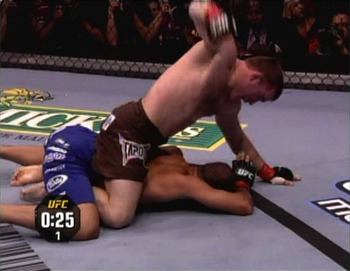 I would say this semi-novelty match at UFC 60 constituted a passing of the torch. But that was evident eons before the 39-year-old Gracie stepped in with Hughes, who TKO'd Gracie in the first round.
What truly makes this moment great was seeing Gracie compete in the "modern" UFC. Even though his skill set appeared both eroded and outmoded, his iron will remained fully intact, as evidenced by a gripping (if grim) sequence in which it seemed Hughes might use Gracie's signature submission move—the armbar—against him. Gracie's arm hyperextended momentarily, but the original UFC champion remained stone-faced, refusing to submit or even show discomfort. Even in losing, Royce Gracie scored a small victory.
48. Anderson vs Franklin II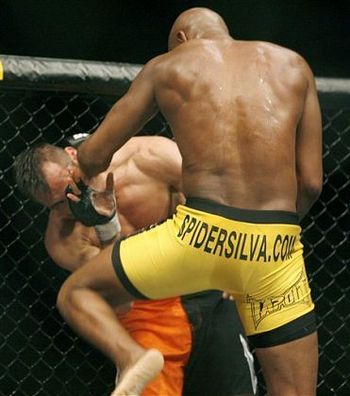 This rematch happened in front of Rich Franklin's home crowd at UFC 77. Franklin made a lot of changes to his body, his game and his strategy for this fight. Unfortunately for Ace, though, it was the same result as in the previous match, and Anderson Silva's greatness was further underscored.
47. The Ultimate Fighter Season 5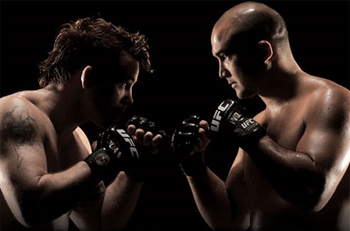 Start with a nasty rivalry between Jens Pulver and B.J. Penn that began with the first episode (when Penn told contestants to raise their hands if they didn't want to train with Team Pulver). Then add in a roster of contestants that included the likes of Gray Maynard, Joe Lauzon, Nate Diaz and Manny Gamburyan.
It all combined to bring the lightweight division back under the limelight.
46. Frankie Edgar vs BJ Penn II
In their previous matchup, Edgar shocked the MMA world and took the lightweight belt with a close decision win over the legendary Penn. The upset was big enough that it earned Edgar an ESPY nomination. Now there's something you can put on your resume.
As great as the first fight was, I include the second fight here because it was, in its own way, far more shocking than the original. Observers everywhere wrote off Edgar's first win as fluky, and confidently backed Penn to promptly win back his belt and restore order to the galaxy.
So it was a pretty amazing moment when Edgar beat Penn even more badly the second time than he had the first time, outboxing and outwrestling The Prodigy throughout.
To me, it was this match, and not the first, that made a star out of Edgar. In retrospect, it may also have signaled that Penn was no longer at the apex of his career.
45. Lesnar Taps to Mir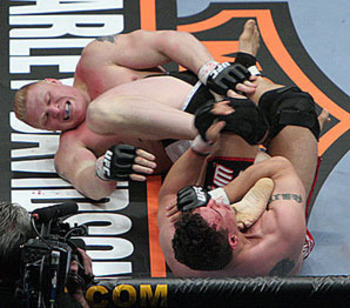 Though Lesnar would go on to earn some huge wins, his loss to Mir showed that technique and strategy still trump pure athleticism when it comes to MMA.
It also threw some cold water (some would say much-needed) on the overheating engine of the Lesnar hype train.
(Photo credit: SI.com)
44. Randy Couture vs James Toney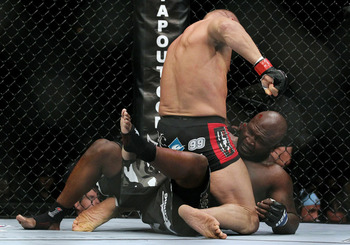 I love this photo...you can almost see the thought balloon over James Toney's head..."This sucks this sucks this sucks this sucks this sucks..."
But when Couture choked out one of boxing's great knockout artists in the first round at UFC 118, it finally put to bed the tired argument that boxing was unequivocally better than MMA by, at an absolute minimum, demonstrating that a comparison of the two was an apples-to-oranges proposition.
The cherry on top came after the fight, when in a lighter moment Randy's team presented Couture with a jiu-jitsu black belt, the result of slapping a triangle choke on an opponent who may not have been familiar with the term coming in.
43. Cain Velasquez Demolishes Lesnar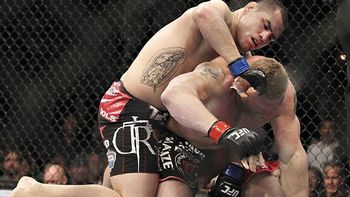 The Lesnar Era was almost as short as The Machida Era.
It's an exciting time to be a fan of the UFC's heavyweight division. Lesnar had a compelling championship run, but at UFC 121, the undefeated Velasquez bullied the bully, exposing Lesnar's lack of enthusiasm about getting punched.
The win cemented Velasquez's folk-hero status—and the UFC's popularity—among combat-sports-savvy Mexicans and Mexican-Americans alike.
42. Rampage Acheives Unity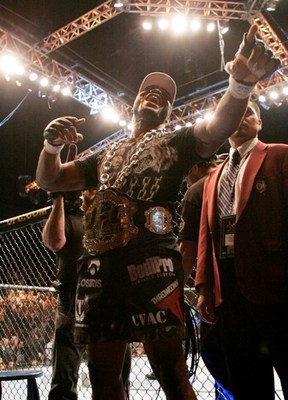 At UFC 75, incredibly popular and newly minted UFC light heavyweight champ Quinton "Rampage" Jackson decisioned incredibly popular Pride middleweight champ Dan Henderson to unify the two belts and smear away one more of Pride's fingerprints from the world of MMA.
41. The Spider Unifies Middleweight Title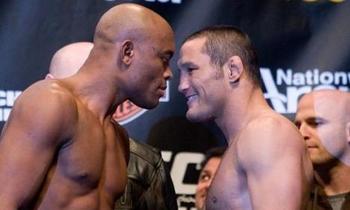 After subsuming the Pride promotion, the UFC staged a unification bout between its middleweight champ, Anderson Silva, and Pride's welterweight (their middleweight equivalent) beltholder, Dan Henderson. (He was Pride's middleweight and welterweight champ when the organization folded.)
Silva choked out the Olympic wrestler in the second round to win the title for the UFC. By virtue of this finish, he clocks in one spot over Rampage, whose fight went to the judges.
40. Frankie Edgar-Gray Maynard II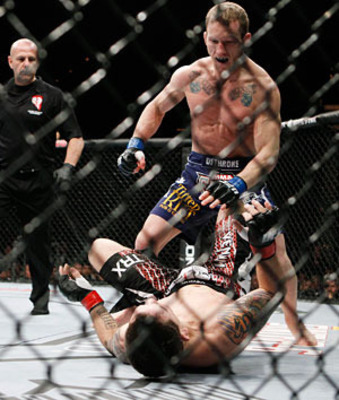 Maynard took the first round so definitievly that people were talking about a virtually unheard-of 10-7 score for The Bully.
But when the next round started, it was time for the Bully beatdown.

Edgar stormed back over the next four rounds to force the draw.
39. Bud Light Becomes a Sponsor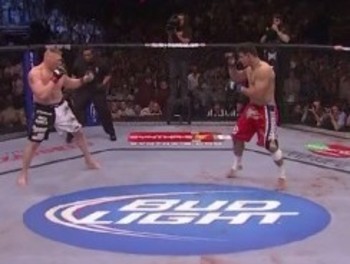 Move over, Gordon Biersch. Immediately upon signing on in 2008, Bud Light became the biggest and most visible sponsor in UFC history. Three years later (and six months after re-upping), it's still the case today.
They've been pretty activist, too, as evidenced by the "Battle on the Bayou" and those Bud Light Lime spots featuring Arianny. Finally, something makes Bud Light Lime palatable.
38. Griffin Shocks Shogun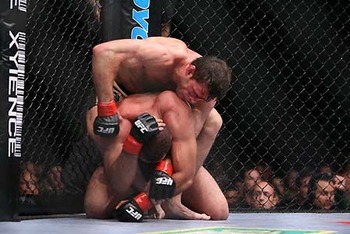 Most people considered this fight a tune-up for Pride transplant Maurcio "Shogun" Rua. But in one of the sport's all-time great upsets, Forrest Griffin used a rear-naked choke to submit Shogun with only 15 seconds remaining in the fight. Score another one for the UFC.
(Photo credit: Susumu)
37. Couture Spanks Ortiz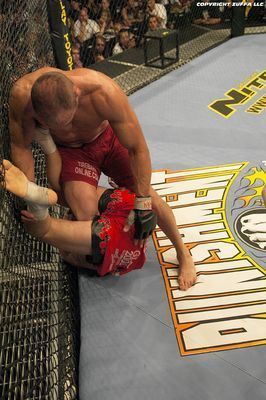 Ortiz was being a baaad little boy.
The light heavyweight champ had been accused of ducking top contender Chuck Liddell, to the point that the UFC created an interim belt. Couture defeated Liddell in the first of their three meetings to win the title.
With Liddell out of the picture, Ortiz—who was the sport's biggest name at the time—quickly agreed to face the 40-year-old Couture.
The match itself may not have been one for the ages, but Couture outwrestled Ortiz to "unify" the belts and kick all that Ageless Wonder talk into high gear. To cap off his performance, Couture, in one of the UFC's all-time iconic moments, turned Tito over and gave him what many fans believed was a long-overdue comeuppance.
36. Penn Defeats Hughes to Win Welterweight Title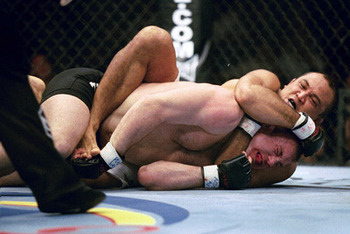 The great Matt Hughes didn't seem ready to hand over his welterweight title. After all, he had successfully defended the strap on five consecutive occasions. So why would it be any different at UFC 46 against some upstart making his welterweight debut?
Because it was B.J. Penn.
35. A Rules Structure Emerges

As is often the case, the UFC evolved incrementally.
Much to the dismay of scalywags and street urchins everywhere, fish-hooking was banned at UFC 12. At UFC 14, gloves became required apparel and kicks to downed opponents were outlawed. And so on.
But the baby steps reached a tipping point in 2000, when the New Jersey State Athletic Control Board released a set of unified rules for MMA. Just a couple months later, the UFC adopted the rules as their own, and put them into practice at UFC 28.
Complain all you want about the unified rules' imperfections; nothing's perfect, after all. Self-described hardcore fans and discussion-board toughs can be particularly vocal on this front, as they protest the unified rules for disarming many of the great Pride fighters (Wanderlei Silva and Shogun Rua among them).
It's not an invalid argument. But making it cuts off the nose to spite the face. With the "human cockfighting" characterization lingering, cleaning up the rules of the sport was necessary in order to preserve the sport's existence in the United States. So yeah...I'd say UFC 28 and the unifed rules signified a pretty great moment for the United States' top MMA promotion.
34. The Natural Derails the Phenom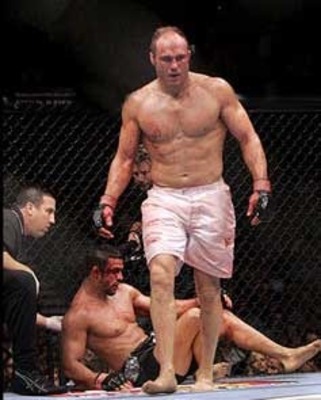 It's weird to think of this as an upset. But at UFC 15, when Randy Couture bloodied and then bested Vitor Belfort, the UFC was grooming The Phenom for stardom. Imagine if Vladimir Matyushenko had defeated Jon Jones—in his third professional fight.
As you know, the outcome was a sign of things to come. Couture became one of the UFC's all-time great champions and giant killers, while Belfort never quite fulfilled the high expectations people had for his career.
33. Anderson Silva-Rich Franklin 1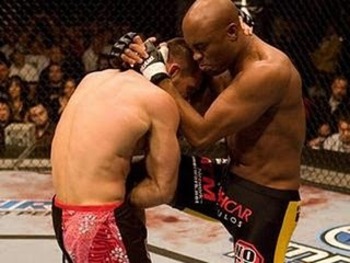 When Silva laid this clinch clinic on an overwhelmed Rich Franklin (the reigning middlweight champ), a star was born. Five years and nine defenses later, Silva still hasn't given the belt back.
32. The Best Comeback of All Time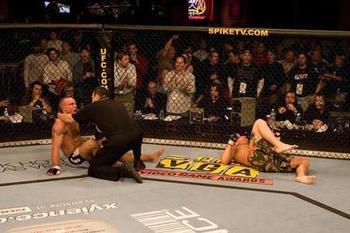 For my money, this is the greatest in-fight comeback in UFC history. Others offer great moments because of the stakes or effort involved, but if you're scoring on absolute value alone, this one is my winner.
It's not often that you see an MMA fighter actually double over in pain during an active contest. But that's what happened after Sell landed a left to Smith's guts. Rightly, understandably, Sell rushes in for the kill. And at the last (and most perfect) moment possible, Smith throws a right that sends Sell to the mat. KO.
Remember that scene in Braveheart where William Wallace and his ragtag rebels make wooden spears to stop the British cavalry, and as the horses are thundering down on them, he's yelling out "hold...Hold...HOOOOOLD!" as everyone's getting antsier and antsier, but then he gives the signal at the perfect moment, the cavalry can't hold up and are gutted, and the Scots win the day?

That's Sell-Smith, except it's hand-to-hand combat, it's real life, and it all happened in about three seconds. Epic.
31. Addition of Weight Classes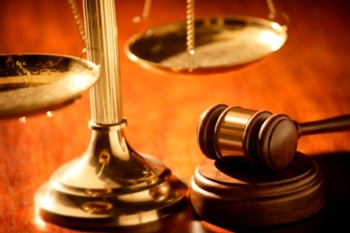 This change at UFC 12 added legitimacy to the sport by removing the circus spectacle (and, you know, unfairness) of open-weight competition.
30. Griffin Takes Belt from Rampage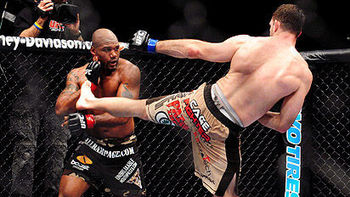 Forrest Griffin used about 7,821 leg kicks to outlast Rampage in their title fight at UFC 86. Not only did it put the belt around the waist of one of the UFC's most popular fighters ever, it helped legitimize The Ultimate Fighter, which continues to be one of the promotion's most visible recruitment tools—both for fighters and for fans.
(Photo credit: MMAFix)
29. Frankie Edgar-Gray Maynard III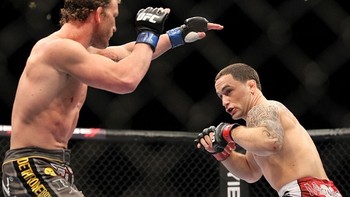 A lot like the second one, only this time, Edgar didn't leave it in the hands of the judges. The Answer again stormed back from a lopsided first-round beating to finish Maynard by TKO in the fourth.
The electrifying performance ensconced Edgar at the top of the world lightweight rankings and maybe—after beating B.J. Penn back to back before his spectacular back-to-back set with Maynard—set him up as one of the best 155-ers of all time.
(Photo credit: ESPN)
28. Matt Hughes Dumps Frank Trigg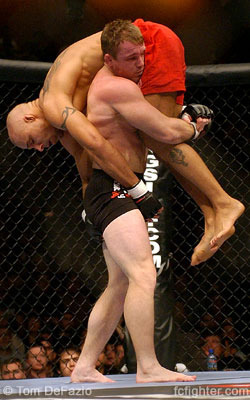 At UFC 52, after Trigg landed an illegal groin shot, Hughes paused to look at the ref for help. Big mistake. Trigg swarmed and went for the choke. All looked lost.
That is, until Hughes stood up, carried Trigg across the ring, slammed him to the mat and eventually applied a choke of his own. This one stuck.
A heroic effort that, in the eyes of many fans, signaled the greatest win for the sport's most accomplished welterweight.
27. The Front Kick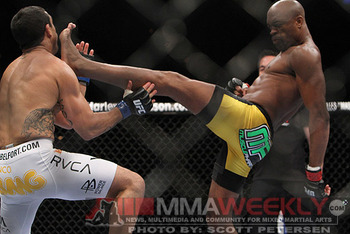 26. Couture Cuts Down Tim Sylvia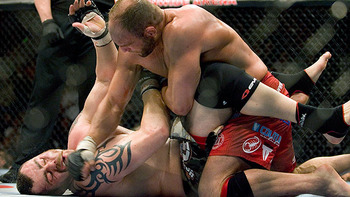 At age 43, The Natural slayed the giant that was Tim Sylvia to regain the UFC heavyweight title.
25. Gracie Conquers Kimo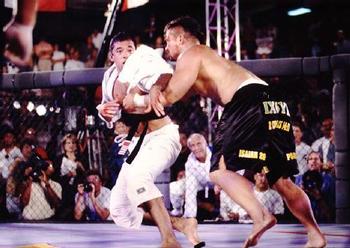 Noted wild man and cross carrier Kimo Leopoldo seemed ready to debunk the Gracie Myth at UFC 3. You know, that whole skilled-smaller-guys-can-beat-unskilled-bigger-guys myth.
Kimo bullied and battered Gracie for several minutes, and had the UFC's reigning (and, to that point, only) champion on the ropes. But Gracie pulled it out with an armbar after almost five agonizing minutes.
Gracie withdrew his next fight, citing injury and exhaustion. That opened the door for the immortal Steve Jennum to walk through and claim the UFC 3 tournament title.
24. UFC Buys Strikeforce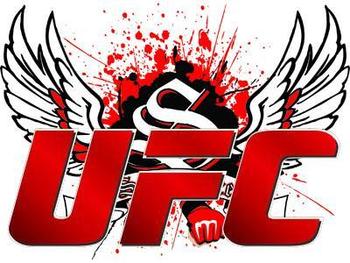 With this move, the UFC not only brought in fighters like Jake Shields, Nick Diaz and Gilbert Melendez, it also, for all intents and purposes, defeated the final serious challenger to its major-league-of-MMA aspirations.
23. The Arrival of Jon Jones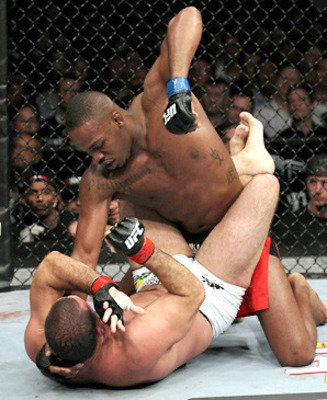 Forget Vitor Belfort. Jon Jones is the true Phenom to this point in UFC history.
Unlike certain other freakishly talented phenoms in certain other sports *coughlebronjamescough*, Jones was able to convert his massive potential energy reserves into kinetic when he dominated Mauricio "Shogun" Rua to capture the light heavyweight belt.
Just another victim. Jones has never really been challenged throughout his career. And he's only 24.
Make no mistake...UFC 128 was a red-letter event for the promotion.
(Photo credit: Sports Illustrated)
22. First Real Pay-Per-View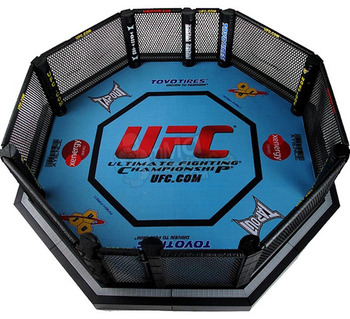 Pay-per-view buys are the bread, butter and barometer of any combat sport's success.
So when the UFC found itself wandering the television hinterlands, it quickly also found itself on life support.
Rules changes helped pull the UFC out of its death spiral, as did its sale to Zuffa in 2001. In fact, just a few months after said sale, Zuffa secured sanctioning from the Nevada State Athetic Commission.
Soon after, UFC 33 aired on cable pay-per-view. Interestingly, the event was generally seen as an unmitigated disaster from a financial and fight standpoint ("every fight sucked," Dana White later said of the card).
But without the Fertitta brothers securing the crucial sanctioning and attendant pay-per-view airing, we wouldn't be having this conversation.
21. GSP Tops His Idol, Wins Welterweight Title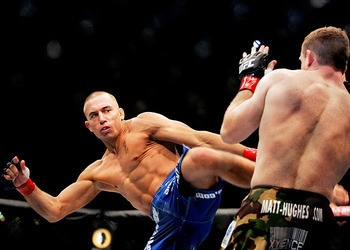 At UFC 63, St-Pierre exorcised more than a few demons with a spectacular head-kick knockout of Matt Hughes, which won GSP the welterweight title.
20. Anderson Silva vs. Chael Sonnen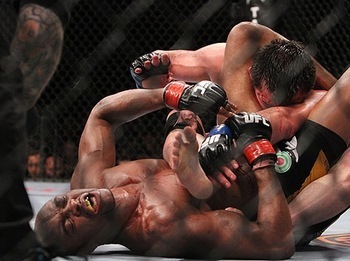 Every transcendent athlete needs his Flu Game, his Rope-a-Dope, his Montana-to-Taylor. If you want to be a Pantheon guy, you have to overcome adversity.
Silva did so before the tapestry of inspired smack woven by self-appointed anti-hero Chael Sonnen. And it just to happens that this might have actually helped The Spider. After a few subpar fights that left a legion of detractors (including, to an extent, Dana White), the UFC's greatest champion was in the midst of a losing streak in the arena of public opinion. Who else but Sonnen was going to turn that around? Ed Soares?

No one—and I mean no one—commits to trash talk like Chael Sonnen. Not Hulk Hogan. Not Don King. Not Ndamukong Suh. No one, except maybe Ali. Seriously, the dude's like Picasso in front of a mic.
And he almost parlayed it into the middleweight championship. But, in the final round and with time winding down, the best MMA fighter in history threw his Hail Mary (in this case, a triangle choke) and connected to save his legacy.
19. Wandy vs. Chuck: Legends Collide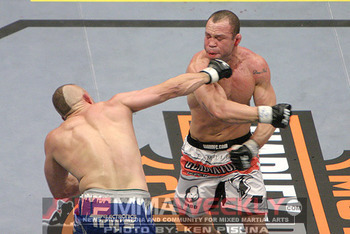 A dream fight years in the making lived up to its billing when Wanderlei Silva and Chuck Liddell—two of the sport's most legendary knockout artists—engaged in a three-round slugfest that ended in victory for Liddell.
18. Matt Serra Pulls the Greatest Upset in UFC History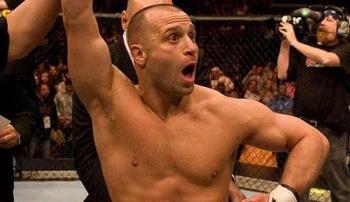 Coming into UFC 69, Matt Serra was just off a winning stint on The Ultimate Fighter 4: The Comeback. No one gave him much of a chance against the seemingly unbeatable GSP. But there Serra was, pounding on St-Pierre's mug like it owed him money, and shocking the MMA world to earn the welterweight belt.
17. GSP climbs back on the horse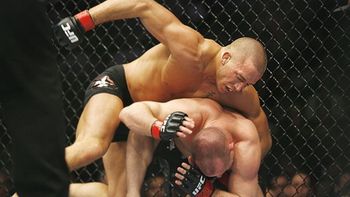 An oft-overlooked postscript to the Serra stunner: GSP rededicating himself to training and, perhaps more importantly, to mental toughness.
After submitting Matt Hughes, St-Pierre got his rematch. He displayed a harder edge than before when he methodically controlled Serra throughout, until several brutal knee strikes to Serra's rib cage finally forced the TKO stoppage.
St-Pierre hasn't come close to losing since that night at UFC 69. In this case, it was a loss, not a win, that forged a champion.
16. UFC 134 in Rio De Janeiro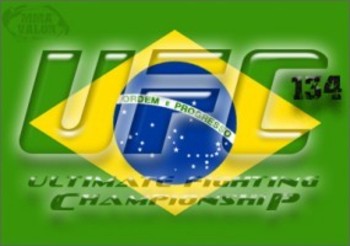 The UFC picked up a lot of momentum in the summer of 2011. A LOT. So to see that summer's signature event take place in the cradle of MMA was a grand and meaningful gesture.
15. Chuck Liddell vs. Tito Ortiz II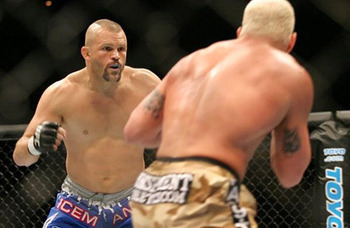 A grudge match between two champions (Liddell the current, Ortiz the former) at the absolute height of their powers.
The main event of UFC 66, which set new pay-per-view and attendance records, was a far better fight than the more one-sided original. But in the third round, the second one ended the same way as the first, with Liddell's hand raised following a TKO.
14. The Ultimate Fighter Debuts on Spike TV
On Jan. 17, 2005, everything changed.
The first episode of The Ultimate Fighter was titled "The Quest Begins." Sounds about right.
13. The WEC Merger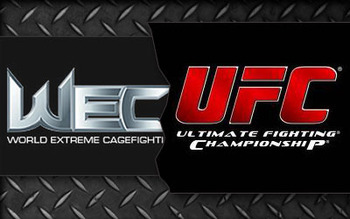 With this move, the UFC continued to cannibalize its smaller promotional cousins. And in some ways, this one was a little more literal than most. The WEC merger brought attention to MMA's more diminutive fighters, including those who formed the foundation for the UFC's new featherweight and bantamweight divisions—additions that amounted to a 28 percent expansion of its "market share."
A slew of exciting fights, fighters and two rock-solid champions (Jose Aldo and Dominick Cruz) have been the reward thus far.
12. Brock Lesnar's UFC Debut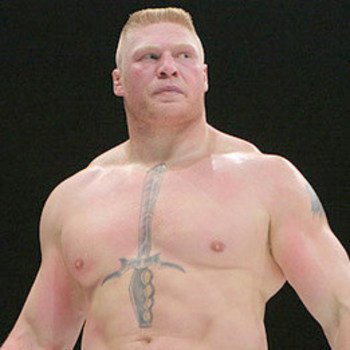 You knew this was coming.
Say what you will, but Lesnar's entrance to the UFC doubled as an entrance point for all those pro wrestling fans out there. If you want the sport to grow, you have to make moves like this. He is the promotion's biggest single pay-per-view draw, period.
Not to mention that he's one heck of a compelling natural athlete. And he's very large, and irascible. Maybe you read something about that.
11. UFC 129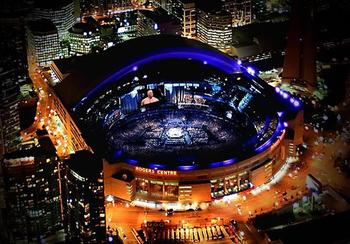 With national hero Georges St-Pierre's title fight with Jake Shields headlining the card, UFC 129 at Toronot's Rogers Centre (where the Blue Jays and occasionally the Buffalo Bills play, by the way) set new UFC records for the largest crowd and gate (about 56,000 and $12 million, respectively). The event also racked up 800,000 pay-per-view buys.
10. Ortiz and Shamrock in Grudge Match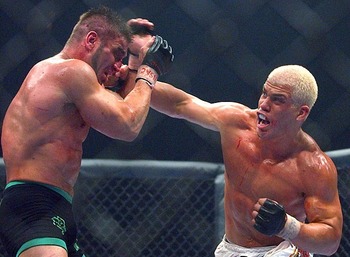 At UFC 40, Tito Ortiz defended his belt against Ken Shamrock.
The fight received then-unprecedented mainstream attention and breathed new life into Dana White's grand experiment.
9. The UFC on Fox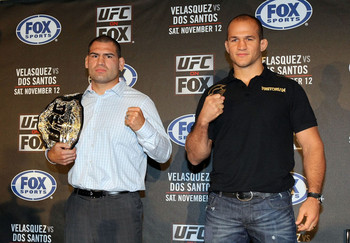 Call this the UFC's Mainstream Moment. And that's saying something.
One can never forget that just a little more than a decade ago, John McCain was calling this sport "human cockfighting." Now it shares a stage with the World Series and the NFL on a major broadcast network.
I still can't get over listening to Dick Stockton read a promo for Velasquez-dos Santos as the fourth quarter of Cowboys-Eagles gets underway.
If this sport didn't have the potential to carry a sweeps month, Fox wouldn't have done this. A giant leap forward for the UFC and MMA.
And for their first trick, they've put together a pretty darn good main event, too.
8. Anderson Silva's UFC debut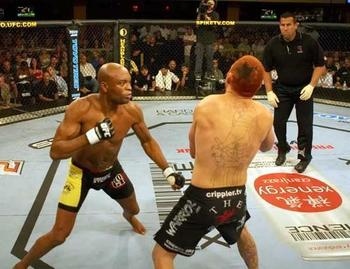 The man who would become the greatest champion in the relatively short but not unillustrious history of mixed martial arts entered the Octagon at Ultimate Fight Night 5 to face the battle-hardened Chris Leben.
Forty-nine seconds later, Silva was walking out with a knockout and a 1-0 record. That's not counting, of course, the Bruce Buffer intros and the Joe Rogan interview and such. Counting all that, maybe it was more like five minutes.


7. UFC 83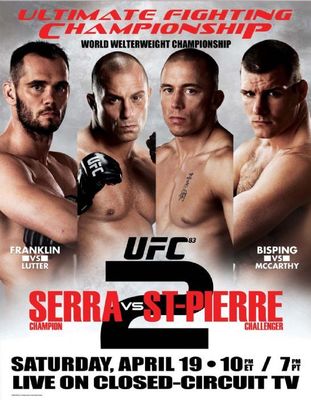 This was the first big UFC event to be held in Canada, which is also known as the sport's largest TV market and fan base worldwide.
The event set records that stood until UFC 129 in Toronto.
6. Zuffa Buys the UFC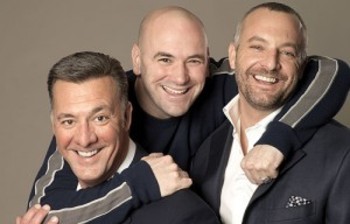 Not a bad purchase for $2 million. Even all the way back in 2000, when a penny could buy you three matinee tickets and a sparkling new Commodore 64.
I imagine this one doesn't need much more explanation.

(Photo credit: Cage Radio)
5. Chuck Liddell-Randy Couture III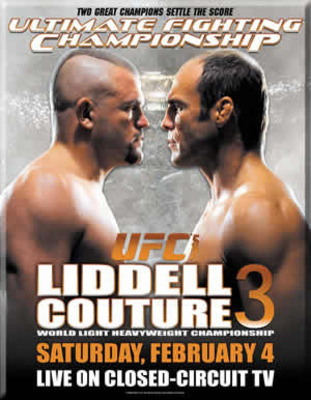 The rubber match of the greatest series of fights in UFC history ended at UFC 57 with a knockout win for Liddell, who is very possibly the UFC's most important and influential fighter ever.
4. UFC 100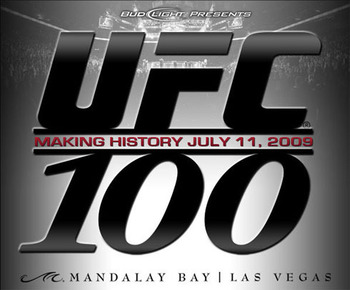 The biggest, most ballyhooed event in UFC history felt like a birthday party you throw yourself and invite your friends to. A beyond-stacked card and a slew of special media around the event meant the UFC leveraged the milestone to bring new levels of attention to and excitement for the sport.
3. The Ultimate Fighter Yields the Ultimate Fight: Griffin vs. Bonnar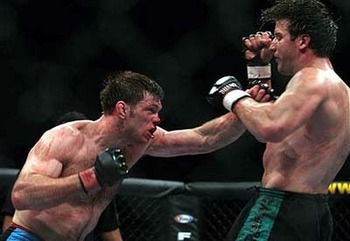 What can you say about this fight that hasn't been said a million times before? Still one of the most exciting fights in history, Forrest Griffin vs. Stephan Bonnar delivered not only huge ratings but huge buzz—the stuff upon which future huge ratings are built.
In the end, Griffin won, but in an astute move by Dana White, both men received a contract for their efforts. They both continue to compete in the Octagon six years later.
(Photo credit: MMATKO)
2. The UFC Swallows Pride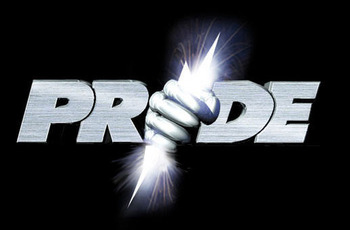 Not only did the UFC absorb its biggest competitor, it also took a big, wet bite out of the rest of the MMA world in the process when it snapped up top competitors like Rampage Jackson, Wanderlei Silva and Dan Henderson.
In addition, though, it served notice. The UFC was out to be the gold standard of MMA promotions, and it was the first in a long string of fairly bold moves that have helped the promotion become just that.
1. UFC 1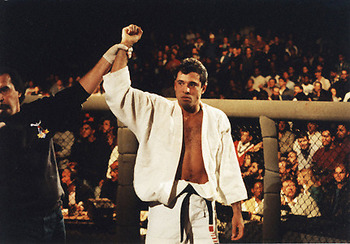 Sorry if this is anticlimactic. But if you think about it, it's anticlimactic for a reason: It's the clear No. 1 for a list like this.
The debut of the Gracie family's brainchild not only brought all those action movies to life (at least theoretically), but star family pupil Royce Gracie showed that you don't have to be the biggest dog in the fight to win.
By introducing the world to a technique known as Brazilian jiu-jitsu (and using it to win the inaugural tournament) the Gracies changed in one night the entire perception—maybe even the definition—of fighting. And a new sport was born.
Keep Reading