World Series Game 6: Errors Galore as Cruz Flops, Rangers Lose Shootout in STL
October 28, 2011
Ezra Shaw/Getty Images
Talk about the wild, wild west.
Since its first pitch, Game 6 of the 2011 World Series started to look more and more like a Little League game.
I'm not just referring to Nelson Cruz misplaying a fly ball to deep right field off the bat of the Cardinals' David Freese in the bottom of the ninth to extend the Cardinals' World Series life.
This whole game was full of errors: mental, physical and scoring alike.
A day after MLB Executive Vice President Joe Torre announced the postponement of Game 6 due to inclement weather in the St. Louis area, players on both teams appeared to have left their collective defensive abilities at home.
That is except for Rangers MVP Mike Napoli, but that's to be expected. Napoli's sixth inning pickoff of Cardinals baserunner Matt Holliday at third base might have prevented at least one additional Cardinals run, thanks to a great block of third base by Adrian Beltre and a great call by third-base umpire Alfonso Marquez.
With errors by Holliday, Freese, and pitcher Fernando Salas for the Cardinals and two errors by the Rangers' Michael Young, Game 6 looked more like a tee-ball game than a Major League Baseball contest between two teams vying for the World Series championship.
And those are just the plays officially scored as errors.
That doesn't include Cruz' misplay in the ninth inning, 
That doesn't include a busted wheel play in the tenth nor an eighth-inning double clutch by Elvis Andrus that resulted in zero outs instead of two.
That doesn't include yet another dismal performance by pitcher Alexi Ogando, allowing another Cardinals run to score in the sixth.
With home runs by St. Louis sluggers Lance Berkman, Aaron Craig and Freese, along with Rangers hitters Beltre, Cruz and Josh Hamilton, Game 6 looked more like pinball than hardball.
In a game reminiscent of the high scoring of Game 3 in Texas, Game 6 of the World Series was not pretty, textbook baseball.
But it sure was exciting!
As Fox broadcaster Tim McCarver said, "This is already a classic."
He was right.
St. Louis was done. Texas led 7-5 heading into the bottom of the ninth.
Teams simply don't come back from a two-run deficit with two outs and two strikes in the bottom of the ninth, except if you're the Cardinals in Game 6 of the 2011 World Series. As Texas blew their third lead of the ballgame, St. Louis improbably extended their playoff lives, tying the game at seven to send Game 6 to extras.
In the top of the 10th, the Rangers wasted no time. Hamilton finally woke up and hit a monumental two-run home run.
In the bottom half of the frame, the Cardinals threatened and scored two runs to tie the game for the second consecutive inning.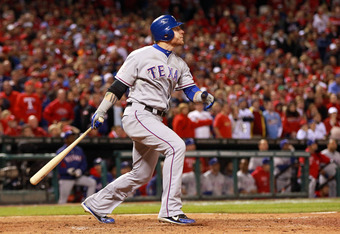 Jamie Squire/Getty Images
As Fox broadcaster Joe Buck said, "They just don't go away."
In the top of the 11th, Napoli again hit a single. Unfortunately, one MVP isn't enough, and the Rangers were unable to score.
Then, in fitting fashion, Freese hit a solo home run in the bottom of the 11th inning to win Game 6 for the Cardinals and preserve their dreams of a championship.
We'll see you tomorrow night.
Going into Game 7, St. Louis has all the momentum, having exploded back from the brink of playoff death.
For St. Louis, this is "Dewey Defeats Truman" all over again.
As I predicted, the location of Rangers-Cardinals Game 7 proves that MLB needs to rewrite their World Series home-field advantage rule.
However, the experts will say this is the World Series, it's championship baseball. Texas must overcome the NL's All-Star Game win three months ago if they really want to be MLB champions.
Too bad it's good logic to award home field advantage to the team with the better record, like they do in the NBA.
Too bad the Rangers drew the short end of the stick, playing two consecutive World Series without home-field advantage.
Oh well, they'll say it's just sour grapes from sour fans.
No matter which way you look at it, the Rangers had this one in the bag and blew it.
Then somewhere over the course of one hour and two innings later, something had gone terribly wrong.
Look out, Texas. After this heartbreaking loss, you have a lot of work to do if you want to win a World Series Championship.