Carson Palmer: No More Excuses
October 21, 2011
Matt Sullivan/Getty Images
Carson Palmer was given the title of elite and he did not earn it. His failures in Cincinnati were charged to the game because of the "environment," but now it is time for Palmer to earn his keep.
Since Day 1, Palmer has been given things he did not earn. He was given the Bengals starting quarterback position by head coach Marvin Lewis after Jon Kitna had led the perennial basement dwellers to respectability. Now, with an injury to true Raiders starting quarterback Jason Campbell, Palmer has been given another chance that he has not earned.
How he got there no longer matters. It is time for Palmer to get it together or leave it alone.
The truth is Campbell was a Raider, while Palmer is more a 49er. Campbell embodied what it meant to be a Raider. He was stubborn and refused to listen to those that said he could not play in Washington. He was a fighter who earned the few stripes he had amassed in Washington.
Meanwhile, life has always been good for Palmer. He was given his talents and has no individual or team achievements to show for them. He walked away from his teammates and his owner because HE needed a change of scenery.
Palmer was the first pick in the 2003 draft, and has never lived up to the hype or expectations bestowed upon him. He has never been held accountable for his lack of playoff success in the Queen City and seems to always be given the benefit of the doubt.
Well, no longer.
My man, you are a Raider now and Raiders never get passes. There is no franchise that has endured as much hate as the Raiders. In the last 72 hours, we have all seen the "Raiders Don't Know What They Are Doing" or "Palmer Wont Succeed In Oakland" or "Raiders Still Arent Going To The Playoffs" headlines across the web and in newspapers alike. Those headlines will be discussed later "fosho," but for now back to Palmer.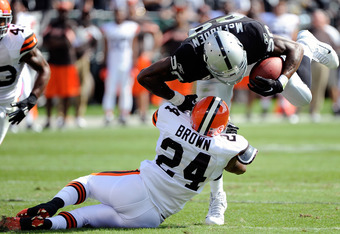 Thearon W. Henderson/Getty Images
Palmer's luck—call it luck because he has not taken advantage of the opportunities presented to him, but he keeps being getting chance after chance—seems to have hit an all-time high. He has walked into the perfect storm and should be successful.
The Raiders have a dominant running game and speed on the outside. Palmer's first game as a Raider will be against the 17th-ranked pass defense of the Kansas City Chiefs, who are equally inept at stopping the run.
Then Palmer will have a bye to work exclusively work with the wide receivers. After the bye, the Raiders face only three teams with a winning record: the Lions, Packers and Chargers. So the former USC quarterback has a running game and a schedule that will play in his favor.
More importantly, he has Hue Jackson. The Raider coach has made a career out of getting the most out players. There is no indication this will be any different. Jackson does face his most difficult challenge in Palmer, a player who once predicted death on the football field to Peter King. Palmer has yet to prove he has the testicular courage to lead a team, and it will be on Jackson to bring that out of him.
The odd thing about this move is the Raiders are not going to wait for Palmer to shine. They are going to continue to be physical and tough at the point of attack. It will be up to Palmer to catch up. It will be up to the former Bengal to decide where his career goes from this point forward. He has been given everything and has earned nothing.
Once he dons the silver and black uniform, he will learn he must earn everything because he will now be given nothing. There will be no more "Well, Carson gave it his all" or "I feel sorry for Carson." He will become despised and loathed just like every other Raider. He will be the antithesis of everything that is pure in the world of football. The more successful the team is, the more hated he will become.
This brings us to the plethora of articles that have been written suggesting the Raiders will not make the playoffs. Regardless of who they added at quarterback, the Raiders appeared to be headed to the playoffs. Reviewing their remaining 10 games, five are in their division—a division the Raiders have won eight of their last 12 games in. Of those four losses, only one was by more than 10 points, a 23-3 shellacking at the hands of the Denver Broncos.
Oakland is 3-1 against the Matt Cassel- and Todd Haley-led Chiefs, 1-0 against the Tim Tebow-led Broncos and  2-8 against the Philip Rivers- and Norv Turner-led Chargers. So the only team that poses a threat would be the San Diego Chargers. 
If the Raiders can go 3-2 in just their division games, they would sit at 7-4 with five games left, and only two of those five would be against teams with a winning record. The other three are against the Vikings, Chiefs and Dolphins.
A 10-6 record gets you in the playoffs, and sometimes can win you a Super Bowl. Nothing in the NFL is guaranteed. However, there are tendencies that one can point to in order to get a feel for how things will play out. The feeling is the Raiders are headed to the playoffs, and would have gotten there with a less talented Campbell.
They now have the football version of the Cowardly Lion, who through circumstances unforeseen has landed in OZ. The wizard Palmer stands before has given gifts to many of men, but none have needed his powers more than Palmer.
Jackson has turned Raider Nation into Oz, which is a land where belief and accomplishment have become the mantra. The Wizard has turned this once broken palace into a world where pride can be displayed and has done so with one player in McFadden resembling the expectation of Palmer, but nowhere close to the talent.
Palmer has arrived in Oz in need of something many believe he does not have and many believe he will never obtain. It is up to him to decide if he wants Oz or Kansas.
Listen to Kwame every Monday 4-530PM PST on www.wpmd.org. Also previous guests and archived articles can be found at www.kwamefisherjones.weebly.com