Roger Federer Slips to 4th: 6 Signs That He's on His Way Down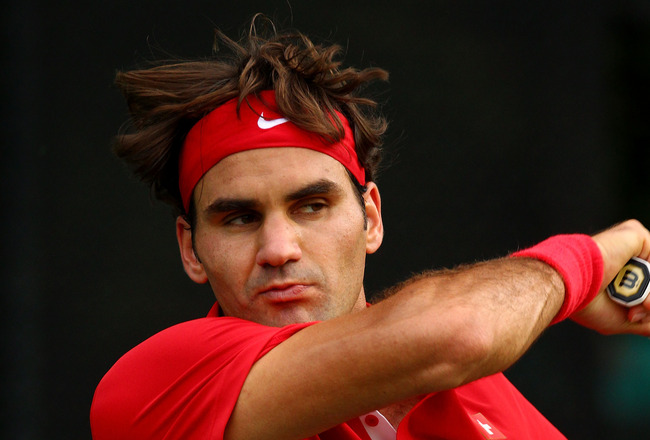 Mark Nolan/Getty Images
The iconic Roger Federer has already enjoyed one of the best careers ever in men's tennis. His game has been called "poetry in motion," and at a time where raw power, baseline consistency and endurance are getting more and more important, Federer still brings a distinct beauty and variety to the game.
Nevertheless, it can hardly be denied that Federer is no longer the player he used to be, say, five years ago, when he made 16 finals out of 17 tournaments played—and won 12 of them.
Here are the signs that he's slipping, plus an additional slide devoted to why he's by no means done.
Roger Federer Is Down at 4th for the First Time Since 2003
Mark Nolan/Getty Images
While Federer has been tending to nagging injuries, Andy Murray has won three tournaments in a row in Asia. The result?
Roger Federer is now world No. 4, the first time he's not in the top 3 since prior to his first grand slam win at Wimbledon 2003.
Federer is likely to finish the year at that position, making it the first time since 2002 where he doesn't finish the year ranked one or two, which in truth is the bigger slip in this picture.
2011 Is the First Year Since 2002 That Federer Has Gone Slamless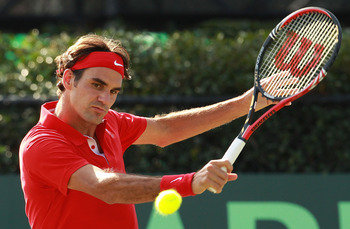 Mark Nolan/Getty Images
This one has been clear for a while. He made it very competitive against Rafael Nadal for the first three sets of the French Open final, but nevertheless lost two of them, before he went down in the fourth.
He was up two match points in the U.S. Open semifinal versus Novak Djokovic, but the Djoker bounced back.
2011 marks the first year Federer goes slamless since he won his first Wimbledon. Moreover, the last one he won was the Australian Open in 2010, making it almost two years since he last won a slam.
Considering that he made 18 out of the 19 slam finals starting from Wimbledon 2005 and ending at the French Open 2010, Federer having made but one slam final per year in 2010 and 2011 is, by his incredible standards, poor, and a clear sign that he's no longer the fixture in a slam final that he used to be.
Losing Matches He Used to Win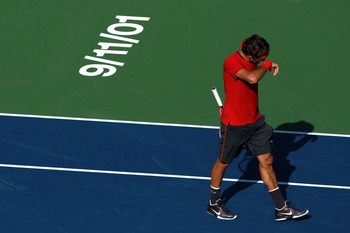 Nick Laham/Getty Images
Prior to Wimbledon 2011, Federer had won all of the 178 grand slam matches where he had been up two sets to love.
After the 2011 U.S. Open, that record has been shattered and now stands at 178-2.
But the pattern goes further back. In 2010, Federer lost multiple matches after being up match point. Moreover, he lost matches to players whom he had dominated throughout their respective careers.
Lleyton Hewitt (first win since 2003), Robin Söderling and Nikolay Davydenko are among the players, who changed their fortunes against the Swiss Maestro at least once within the past two years.
For a player who at one point won 24 consecutive finals (not tournaments), this inability to close out matches is a disturbing sign.
Turning 30 in a Sport That Is Ruled by the Young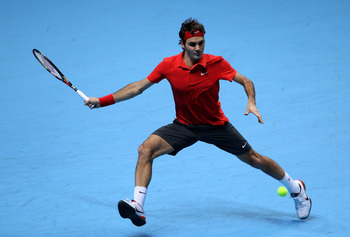 Clive Rose/Getty Images
It's no secret. Federer is no longer a spring chicken, but a tennis veteran.
In August, he turned 30. And modern tennis hasn't been kind to its elders. While Andre Agassi is the aberration that Federer can and will take inspiration from, most all-time greats have had a rough time once they hit their 30s, if not earlier.
With 978 matches on the ATP tour, Federer has already played more matches than both Pete Sampras (859) and Andre Agassi (899). Those matches are in his legs and in his mind.
While Federer surely still desires to win big tournaments, it must be incredibly hard for a 30-year-old father of two with an illustrious career behind him to want the win just as much as his younger opponent across the net.
Moreover, his body doesn't recover as quickly from a tough match or a tough tournament, making it harder for him to play consistently at a high level.
Perhaps even more importantly, his other-worldly foot work is a bit slower than it used to be, causing him to be late and shank the ball much more often than he did in his prime.
The Young Guns Are Stepping Up Their Game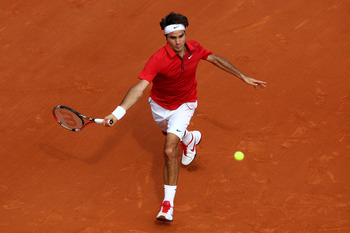 Clive Brunskill/Getty Images
At the end of 2010, Nadal had had his best year ever, but Federer had still won two of the five biggest titles. It almost seemed as if their reign would never end.
Then came 2011 and Novak Djokovic, the new king of tennis, who effectively dethroned them both.
Now, the other member of the big four, Andy Murray, has just finished his own Asian hat-trick, including handing Nadal a mere four points in the last set in the Tokyo final.
It's still to be seen whether Murray can make the leap to the top the same way Novak has done it, but it is clear that he's stepping up his game.
With Juan Martin del Potro marching back, an injury-free Jo Wilfried-Tsonga beating Federer twice in a row and interesting new names on the horizon, things are not getting any easier for Federer.
Federer Has Only Won One Title in 2011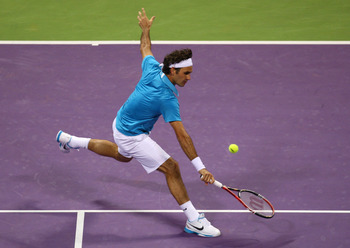 Ian Walton/Getty Images
I know. He can still change this stat and hopefully will. But even if he does, this year will be his worst year title-wise since 2001 or 2002.
Moreover, the title was an unimportant 250 ATP tournament in Doha at the start of the year.
It's not as if he's made a whole lot of finals either. Two to be exact, the French Open and Dubai, losing to Nadal and Djokovic respectively.
To compare, he won five titles in 2010 (making four additional finals), he won four titles in 2009 (four additional finals) and four titles in 2008 (three additional finals).
Compared with his hey-day from 2003-2007, where he won between seven and 12 titles a year, 2008-2010 represents the first stage of his slow demise.
2011, title-wise, then represents the second and more complete drop from the pinnacle of men's tennis.
To be sure, when Djokovic wins 10 titles, it is difficult for the rest to get a foot in. Still, one 250 ATP title in a year can hardly be said to be good for a player of Federer's caliber.
Why He's Not Roger-and-out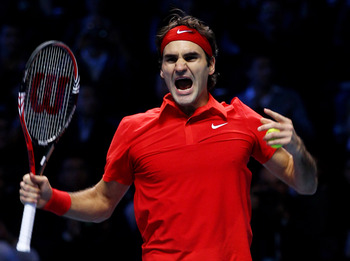 Julian Finney/Getty Images
Roger Federer has treated his fans with more moments of joy than any fan can hope for. And he still does.
While winning titles is certainly not irrelevant to Federer or his fans, we, as fans, can nevertheless still enjoy the beauty of his game on any given day.
We can enjoy it when he hits the zone and beats Juan Monaco 6-1, 6-2, 6-0 in the 4th round of the U.S. Open, followed up by a clinical straight-sets win over Tsonga.
Federer may have lost a step in speed and a notch in his ability to close out matches, but he hasn't lost his ability to play some of the most aesthetically pleasing tennis the eye has ever seen.
But the game of tennis is not merely about beauty, it is also about winning.
And while we can no longer count on the Maestro winning more than nine out of 10 matches he enters, he's still good enough to win against everybody on any given day.
This is evident from the fact that Federer has given Djokovic more trouble than any other player this year, and came within a good serve or a good forehand of defeating him twice.
Federer still puts himself in position to win tournaments. And while Djokovic, Nadal and now Murray have passed him in the rankings, he's still a clear member of the big four with the potential to win any given tournament.
And it was not even a year ago that Federer played what Djokovic called the 'best tennis of the year' at the World Tour Finals, where he man-handled the entire elite of men's tennis and finished the deed with a decisive 6-1 third set against Nadal in the final.
He still has the game and the ability to battle and beat the best of the best—just not week in and week out.
The fact that he's still that good is what is impressive. After all, he's turned 30 and he's got more matches in his legs than both Sampras and Agassi had when they hung up their rackets.
Hopefully, his love of the game won't diminish any time soon. If so, he just might keep playing on the tour til his mid-30s.
Keep Reading