Novak Djokovic Secures His First Year-End No. 1: Sign of More to Come?
October 13, 2011
Srdjan Stevanovic/Getty Images
It's finally official. 
The man who's been stringing together one of the best tennis seasons ever seen has now officially secured the prestigious year-end No. 1. 
Of course, there hasn't been any real doubt for a long time, but, in theory, Rafael Nadal could have still turned the tables if he had ended the year perfectly and Djokovic hadn't won another match. 
Now, with Nadal's third-round loss to Florian Mayer in the Shanghai Masters, Djokovic's position at the top is secure. 
It is well-deserved, to say the least.
If Djokovic ends the season with wins in Paris and the World Tour Finals, I will say it is the best season ever, beyond reasonable doubt. Heck, winning the World Tour Finals should be enough, I would say. 
Here's a quick recap of his accomplishments this year, by the numbers. 
Novak's Year: 
10 titles and 11 finals. 
Three slam trophies and five (record) Masters 1000 won.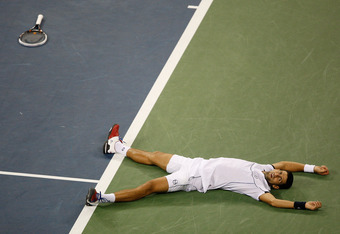 Jared Wickerham/Getty Images
A 20-2 record against his fellow Top-10 members.
A 6-0 record—all in finals—against 10-time slam champion Rafael Nadal.
A 4-1 record against 16-time slam champion Roger Federer, making it 10-1 in total against Fedal. 
A 2-1 record against Andy Murray, making it 12-2 against his fellow members of the big four. 
Truly impressive to say the least. 
2011: The Start or the Pinnacle of Djokovic's Dominance?
The question is, can Djokovic put together another season like this, or close to this, in 2012 and 2013? Is this the start of a Federer-like dominance from Djokovic, or was it merely a picture-perfect season that is unlikely to be repeated? 
Federer had a 247-15 record from 2004-2006, winning 94.3 percent of his matches and 69.4 percent of the tournaments he played in. Can Djokovic do something similar? 
The challengers to his throne are many, with the most obvious being Rafael Nadal and Andy Murray. But, Federer is not done yet, Juan Martin del Potro is returning to form and Jo-Wilfried Tsonga is enjoying his first injury-free stretch in a while.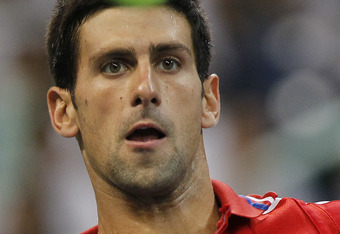 Srdjan Stevanovic/Getty Images
Moreover, young guns like Alexandr Dolgopolov, Milos Raonic and Australian Bernard Tomic are all making inroads. 
Nevertheless, as of now, Djokovic has been able to steer clear of the challengers and rise to the occasion.
While it is still too early to say whether he can come close to matching Federer from 2004-2006, he does seem likely to enjoy a continued stretch at the top and to have future year-end No. 1's on his resume.
As long as Nadal is beating the rest and Djokovic is beating Nadal, the current affairs will stay the same in men's tennis.
But, as Djokovic' own year proves, equilibrium is not always the state in men's tennis.  
Nevertheless, he's my best bet as a year-end No. 1 in 2012 as well.