2011 WNBA Finals: Minnesota Lynx Take Game 1 over Atlanta Dream
October 3, 2011
Hannah Foslien/Getty Images
After defeating the Atlanta Dream 88-74 at home in the Target Center, the Minnesota Lynx stand only two wins away from holding a championship trophy for the first time in franchise history. Rebekkah Brunson led the pack with 26 points, followed closely behind by Seimone Augustus with 22.
Brunson is no stranger to the big-time games, as she took home a title during her time in San Francisco. The veteran also pulled down 11 rebounds in her 35 minutes of court time.
Most of the Lynx roster, however, has never experienced the postseason hype before. Augustus reacted to the excitement postgame:
"It was amazing just to run out and see the white pom poms waving in the air and the seats actually filled all the way to the upper deck," Augustus said. "It's amazing to see how the community has embraced us and how they're coming out to support us. From the opening tip to the last horn, it was loud."
Atlanta didn't hand over the victory easily, and 15,258 fans supported the Lynx as they fought their way to a win. The Dream held a 12-point lead in the second quarter, and Angel McCoughtry tallied a game-high 33 points in the contest. However, only three Atlanta ladies scored in double digits, and one of its starters—Sancho Lyttle—remained scoreless through 28 minutes of play. As a unit, Atlanta shot only 37 percent from the field to Minnesota's 46 percent.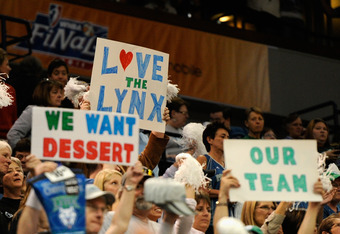 Hannah Foslien/Getty Images
Minnesota managed to tie the game at 62 apiece, and the Lynx then went on a 13-0 run to pull ahead. They never looked back.
"Once we got into our groove, you could see the difference," Augustus stated. "We started to make the right cuts, we started to set great screens, we started to get the ball where it needed to go. Early on, there was just a lot of emotion and energy that was being used in the wrong way."
Rookie Maya Moore added 11 points and two steals in addition to making the highlight reel with an impressive up and under layup. Minnesota native—and fan favorite—Lindsay Whalen scored 15 points en route to the win.
Minnesota will now prepare to face Atlanta for Game 2 at the Target Center on Wednesday evening. Tipoff is set for 7 p.m.