Novak Djokovic: Why Having to Defend His 2011 Points Is Not a Problem
September 30, 2011
Chris Trotman/Getty Images
Serbian Novak Djokovic has already had a season for the ages and it just might end up as the best in the Open era. As a consequence, he's accumulated thousands of points and reached the pinnacle of the sport as the world's No. 1. 
This has led some observers and many fans to speculate that all these points may turn out to be some sort of problem next year when he has to defend them. 
While there certainly is a risk that he cannot defend all of them and essentially repeat his flawless 2011 season, the points earned can hardly turn into something negative for him.
Saying otherwise reflects a fundamental misunderstanding about how the ranking system works.
Here's why: A player's ranking is determined by the results in the past 12 months, simple as that.
So, say we come to the end of March and Djokovic has failed to recapture the Australian Open, Indian Wells and Miami, while his closest competitor, Rafael Nadal, has captured all those titles. Would this prove that Djokovic having to defend those points essentially was a bad thing? 
By no means. His splendid April to September would still give him enough cushion to stay World No. 1 (or 2, given how the rest of the season falls out).
Basically, everything he earned this year will help him keep his ranking next year until the same tournament comes around again.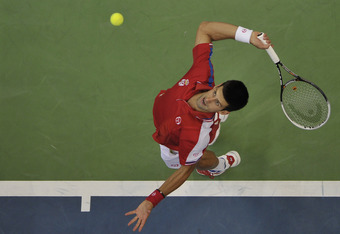 Srdjan Stevanovic/Getty Images
The year-to-date ranking is of course different and only counts what you've won this year. So, on this list, everybody starts from the same base in January, but on the ATP ranking, Djokovic will still benefit from his all his tournament wins. That is, until the same tournament comes around again. 
To give an example:
If we take a look at the WTA, Caroline Wozniacki is still No. 1 for one reason: She had a magnificent summer and fall last year and is still leading because of those points (and because the rest of the WTA players haven't been that consistent).
You can of course argue that having to defend points is a mental challenge. Coming into a tournament as the defending champion provides greater pressure. Likewise, being No. 1 and thus being the prey rather than the hunter provides greater pressure. 
And while there may be some truth to that, this is an altogether different argument.
Moreover, Djokovic doesn't exactly seem to have faltered since becoming No. 1. After all, he won the US Open coming into the tournament as a huge favourite.
Djokovic's points is an asset to him, not a cause of concern.