Roger Federer Pulls Out of Shanghai Masters for "Rest and Recuperation"
September 23, 2011
Matt King/Getty Images
Roger Federer, in an unexpected statement on his website, has announced that he is withdrawing from the Shanghai Masters, which is scheduled to begin in just two weeks' time.
The statement said:
"After consultation with my team, I've unfortunately decided to pull out of the Shanghai Rolex Masters in order to take some necessary time to rest and recuperate after a long summer. I have some nagging injuries that I need to address, and I look forward to returning to the ATP World Tour as soon as possible.
"I have very fond memories of Shanghai, so I will miss this amazing tournament and all my loyal Chinese fans, but I look forward to returning to China next fall."
The Shanghai Masters marks the conclusion of the short Asian swing that gets under way in Bangkok and Kuala Lumpur this weekend before moving on to Beijing and Tokyo.
Federer was runner-up to Andy Murray in Shanghai last year, so his decision sacrifices 600 ranking points. In 2010, he went on to win the Stockholm title. He was not scheduled to do so again this year, and that represents another 250-point reduction. The next event on his calendar—in the first week of November—is his home tournament in Basel, where he is also the title-holder.
The Federer decision comes just as the furor surrounding the tennis schedule reaches what might be a tipping point. Representatives from various tennis groups are due to meet ahead of the tournament in Shanghai to address growing concerns about the impact of the tour's calendar on the health and well-being of the players.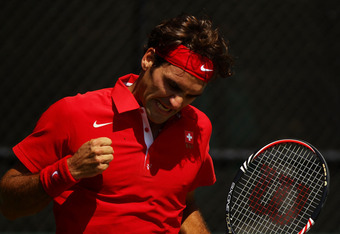 Matt King/Getty Images
The four semi-finalists at the US Open all went on to play Davis Cup ties within days of the Grand Slam, and all looked exhausted. Federer himself had to make a round-the-world trip to Sydney to join fellow Swiss Stan Wawrinka in a vital World Group playoff. The two men played three back-to-back, four-set rubbers apiece, forcing Federer to admit, "I'm completely beat up."
There is still, too, a question mark over whether US Open Champion Novak Djokovic will be fit for Shanghai. He attempted to play a singles rubber in Serbia's semifinal tie against Argentina last weekend but was forced to retire with rib and back problems.
The absence of two of the top three players from the penultimate Masters of the year, despite being a huge blow for the fast-growing tennis audience in China, would certainly be grist to the players' mill when the tour gathers around that Shanghai table. It's an ill wind that blows nobody any good.
Newsflash
Soon after Federer announced his withdrawal from Shanghai, Robin Soderling, who pulled out of the US Open just before his opening match with glandular fever, also Tweeted that he would miss the entire Asian swing.
"Very sorry to disappoint my fans, tournaments and sponsors, but I am still not able to play. My mono is not completely cured yet, and so I have to take another month off. Hope to be ready for Stockholm Open in the middle of October."