Friday Night Football on ESPN: UCF vs. BYU predictions
September 23, 2011
Al Messerschmidt/Getty Images
The University of Central Florida Knights travel to Provo, Utah, for a Friday night match-up against the BYU Cougars. The game is set for an 8:00 PM kick-off and is to be televised nationally on ESPN.
This is the first ever match-up between the defending Conference USA champions and the Cougars. The two teams scheduled a home-and-home series that is set to culminate with BYU traveling to Orlando to take on the Knights in 2014.
The Knights are coming off a disheartening loss to the FIU Golden Panthers last Saturday, in which turnovers became too costly for the team to overcome. The final score from Miami was 17-10.
The Knights currently sit at 2-1 (0-0) after the setback, but started the season with a set of impressive victories over FCS foe Charleston Southern and Boston College.
Across the field is the 1-2 and newly-independent BYU. After a season-opening victory over Ole Miss, the Cougars have suffered back-to-back defeats at the hands of Texas and Utah, the latter being a 54-10 loss that was the worst in the history of the Utah-BYU rivalry. 
When UCF has the ball, look for Jeff Godfrey to make some big plays. UCF is currently ranked 23rd in the nation in rushing yards at 223.3 yards per game. Godfrey has a great running back in senior Ronnie Weaver, who is currently averaging 5.7 yards in a relatively limited number of carries. Godfrey is a dual-threat quarterback who should be able to spread the wealth among his playmakers.
On offense, BYU will most likely look to quarterback Jake Heaps to make some big plays. The sophomore has thrown for over 700 yards through three games, but has thrown four interceptions to only three touchdowns. A year ago as a true freshman, Heaps finished with over 2,300 yards while throwing 15 touchdowns. Heaps has been the subject of much criticism since graduating high school as one of the top quarterbacks in the nation.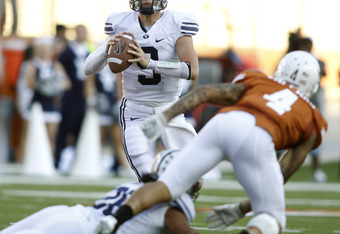 Erich Schlegel/Getty Images
Aside from Heaps, who has been relatively average himself, the Cougars' offense has been very sub-par during the course of the season. The team is currently 118th in rushing yards and 111th in points per game. 
Look for UCF's defense to take advantage of BYU's susceptible offense. UCF's defense is currently third in the nation in points against, giving up only 6.7 points per game through the three contests. 
Ultimately, UCF should be able to force several turnovers on defense while limiting their mistakes on offense. Even average play from Godfrey and Weaver should be able to guide UCF to a victory over the reeling Cougars.
BYU may enter the game as two point favorites, but UCF is the better, more physical football team in this contest.
Final Score: UCF 27, BYU 17